Recipe: Smashed Turnips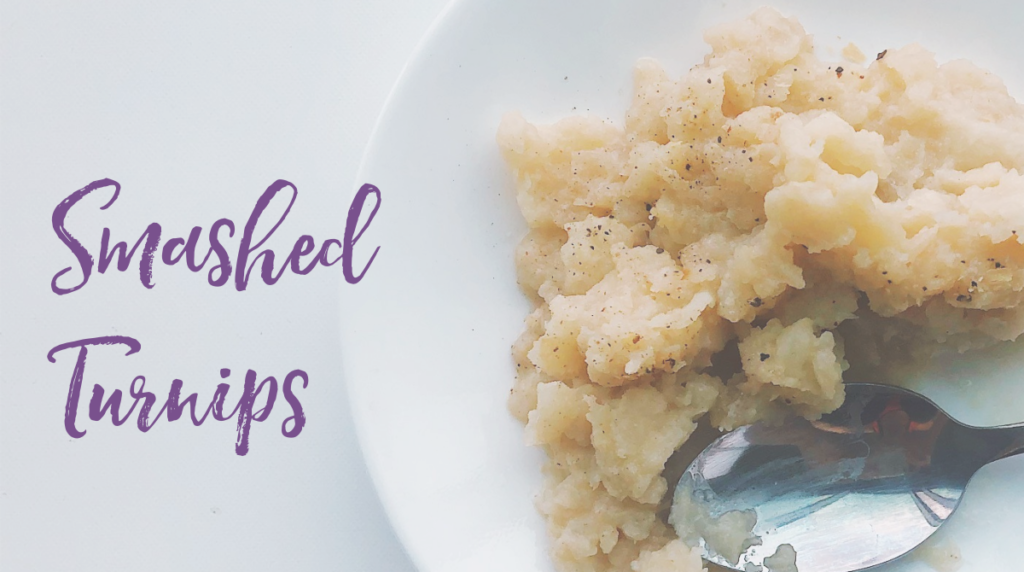 Say it with me, "I was today years old when I learned that turnips were a member of the cruciferous vegetable family."  As in, they are categorized along with kale, broccoli, and Brussels sprouts and boast similar health benefits.  Cruciferous veggies are known for being anti-inflammatory and providing other disease-fighting advantages, like supporting stable blood sugar levels and protecting against harmful bacteria.  Have we convinced you yet to give them a try?  If not, there's more.
Turnips are unique because are also often classified as root vegetables, as they do grow underground.  Other root vegetables that also cross categories include radish and rutabaga.  One fun aspect of these veggies is their ability to be utilized similarly to starchy vegetables, such as potatoes.  We've done exactly that in this smashed turnip recipe, creating a savory and rustic spin on a classic side dish.
Smashed Turnips 
Serving size will vary
Ingredients:
medium/small turnips, peeled and cubed
1 Tbsp vegetable broth PER turnip
1 tsp nutritional yeast PER turnip

Example: 7 turnips, peeled and cubed = 7 Tbsp of vegetable broth + 7 tsp of nutritional yeast.
Note that the recipe calls for ingredients depending on the number of turnips used. 
Directions:
Heat vegetable broth in medium pot, on medium heat.  Add turnips.
Cook for 15-20 minutes with lid on, stirring occasionally or until all turnips are fork-tender.
Remove from heat once turnips are soft to the touch and most of broth is absorbed. Stir in nutritional yeast.
Mash!  Note that "mashed" turnips will still be slightly lumpy and not smooth = "smashed", instead!
Add additional nutritional yeast as topping. Salt and pepper, to taste if desired.
Serve as 1/2 of your plate, alongside your favorite protein and starch.  Enjoy!