Recipe: Slow Cooker Stuffed Apples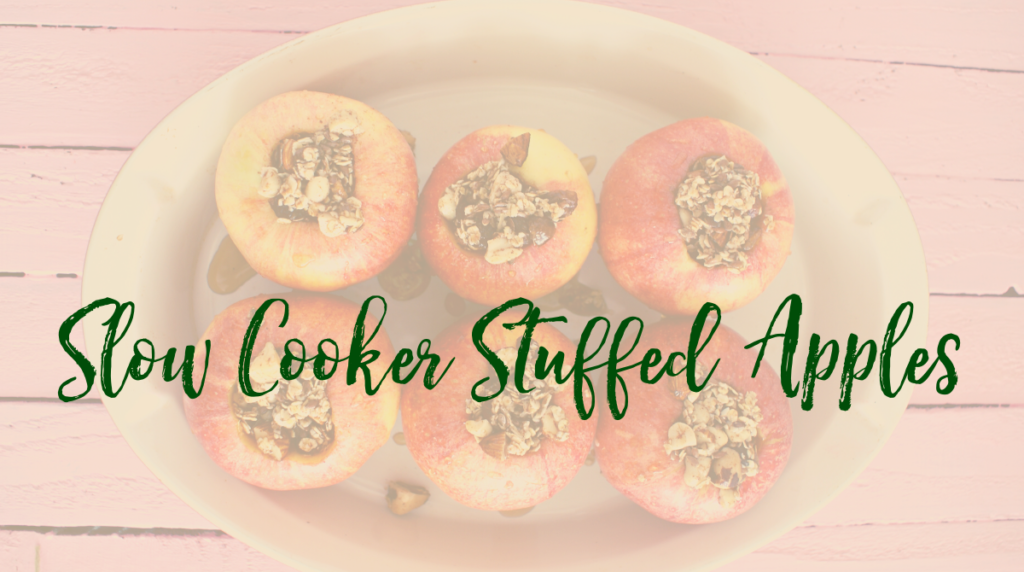 Reaching the recommended 2-3 servings of fruit per day can certainly include the occasional fruit-based dessert.  With apples as the central ingredient here, it's like a lighter alternative to an apple crisp, including all the flavors of the seasonal spices and crumble topping.  While there are other apple varieties that may work in this dish, the firm texture and tart flavor of the types listed reign supreme for baking.
Not big on dessert?  No problem!  Enjoy your apple paired with a healthy fat or protein source to make it a balanced snack or mini-meal.  Ever heard of the apple pie and cheese pairing?  Sounds crazy but many really enjoy it and we think the same would be true here.  Looking for a more traditional pairing?  The flavors of these stuffed apples also go perfectly with a Greek or dairy-free yogurt.
And you know what they say about an apple a day…
Slow Cooker Stuffed Apples
Serves 6
Ingredients
¼ C brown sugar
¼ C rolled oats
¼ C all-purpose flour (or 1/2 C almond flour)
1 tsp cinnamon
¼ tsp nutmeg
1/8 tsp ground cloves (optional)
4 Tbsp butter, chilled and cubed
6 medium baking apples, such as Granny Smith or Honeycrisp (peeled, if desired)
½ C water
*Reduce time by preparing this dish in an Instant Pot:  Add 1 C water and trivet to Instant Pot. Place apples on trivet and cook on high pressure for 5 minutes, with 5 minute natural steam release.
Directions
Combine the brown sugar, oats, flour, cinnamon, nutmeg, and cloves in a medium-sized bowl.
Add the cubed butter and gently combine by squishing the butter between your fingers. Small chunks of butter are fine to remain. Set aside.
Core the apples using an apple corer or pairing knife. Take care not to cut all the way through the bottom, so the filling doesn't leak out. The bigger the diameter of the hole, the more filling you can add to the apple.
Pour water into the bottom of a slow cooker, add the apples. Stuff each apple to the top with the filling.
Let cook for 2 hours on high or 4 hours on low. Halfway through, add more filling to each apple if desired.
Once the apples are tender to the touch, they're ready to serve.