Recipe: Slow Cooker Salsa Chicken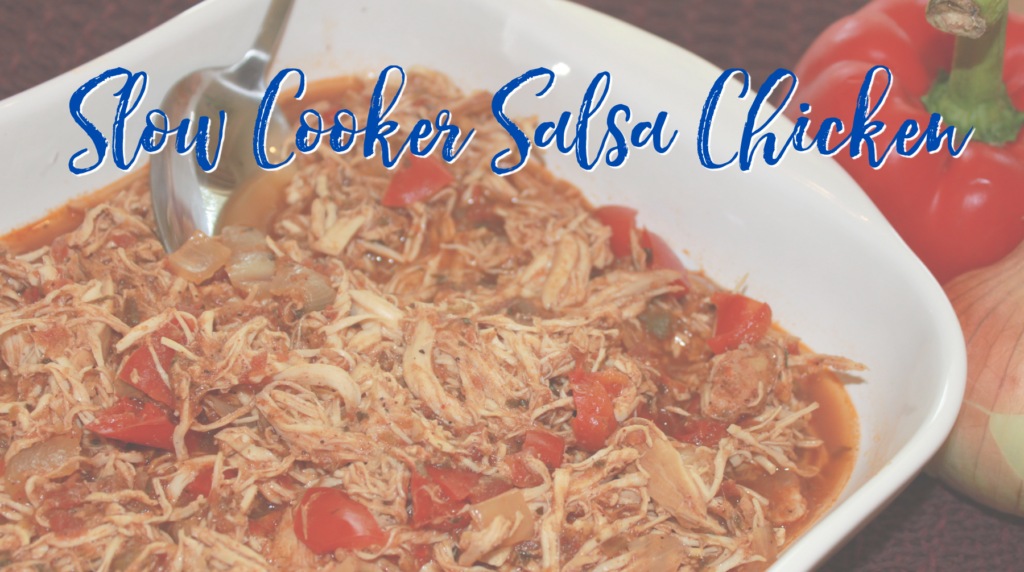 Chicken is a staple protein for many people, but when it comes to cooking it, the line between cooked and dried-out can be very thin. The combination of spices and jarred ingredients in this slow cooker recipe allows for the chicken to absorb delicious flavors and stay moist and juicy until you're ready to eat!
This recipe is perfect for the days when you want a delicious home-cooked entrée but may be short on time. This dish can be the star of Taco Tuesday, or a simple protein-rich addition to a plate when combined with non-starchy veggies and a starchy side, like rice!
Slow Cooker Salsa Chicken
Serves 4-6
Ingredients:
2 1/2 lbs skinless, boneless chicken breasts
1 medium bell pepper (color of your choice), diced
1 small yellow onion, diced
2 cloves garlic, finely minced (or 3-4 tsp minced garlic from a jar)
2 Tbsp fresh cilantro, finely chopped
15 oz can corn, drained (Optional)
15 oz can black beans, drained and rinsed (Optional)
16 oz jar red salsa
8 oz jar salsa verde (or half of 16 oz jar)
1 1/2 tsp ground cumin
1 tsp smoked paprika
2 tsp chili powder
Salt and pepper, to taste
Directions:
To 4-6 quart slow cooker add chicken, bell pepper, onion, garlic, fresh cilantro, red salsa, salsa verde, and optional corn and black beans.
Add cumin, paprika, chili powder, salt, and pepper. Stir mixture well, evenly covering chicken breasts with salsa mixture.
Set slow cooker to high. Cook 4 hours.
After 4 hours, carefully remove chicken breasts onto plate. Using two forks, gently pull apart chicken until shredded apart.
Return chicken to crockpot. Mix well with cooking juices. Allow chicken to sit in juices on "warm" setting until ready to serve.
TIP: This dish works well with hard and soft taco shells, served with rice in a burrito bowl, and even pairs well with sautéed or grilled veggies and a starch of your choosing. For some extra heat, try using medium or hot salsa, or add in 1/4 tsp of cayenne pepper. If you are unable to shred the chicken after 4 hours, don't fret! The chicken can keep warm and will be fine to shred whenever you are ready.
Swaps:
For the salsa verde: an additional 8 oz of red salsa or a 4 oz can of green chilis
For the bell pepper: two chopped fresh tomatoes, or feel free to omit
For the onion: shallots, green onion, chives, or omit
For the smoked paprika: regular paprika