Recipe: Slow Cooker Minestrone Soup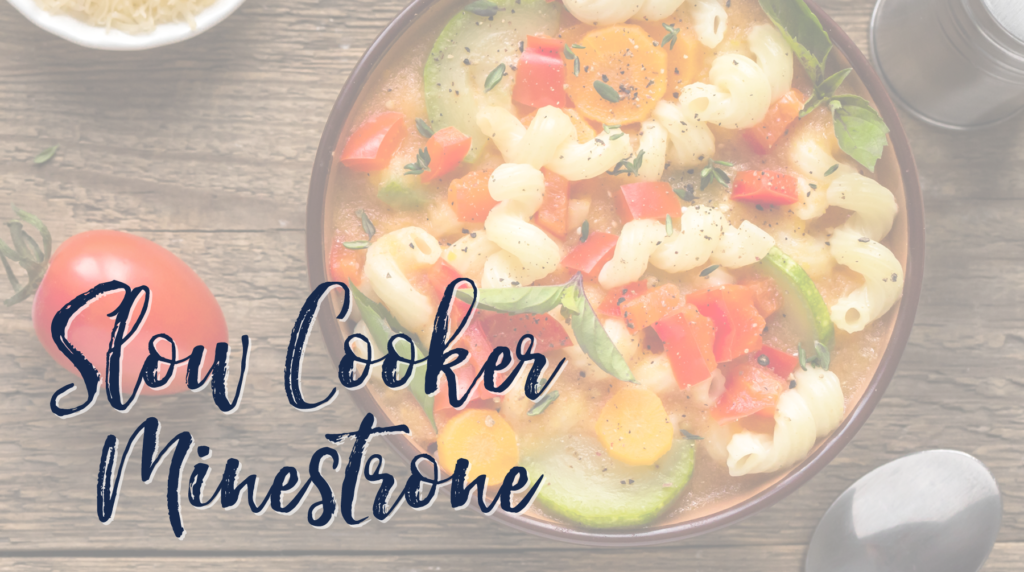 It's soup season! As the weather starts to get chilly, you may start thinking about busting out your slow cooker again. This delicious minestrone soup (pronounced mi-nuh-strow-nee) can be ready in anywhere between 3-8 hours, depending on the heat setting, so you can time it to fit into whatever your schedule may look like!
This soup is of Italian origin and frequently contains veggies with either pasta or rice. You may have seen canned minestrone for sale at the store. Canned soups can be a quick and easy option, but they are often high in sodium. This recipe provides a lower-sodium alternative to most store-bought soups and is loaded with veggies!
With such a variety of vegetables, there's a lot we could choose to highlight, but one soup staple in particular often gets an undeserved bad reputation: celery. It's true that celery is mostly made up of water and has a mild taste, but it is also high in antioxidants which can provide anti-inflammatory effects and vitamin K which is vital for blood clotting and bone health. For these health benefits and the lovely extra crunch, this vegetable can provide, consider giving it a second chance in this soup and others!
Slow Cooker Minestrone Soup
Serves 6-8
Ingredients:
2 C water
2 cans diced tomatoes (14.5 oz ea.)
2 Tbsp tomato paste
4 C vegetable stock
4 medium carrots, peeled and sliced
3 medium celery stalks, sliced
1 large white onion, diced
2 tsp jarred minced garlic ( or 4 – 5 garlic cloves, minced)
1/4 C sun-dried tomato pesto (Optional)
2 fresh bay leaves (Optional)
1 Tbsp Italian seasoning
Salt and pepper, to taste
15 oz can red kidney beans, drained and rinsed
15 oz can great northern beans, drained and rinsed
1 medium zucchini, diced
1 1/2 C pasta of choice
2 1/2 C baby spinach
1 C green beans (if using frozen, be sure to thaw prior to cooking)
Finely shredded Parmesan cheese, for serving
Directions:
In large slow cooker add water, diced tomatoes, tomato paste, vegetable stock, carrots, celery, onions, garlic, pesto, bay leaves, Italian seasoning, salt, and pepper. Stir. Cook on low heat 6-8 hours or high 3-4 hours.
After 3-8 hours, add beans, diced zucchini, and pasta. Cook on high 20-25 minutes, until pasta is tender.
Once pasta is cooked, stir in spinach and green beans. Cook 5 minutes on high until heated through.
Serve warm, topped with pinch of parmesan cheese.
TIP: As you prepare your soup, remember to cut ingredients into spoon-sized pieces. If using gluten-free pasta, we recommend cooking the pasta separately according to package instructions and adding it to the soup just before serving. These types of pasta can create a gummy, sticky consistency if overcooked.
Swaps:
For the vegetable stock: chicken or beef stock
For the beans: any other bean or lentil of choice
For the pasta (cook according to package and add before serving): rice, quinoa, or barley
Recipe modified from: https://littlespicejar.com/homemade-minestrone-soup-slow-cooker/