Recipe: Slow Cooker BBQ Pulled Chicken & Roasted Sweet Potatoes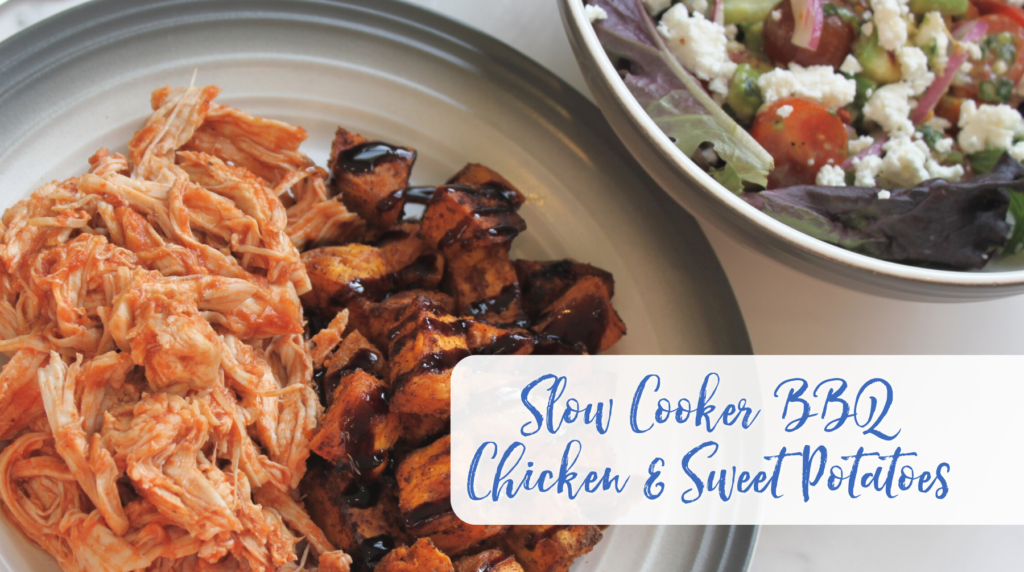 Using a slow cooker can save a lot of time in the kitchen, make for a delicious meal, and reduce the number of dishes you need to clean up after. It's a win-win-win! One portion of this recipe is prepared in a slow cooker, which means hands-free cooking and hours of simmering to tender perfection. Using a pre-made sauce, such as the BBQ sauce in this recipe, allows us to focus on balancing the meal nutritionally.  Sometimes cutting corners with prepped or frozen veggies, or bottled and jarred sauces makes a tasty and nutritious meal more accessible.
Thanks to the high protein content of chicken we'll easily stay full and satisfied with this meal for hours. Sweet potatoes make up the starch component of this meal and are a good source of fiber. Starches that contain fiber break down slower in our digestive system and keep us fuller longer. Sweet potatoes also are a good source of vitamin A, vitamin C, and potassium. Vitamin A is needed to support eye health and our immune system, vitamin C supports our immunity and promotes skin health, and potassium is an electrolyte that helps with fluid balance and hydration.
To make this meal complete, add half of a plate of non-starchy veggies. Since we are using the oven for the potatoes, roasting veggies could be a great way to round things out. Popular favorites include roasted broccoli, asparagus, and cauliflower. For a fast and easy option, opt for a microwavable steamed bag of your veggie of choice.
Slow Cooker BBQ Pulled Chicken & Roasted Sweet Potatoes
Serves 4
Ingredients:
 4 boneless, skinless chicken breasts
1/2 C BBQ Sauce (any variety), plus more for serving, to taste
2 large sweet potatoes, cubed
1/4 C olive oil
1/4 tsp salt
1/4 tsp pepper
1 tsp cinnamon (Optional)
1/2 tsp smoked paprika (Optional)
1/2 C balsamic vinegar
1 Tbsp honey
Directions:
Place chicken in slow cooker. Add BBQ sauce and cover. Cook on low 4-5 hours or high 2-3 hours.
When there is roughly 1 hour left for chicken, preheat oven to 350°F. Lightly coat large baking sheet with olive oil.
Add sweet potatoes to baking sheet. Sprinkle with salt, pepper, cinnamon, and paprika. Roast 25-30 minutes, flipping potatoes halfway through.
Meanwhile, add balsamic vinegar and honey to small stockpot on stove over medium-high heat. Simmer, stirring frequently, until reduced by half and slightly sticky, 10-15 minutes.
After chicken is cooked to internal temperature of 165°F, place on cutting board. Shred chicken by pressing firmly with one fork to secure meat and raking with second fork. Add shredded chicken back to remaining liquid in slow cooker to create sauce for serving or top with additional BBQ sauce, if desired.
To serve, divide roasted sweet potatoes among 4 dinner plates and drizzle with balsamic glaze. Add shredded chicken and half-plate serving of non-starchy vegetable side of your choosing.
Swaps:
For the vinegar and honey: store-bought balsamic glaze
For the honey: brown sugar