Recipe: Slow Cooker Beef & Vegetables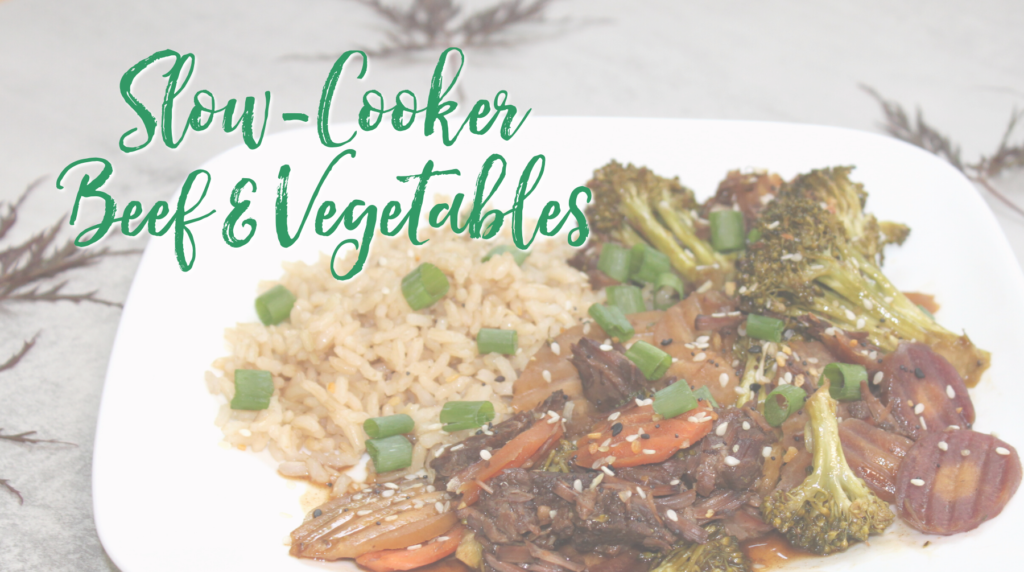 What if we told you this recipe was like your favorite beef dish from that Asian take-out spot down the street with a nutritious upgrade? It's true! This slow-cooker meal combines lean beef with a variety of vegetables for a delicious medley that's as easy as it is nutrient-dense. Plus, because customization is our thing, we've offered swaps to ensure you can create the version that best suits your needs and preferences.
Slow-Cooker Beef & Vegetables
Serves 4
Ingredients:
1 1/2 lb sirloin steak, sliced thinly or into strips
1 C low-sodium beef broth
1/2 C low-sodium soy sauce
1/2 C brown sugar (1/3 C if you prefer more savory and spice)
3 Tbsp sesame oil
1 Tbsp Sriracha
3 cloves garlic, minced (or 4-5 tsp minced garlic from a jar)
2 Tbsp cornstarch
3-4 C broccoli florets
1 1/2 C carrot chips
Sesame seeds or everything bagel seasoning for garnish, to taste
Green onions, for garnish, to taste
Directions:
Place steak strips in large slow cooker. Add beef broth, soy sauce, brown sugar, sesame oil, sriracha, and garlic. Stir to combine.
Cover. Cook on low until beef is tender and cooked through, about 4 hours.
When steak is tender, spoon 3-4 Tbsp of slow-cooker juices into small bowl. Replace cooker cover.
To same small bowl, slowly add cornstarch while whisking to combine. Pour mixture into slow cooker and toss with beef until combined. Add vegetables. Replace cooker cover. Cook 20 minutes.
If serving with rice or noodles, prepare as packaging instructs while vegetables cook.
Serve warm, atop starch of choice, garnished with sesame seeds or everything bagel seasoning and green onions.
TIP: More colors = more nutrients! Add another vegetable, or try rainbow-colored carrots for additional nutrient diversity.
Swaps:
For the carrot chips: sliced or baby carrots
For the Sriracha: ketchup
For the corn starch: potato starch, arrowroot starch, or 4 Tbsp flour
For the soy sauce: gluten-free Tamari or Braggs liquid aminos