Recipe: Simple Asian Slaw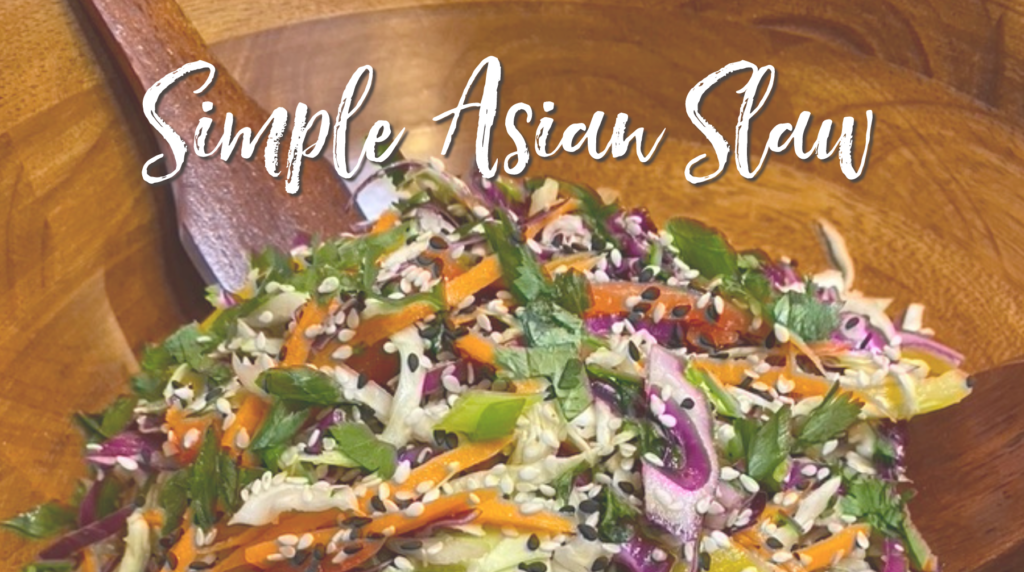 Here is an easy way to jazz up cabbage slaw and an alternative way to enjoy vibrant Asian-style flavors!
The rainbow colors in this dish are partially created by phytochemicals. These chemicals, found naturally in plants, give veggies their unique color. They also provide health benefits for humans and many act as antioxidants, protecting the body from free-radical damage. Different groups may even help prevent certain types of cancers. Try to enjoy a rainbow of veggies to reap the benefits of each category!
Simple Asian Slaw
Serves 2-4
Ingredients:
1 small head green cabbage, thinly sliced (about 3 C)
1/2 small head purple cabbage, thinly sliced (about 1 C)
1 medium carrot, shredded (about 1 C)
1 medium red, yellow, or orange bell pepper, thinly sliced
2 green onions, sliced (white/rooted end discarded)
1/4 C chopped cilantro, optional
1/4 C rice vinegar
1 Tbsp olive oil
1/2 tsp salt
1 Tbsp sesame oil
1 tsp honey
1 Tbsp sesame seeds, optional
Directions:
Combine green and purple cabbage, carrot, bell pepper, green onion, and cilantro in medium-size bowl.
In smaller bowl, combine vinegar, oils, salt, and honey. Mix together with whisk or fork.
Pour dressing over slaw. Toss together to evenly coat.
Garnish with sesame seeds, if desired. Refrigerate 30 minutes before serving.
TIP: Make it a meal by pairing this slaw with a protein such as shelled edamame, marinated tempeh (for a vegetarian meal), or pre-cooked chicken or shrimp.
Recipe modified from: Spend With Pennies