Recipe: Sheet Pan Fajitas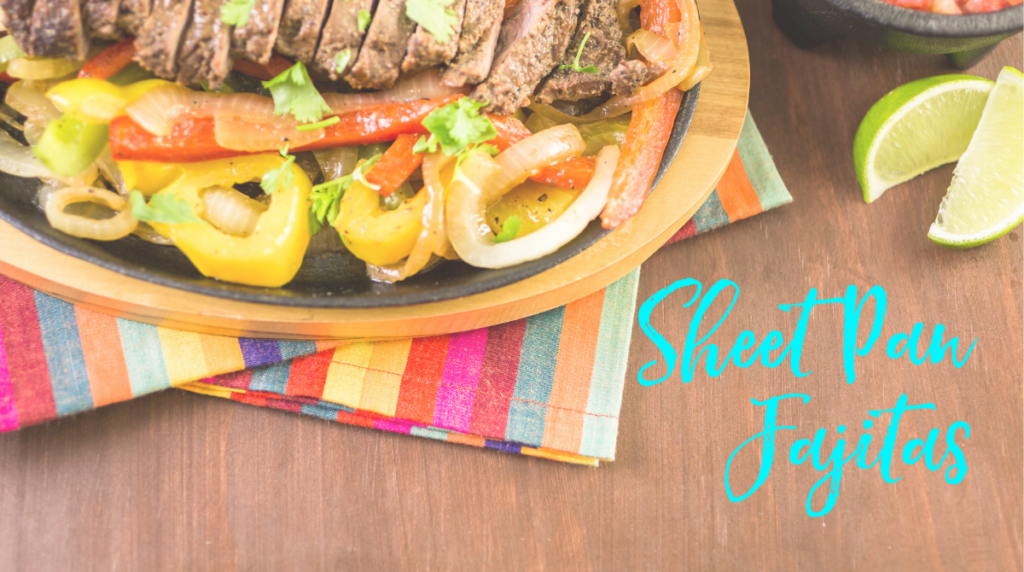 These Sheet Pan Fajitas require minimal prep and cook time, making them a great choice for busy nights. This meal is also bursting with nutrients so you don't need to worry about sacrificing health for ease while enjoying some delicious steak.
Flank steak is one of the leaner cuts of beef and is packed with protein, B vitamins, and readily-absorbable heme iron. However you like your steak, it's important to be mindful of moisture content to keep your steak as juicy as possible. Steak (and chicken) should rest before cutting to prevent loss of moisture. This means cutting meat to check its doneness while cooking can actually dry out the meat! We highly recommend purchasing a meat thermometer as they are the best way to prevent this and also ensure food safety.
The rainbow of veggies included with this meal from the different colored peppers gives you a bigger pop of nutrition compared to using just one color. Combine your protein and non-starchy veggies with beans/tortillas for a complete Plate Method meal or use a bed of greens for a lighter option!
Sheet Pan Fajitas
Serves 2
Ingredients
1 lb flank steak
1 medium yellow onion, sliced
1 medium green bell pepper, sliced
1 medium red bell pepper, sliced
8 oz carton white mushrooms, sliced
1 lime, juiced (approximately 1 Tbsp)
8 corn tortillas, for serving
Staple Ingredients
2 Tbsp olive oil
2 tsp chili powder
1 tsp cumin
1 tsp garlic powder
1 tsp smoked paprika
1 tsp salt
½ tsp pepper
Toppings (Optional)
Guacamole
Salsa
Shredded cheese or vegan cheese shreds
Cilantro
Sour cream
Directions
Preheat the oven to 450 degrees F.
Lay the flank steak in the middle of a baking sheet. Arrange the onion, bell peppers, and mushrooms around it. Drizzle everything with olive oil. Mix chili powder, cumin, garlic powder, smoked paprika, salt, and pepper in a small bowl.
Using your hands, rub the spice mix into vegetables and steak. Flip the steak and season the other side. Squeeze lime juice over the steak and veggies.
Place the baking sheet in the oven and cook for 12 minutes or until the meat and veggies have reached desired doneness. (A medium steak should reach 145 degrees F and a well-done steak should reach 165 degrees F.)
Remove the baking sheet from the oven and transfer the steak to a cutting board. Let it rest for 10 minutes, then slice the steak. Tip: Using your knife to cut against the grain of the meat makes for an easier cut! (The "grain" is the visible lines in the meat. To cut against the grain, slice diagonally.)
On a serving plate, assemble your fajita with steak, veggies, and toppings on a tortilla. Tip: Warm each corn tortilla in a pan over high heat for 30 seconds per side before serving to help keep your fajitas from falling apart!
Swaps
For the flank steak: chicken, shrimp, salmon, mahi mahi, or tempeh (adjust cooking times accordingly)
For the mushrooms: zucchini or yellow squash
For the corn tortillas: flour tortillas, cassava tortillas, jicama wraps, black beans, romaine lettuce leaves, or salad greens (for a fajita salad)
Recipe modified from: https://tasty.co/recipe/sheet-pan-steak-fajitas