Recipe: Seared Salmon & Mushroom Shallot Sauce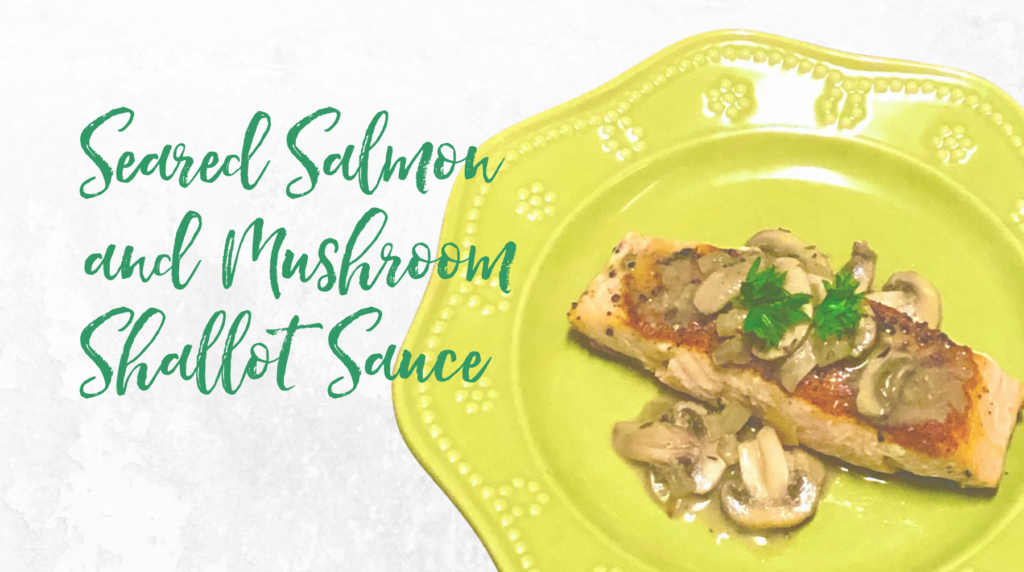 This recipe is a favorite for our Reset & Rebalance participants! Salmon is known to be one of the most heart-healthy protein sources, thanks to its richness of omega-3 fats. When cooking, these fats ensure the fish stays moist and allow for a tender end product that is oh-so-flaky and delicious. Topped with this wonderfully complementary mustard-thyme sauce, dare we say this dish could be served in a restaurant?
Luckily, it comes together in your home kitchen very quickly with just one skillet on the stove. Pair with your favorite starch and colorful vegetable for a plate method meal you will definitely be adding into regular rotation.
Seared Salmon & Mushroom Shallot Sauce
Serves 4
Ingredients:
4 salmon fillets (4 oz each)
1/4 tsp ground black pepper
1/8 tsp salt
Olive oil, to coat pan
1 C mushrooms, sliced
1 medium shallot, finely chopped
1/3 C dry white wine or chicken broth
1 Tbsp Dijon-style mustard
2 tsp thyme
Fresh parsley, for garnish (Optional)
Directions:
Thaw fish, if frozen. Rinse and pat dry with paper towels. Sprinkle with pepper and salt.
Measure thickness of fillets. In large, non-stick skillet over medium heat add olive oil. Add salmon. Cook 4-6 minutes per 1/2-inch thickness or until salmon flakes easily when tested with fork. Carefully turn once halfway through cooking. Remove from skillet and keep warm.
Add mushrooms and shallot to same skillet. Cook 3-5 minutes over medium heat or until tender, stirring occasionally.
Remove skillet from heat. Carefully add wine, mustard, and thyme. Stir 1-2 minutes or until heated through.
Place salmon on serving plates and top with mushroom sauce and parsley, if desired. Serve with roasted potatoes and/or roasted asparagus.