Recipe: Sweet & Savory Baby Kale Salad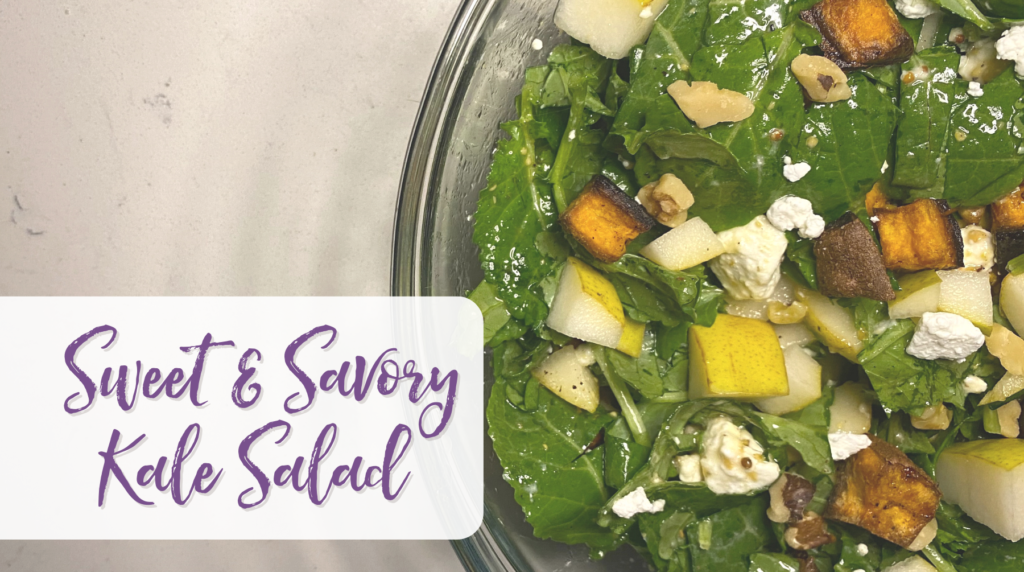 While fall is often touted as "soup season," and many are turning to warm, cozy dishes in the months ahead, fall salads are also a delicious way to highlight seasonal flavors and colors. This Sweet and Savory Kale Salad includes the fall-favorite sweet potato, seasonal pears, and delicate baby kale for a powerful punch of flavor and nutrition. It all comes together in only 15 minutes of active prep time after roasting the potatoes, making it a simple weekday addition to your colorful plate. To make this salad a complete meal, serve it with your protein of choice. Salmon, roasted chicken, or roasted chickpeas would all pair nicely with the flavor profiles in this salad.
Baby kale is more delicate in flavor and texture than traditional curly kale and is most similar to spinach. Unlike other kale varieties, you do not need to massage baby kale in order to break down any fibrous textures. Baby kale is a fantastic source of calcium and fat-soluble vitamin K to support strong, healthy bones. The sweet potatoes in this salad provide another fat-soluble vitamin, Vitamin A, which is readily absorbed when paired with the heart-healthy fats from walnuts and olive oil. This salad is even dairy-free friendly thanks to the goat cheese!
Sweet & Savory Baby Kale Salad
Serves 6-7
Ingredients:
Salad:
2 pears
2 medium sweet potatoes
1/3 C walnuts
6 C baby kale
1 Tbsp olive or avocado oil
1/4 tsp black pepper
1/4 tsp salt
1/4 C goat cheese crumbles
Vinaigrette:
1/4 C extra virgin olive oil
2 Tbsp apple cider vinegar
1 tsp maple syrup
1 tsp ground mustard
1/8 tsp salt
Cracked pepper, to taste
Directions:
Preheat oven to 400°F. Line baking sheet with tin foil. Wash and dice pears and sweet potatoes. Roughly chop walnuts. Wash and roughly chop kale. Set ingredients aside.
Toss potatoes in medium bowl with 1 Tbsp olive oil, salt, and pepper. Spread evenly on baking sheet. Roast in oven 45 minutes, flipping mid-way through. Set aside to cool.
Add kale to medium-sized serving bowl. Top with pear, walnuts, cooled potatoes, and cheese.
In separate bowl, whisk together remaining olive oil, apple cider vinegar, maple syrup, mustard, salt, and pepper. Pour over salad, toss, and serve.
TIP: Each sweet potato has around 5g of fiber, most of which comes from the peel. Wash thoroughly and keep the peel on for a healthy dose of gut-healthy fiber. Save some time by skipping the oven and popping those potatoes in the air fryer!
Swaps:
For the pear: diced apple, 1/3 C dried cranberries, or 1 C pomegranate seeds
For the walnuts: slivered almonds, pumpkin seeds, or pecans
For the goat cheese: crumbled feta or omit
For the maple syrup: honey
For the ground mustard: Dijon mustard
Recipe modified from: Foraged Dish
Sources: