Recipe: Sausage & Sauerkraut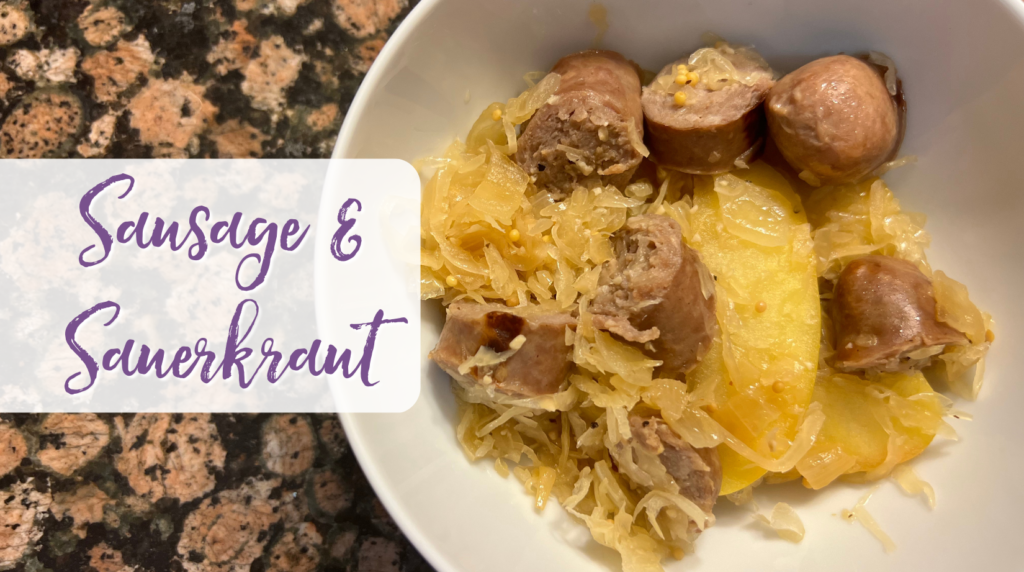 This recipe is one that can easily feed a crowd and, per German tradition, will bring you good luck in the new year! Perfect for cold nights, the warm and rich flavors of bratwurst and sauerkraut with apples, onions, and garlic blend perfectly together in this hearty dish that is a winter staple to many in the Midwestern US.
If you aren't feeding a crowd, feel free to halve the recipe to feed 4-5 people. Since the oven will already be on to prep the brats, turn this dish into a plate method meal by roasting your favorite vegetables and potatoes or squash to serve alongside.
Sausage & Sauerkraut
Serves 8-10
Ingredients:
2 medium onions
1 head garlic (or 1/4 C minced garlic from a jar)
32 oz jar sauerkraut
5 medium Granny Smith apples (about 1-1/2 lbs)
5 pounds uncooked bratwurst links
2 Tbsp avocado oil
1 Tbsp butter, plus more as needed
1 tsp pepper
5 C low-sodium vegetable broth
1 tsp mustard powder
1 1/2 tsp caraway seeds
Directions:
Place oven rack in the middle of oven. Preheat to 400°F. Line rimmed baking sheet with aluminum foil. Peel and dice onion. Peel and mince garlic. Drain and rinse sauerkraut. Core and slice apples into 1/2-inch wedges. Keep all ingredients separate for later use.
Arrange bratwurst on baking sheet. Place on middle rack in preheated oven. Bake 10 minutes.
In large sauté pan on stove over medium-low heat, melt butter into avocado oil. Add onion. Sauté, stirring frequently, until transparent and beginning to turn golden, 5-8 minutes.
Remove bratwurst from the oven. Flip them over on baking sheet. Bake 5-10 minutes or until internal temperature 160°F.
In large stock pot on stove over medium-low heat add vegetable broth, sauerkraut, apple, mustard powder, and caraway seeds.
Reduce heat to low under onions. Add garlic and pepper. Add 1/2 Tbsp butter, as needed, to avoid sticking and burning. Sauté, stirring frequently, until onion and garlic are caramelized, 5-8 minutes.
Remove brats from oven. Add to stock pot.
Transfer onions and garlic to stock pot. Stir to combine ingredients. Increase heat to medium. Simmer 15 minutes, covered.
Remove from heat. Serve bratwurst whole or remove, slice to preference, and add back to stock pot before serving hot.
TIP: Take your time with the onion and garlic to avoid burning. The key to caramelization is to cook low and slow! Don't skimp on your apples – not all apple varieties are meant for cooking!
Swaps:
For the avocado oil: olive oil
For the butter: ghee, vegan butter, avocado oil, or olive oil
For the low-sodium vegetable broth: low-sodium chicken broth
For the bratwurst: polish sausage
For the Granny Smith apples: Jonathan, Jonagold, Cortland, Braeburn, or Honeycrisp apples
Recipe modified from: Taste of Home