Recipe: Salmon and Summer Squash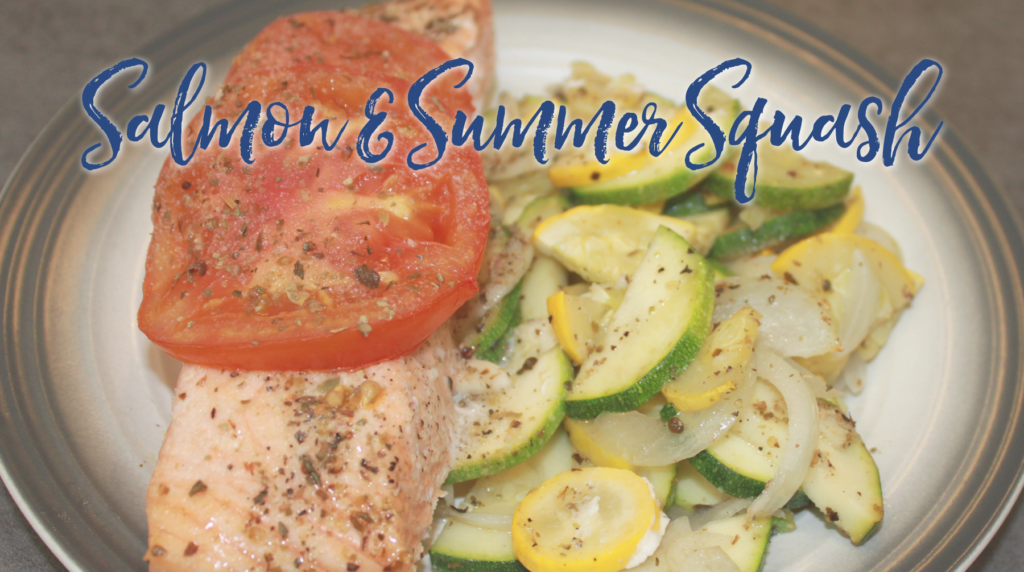 Sheet pan meals tend to be quick and easy – throw your favorite combination of veggies and protein on a pan and roast away!
There are many types of summer squash, but two of the most popular are zucchini and yellow squash. Both of these non-starchy veggies contain antioxidants and zucchini is an especially good source of specific nutrients important for eye health. Sometimes referred to as the "culinary chameleon of produce", it doesn't hurt that these squash are mild in flavor and easy to incorporate into nearly any vegetable dish.
Salmon is the true nutritional star of this dish, rich in omega-3 unsaturated fats beneficial for increasing good HDL cholesterol, supporting brain health, and fighting inflammation. The American Heart Association recommends eating at least 2 servings of fatty fish per week to get enough of this type of fat. Fat is also needed to absorb fat soluble vitamins such as vitamin A in zucchini, and vitamin D in salmon.
As you can see, this meal is loaded with nutrients. Enjoy it this summer or all year round!
Salmon and Summer Squash
Serves 2
Ingredients
1 Tbsp olive oil, divided, plus additional for drizzling
2 zucchini, sliced into half-moons
2 yellow squash, sliced into half-moons
1 yellow onion, thinly sliced
1 garlic clove, minced
2 fillets of salmon (4-6 oz each)
Salt and pepper
1 Tbsp lemon juice (approximately 1/2 lemon)
1-2 Roma tomatoes, diced
1 tsp dried oregano
1 tsp garlic powder
Directions
Preheat oven to 400˚F.
On a baking sheet (with a lip) or in a cast-iron skillet or Dutch oven, drizzle ½ Tbsp olive oil and add zucchini, squash, onion, and garlic. Stir to mix and coat veggies.
Place salmon fillets atop veggies with remaining 1/2 Tbsp olive oil.
Season veggies and salmon with salt and pepper, to taste. Drizzle lemon juice over salmon.
Atop salmon, add diced tomatoes, oregano, garlic powder, and another drizzle olive oil.
Place prepared salmon and veggies in oven. Cook 25-30 minutes, until veggies softened and salmon fully cooked at 145˚ F.
Swaps
For the salmon: another fish of choice (cooked as necessary) or chicken (cooked to 165˚F)
For the zucchini and squash: other veggies of choice such as eggplant, mushrooms, or quartered Brussels sprouts
For the tomatoes: red/yellow/orange bell peppers
Recipe modified from: Cooking Classy