Safe Summer Barbecues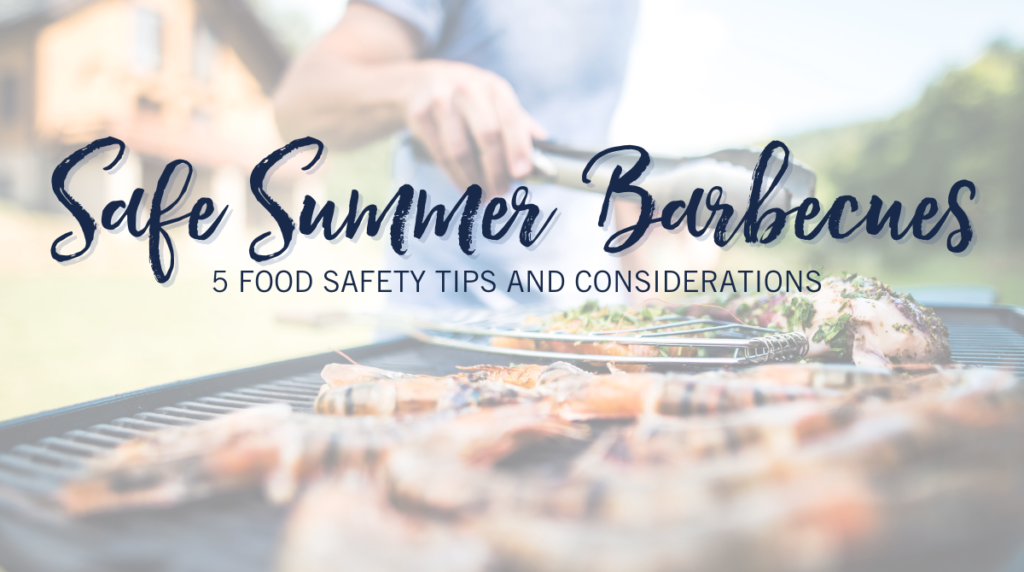 Summer is the perfect time for barbecues and outdoor picnics. However, when it comes to dining in the heat of summer, there are several things to keep in mind to ensure everyone stays healthy and happy. Food safety is crucial, especially during the summer months.1 High temperatures and humidity can cause bacteria to grow quickly on food, increasing the risk of foodborne illness.1 According to the Centers for Disease Control and Prevention (CDC), one in six Americans gets sick each year from consuming contaminated food, leading to around 128,000 hospitalizations and 3,000 deaths.2 Therefore, it is essential to take the necessary precautions to prevent foodborne illness, especially during summer barbecues. 
Here are five tips to keep you and your loved ones safe as you dine outdoors!
Tips for Food Safety During Summer Barbecues
1. Start with Clean Hands, Tools, and Surfaces
Before you start cooking, make sure that everything is clean, including your hands, any cooking surfaces like grills or crockpots, and utensils. Wash your hands with soap and warm water for at least 20 seconds.3 No sinks nearby? Hand sanitizer or clean, food-safe gloves are great to have on hand for a backup plan! Clean your cooking surfaces and utensils with hot, soapy water, and rinse thoroughly. Dry any freshly washed cooking tools with a clean towel before using them.
2. Keep Cold Foods Cold and Hot Foods Hot
It is essential to keep cold foods cold and hot foods hot to prevent bacterial growth. When packing your cooler, keep raw meat, poultry, and seafood in separate, sealed containers and on the bottom of the cooler to prevent cross-contamination.4 Use ice or freezer packs to keep your food at 40°F or below.5 Consider packing beverages away in a separate cooler as it may be opened more frequently throughout the picnic or barbeque!4  When you are ready to cook, take out only the food you will cook immediately, and keep the rest in the cooler. Cook meat, poultry, and seafood to their appropriate temperatures, and use a food thermometer to ensure that the food is safe to eat. Visit the resource linked here from the USDA for more information on minimum cooking temperatures for combined dishes and animal proteins.
3. Prevent Cross-Contamination
Cross-contamination occurs when bacteria from one food item are transferred to another food item. This can happen when you use the same cutting board or knife for raw poultry, meats, or seafood and then use them to cut vegetables or other ready-to-eat foods.6 To avoid cross-contamination, use separate cutting boards and utensils for raw meat, poultry, seafood, and other foods.6 Wash your hands and utensils with hot, soapy water after handling raw products.
4. Use Marinades Wisely
Marinades can add flavor to your proteins and veggies, but they can also be a source of bacteria if not used correctly. Always marinate meat, poultry, or seafood in the refrigerator rather than on the countertop or park bench!7 If you want to use the marinade as a sauce, reserve a portion of it before adding it to the raw proteins.7 It is important to not reuse the marinade that has come into contact with raw animal proteins as it now may contain harmful bacteria that can result in illness.
5. Store Leftovers Properly and Quickly
When the family fun is over, store the leftovers in the refrigerator within two hours or toss out any foods that have been left out in heat for too long.8 On warmer days above 90°F, make sure to refrigerate all leftovers within one hour!8 To quickly cool leftovers, consider dividing your food into shallow, food-safe containers and make sure they are cooled to 40°F or below before putting them in the refrigerator.8  
Lastly, a food thermometer will be your best friend to ensure food safety! There are many options on the market today, but check out our Summerfield's Favorites Holiday Gift Guide for a reliable thermometer our teammates love.
To keep you and your loved ones happy and healthy, consider food safety as an important step to keep in mind this summer. To prevent foodborne illness, keep everything clean, keep cold foods cold and hot foods hot, avoid cross-contamination, use marinades wisely, and store leftovers safely.
Sources: