Recipe: Mediterranean Roasted Vegetable Tacos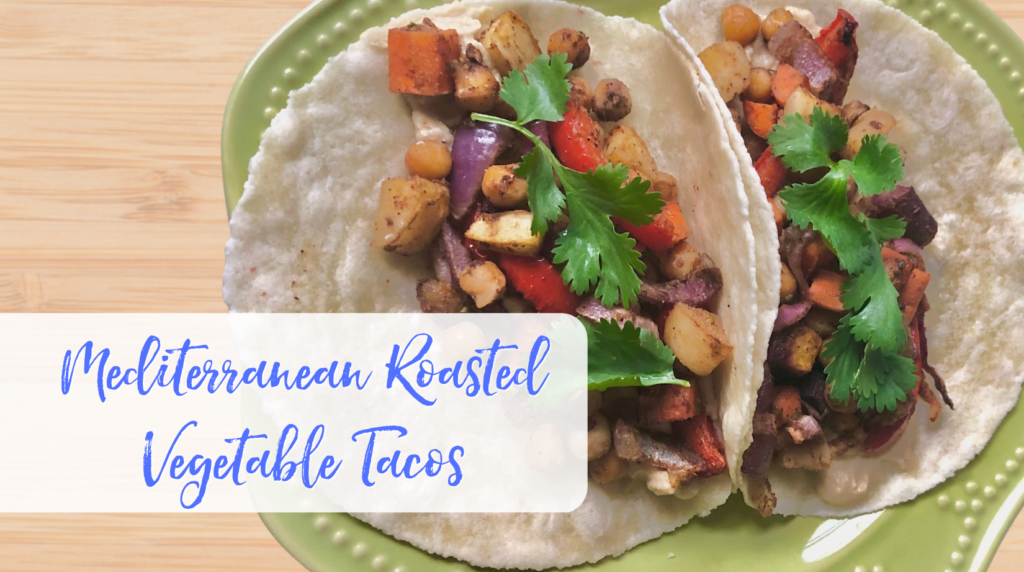 Herbs and spices have the power to truly transform a dish. These tacos absolutely deliver in the flavor department thanks to warming Mediterranean spices paired with deliciously roasted veggies and topped with fresh herbs. Roasting veggies with a hefty dose of spices allows natural tastes to intensify during cooking.
Not only do these colorful veggies provide a variety of phytonutrients, but the herbs and spices are also rich in antioxidant compounds, supporting our health in powerful ways. These tacos are a wonderful vegetarian meal but would also pair well with shrimp or chicken as an additional protein source.
Mediterranean Roasted Vegetable Tacos
Serves 3
Ingredients
1 medium red onion
1 red bell pepper
4 carrots (2 C chopped)
15 oz can chickpeas
1/2 C fresh cilantro
1 Tbsp avocado oil
1 1/4 tsp fine-grain sea salt
3 tsp garlic powder
2 tsp ground cumin
1/2 tsp chili powder
1/2 tsp oregano
12 Tbsp hummus
6 8-inch flour tortillas
1 lemon (Optional)
Directions
Preheat oven to 400°F. Line large baking sheet with parchment paper. Thinly slice onion and pepper. Peel, halve lengthwise, and slice carrots into even 1/8-inch half-moons. Rinse and drain chickpeas. Destem and roughly chop cilantro leaves. Halve optional lemon. Set all ingredients aside.
Add onions, carrots, peppers, chickpeas, and avocado oil to parchment-lined sheet. Toss to coat.
Add salt, garlic powder, cumin, chili powder, and oregano to veggies. Toss to coat. Spread in single layer. Place baking sheet in oven, 20 minutes.
Remove pan from oven. Toss vegetables. Return to oven, 25 minutes or until fork-tender.
Remove pan from oven. Add cilantro and salt, to taste. Toss to combine.
Place tortillas on grate in warmed oven, 30 seconds. Remove to serving plates.
Spread 2 Tbsp hummus inside each tortilla. Divide roasted ingredients evenly atop hummus. Top with squeeze of fresh lemon juice, if desired.
Swaps
For the cilantro: parsley
For the avocado oil: olive oil
For the flour tortillas: corn, Siete almond or cassava flour tortillas, or Trader Joe's almond flour tortillas
For the lemon: lime
Recipe modified from: LizMoody.com