Recipe: Vegetarian Edamame Noodle Salad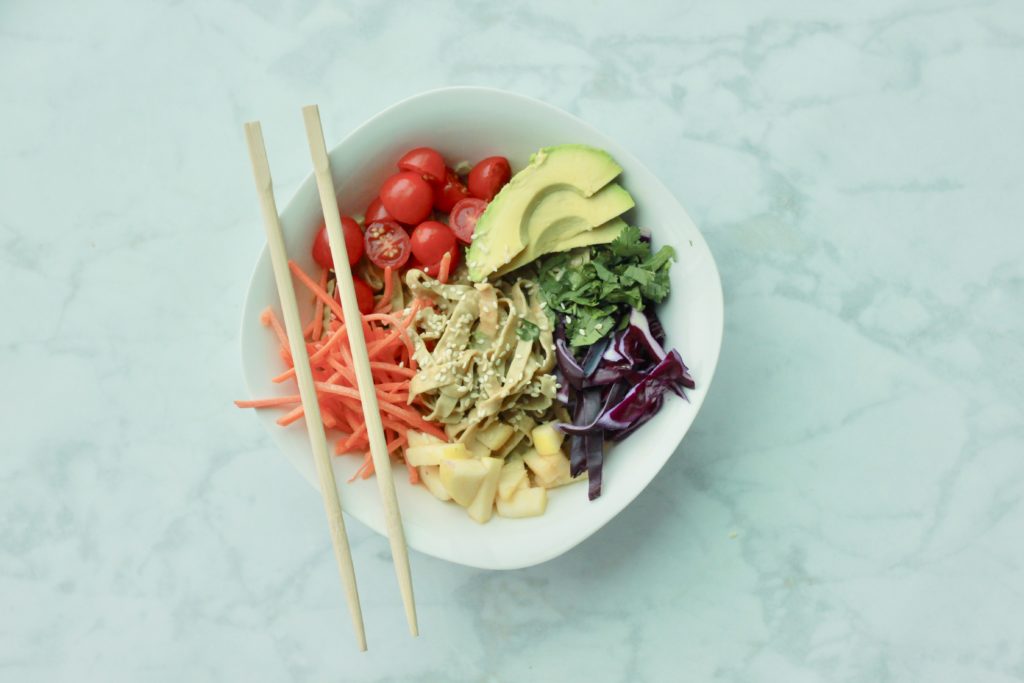 Pasta alternatives are all the rage. There's a good reason for it! Depending on what the nutrition label says, of course. Pastas or noodles that are made from beans or legumes have a higher percentage of protein and fiber. Pair with colorful vegetables (and a fruit!) and you've got an amazing, delicious Plate Method meal.
Finding your plates to be a solid one color? In need of some of color-inspiration? We've got you with this recipe, backed with science. Check out the tip below to switch up the color spectrum! 
Ingredients
1 package edamame noodles (we used Explore Organic Edamame + Mung Bean Fettuccine)
1 C shredded carrots
1 C sliced grape tomatoes
1  C cubed apple (we used golden delicious)
1/2 C shredded purple cabbage
1/2 C chopped cilantro
1/2 C peanut butter
1/2 C rice vinegar
1/4 C olive oil
2 Tbs honey
1 Tbs sriracha sauce
1 Tbsp grated fresh ginger
sliced avocado
sesame seeds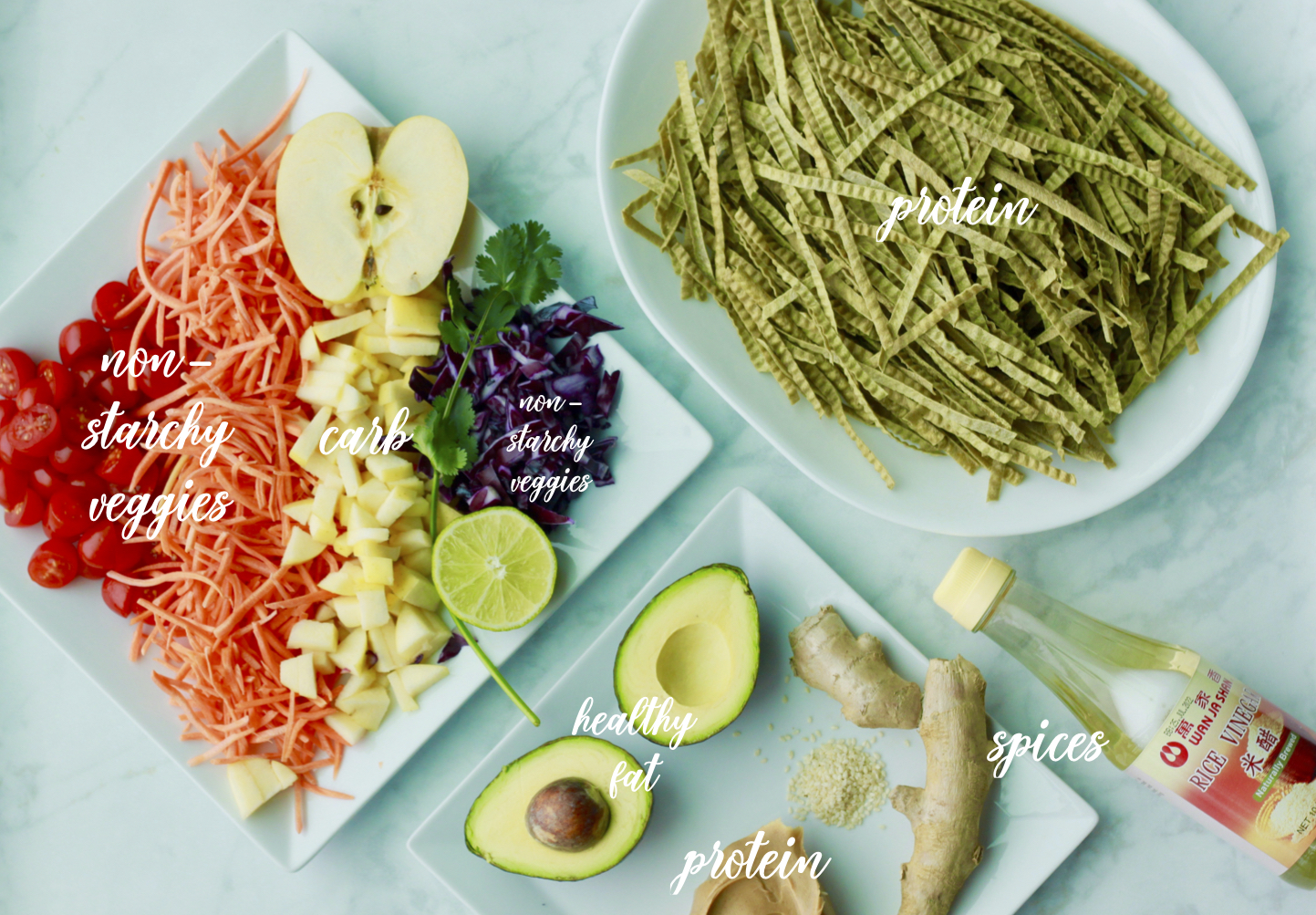 Directions
To prepare noodles, bring water to a boil – follow instruction on box. If using Explore's Mung Bean + Edamame fettuccine: bring pot of water to a boil, add noodles and cook for 5-7 minutes with reduced heat. Strain.
To prepare sauce, whisk together peanut butter, honey, olive oil, vinegar, and sriracha sauce.
Drizzle noodles with sauce.
Toss grape tomatoes, apple, cilantro, cabbage, and sauce with cooked noodles. (If wanting to plate as shown in photo, layer ingredients in sections atop dressed noodles in bowl)
Top with cilantro leaves sesame seeds, and sliced avocado.
Serve warm or cold!
Our advice… EAT THE RAINBOW! We can't say or emphasize it enough. Why? Every different color holds different nutritional value. Whether it's vitamins, minerals, or phytonutrients – color reflects chemistry that visually explains nutrient diversity. When we eat the rainbow, we supply our bodies with a variety of nutrition that supports metabolism and health.
To add, colorful ingredients will taste different. If you're ever bored with your plate, find a color you haven't had in a while! Getting out of a food jag, or repetitive meals, can help kick health progress plateaus.
Recipe adapted from Good Housekeeping.