Recipe: Sweet Beet Chocolate Chip Cookies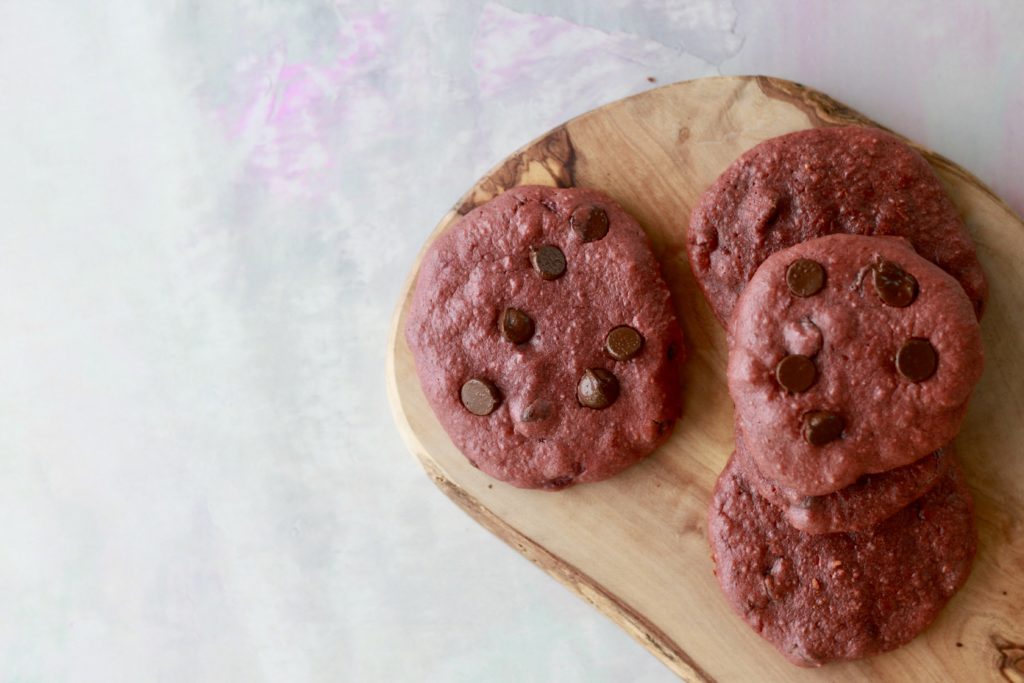 According to a survey published by the National Retail Federation, consumers will spend $2.4 billion dollars on candy this Valentines Day[1]. Gasp! We recommend spreading the love a little differently. This year, try providing your loved one with a treat that will leave their health and heart feeling cared for and appreciated.
There's no better way to say "I Love You!" than a sweet treat that has hidden vegetables, loaded with antioxidants – right?!
Happy Valentines Day!
Sweet Beet Chocolate Chip Cookies
Ingredients
½ C unsweetened nut butter (examples: almond, peanut, or cashew butter)
1 large egg
1 tsp vanilla extract
3 Tbsp sugar (or coconut sugar)
3 Tbsp pureed beets:

Pureeing beets is easy! Bring ~7 C of water to a boil and submerge 1- 2 beets and cook for 30-35 minutes or until beets are tender. Let them cool. The skin of the boiled beets should peel off easily with a fork, dull knife, or with fingers. Peel skin and then largely chop beets. Place chopped beets in a blender or food processor and puree until smooth.

¼ C almond meal or other flour of choice
¼ C dark chocolate chips
Directions
Preheat oven to 375°F.
Mix together nut butter, egg, vanilla, sugar, and beet puree in medium bowl until well blended.
Add almond meal and chocolate chips and mix well.
Scoop ~3 tablespoon balls of dough onto foil-lined baking sheet. Should make about 8 cookies 2-inches in diameter.
Bake for 17-20 minutes or until cookies are slightly browned near edges.
Let cool and enjoy within 1-2 days.
[1] Confident consumers and broader buying lead to record Valentine's Day spending plans
https://nrf.com/media-center/press-releases/confident-consumers-and-broader-buying-lead-record-valentines-day