Recipe: Sweet Beet Chocolate Chip Cookies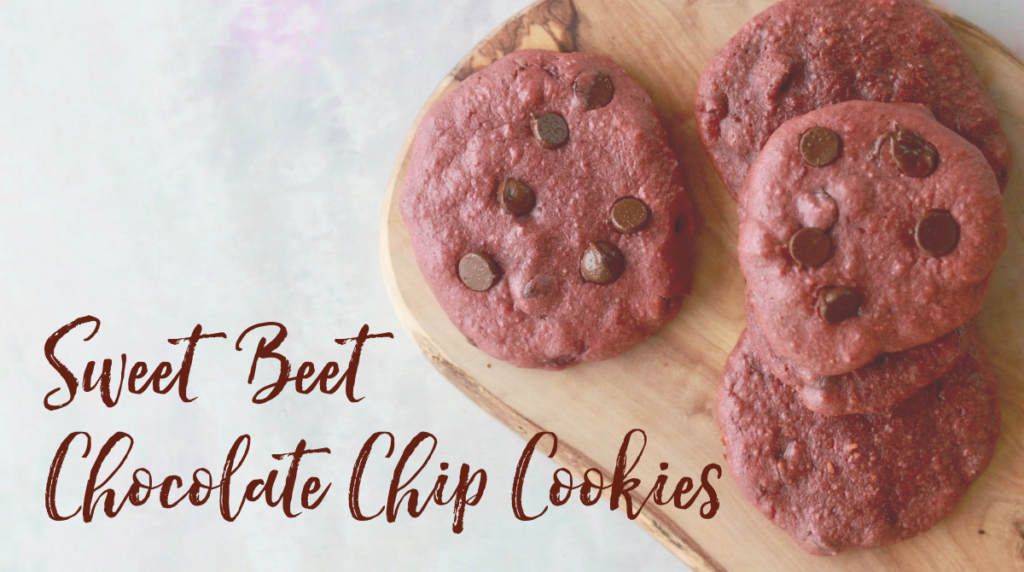 Eating your vegetables is something our dietitians at Summerfield are never shy to suggest. So rather than talk about 'sneaking' veggies into a recipe, we're here with one that is screaming from the rooftops…"I HAVE VEGGIES!"  How so?  The bright red color of these lovely cookies is derived entirely from a few tablespoons of pureed beets.  Their earthy flavor is mellowed in chocolate baked goods (think brownies) but it blends in very well here too thanks to the rich nut butter and sweetness of the coconut sugar and chocolate chips.
Similarly, a small amount of cooked beets blends really well into smoothies sweetened with berries or citrus while offering a bright pop of vibrant color.  Pureed beets can also be used as a natural way to color homemade icing in place of food dyes.   Now that we've almost convinced you, consider giving these cookies (and maybe another one of these ideas) a try and let us know what you think!
Tip – we could also add an ingredient swap to use precooked, packaged beets in place of the cooking step.  Brands like 'Love Beets' are often found in the refrigerated section in grocery stores.
Sweet Beet Chocolate Chip Cookies
Ingredients
½ C unsweetened nut butter (examples: almond, peanut, or cashew butter)
1 large egg
1 tsp vanilla extract
3 Tbsp sugar (or coconut sugar)
3 Tbsp pureed beets:

Pureeing beets is easy! Bring ~7 C of water to a boil and submerge 1- 2 beets and cook for 30-35 minutes or until beets are tender. Let them cool. The skin of the boiled beets should peel off easily with a fork, dull knife, or with fingers. Peel skin and then largely chop beets. Place chopped beets in a blender or food processor and puree until smooth.

¼ C almond meal or other flour of choice
¼ C dark chocolate chips
Directions
Preheat oven to 375°F.
Mix together nut butter, egg, vanilla, sugar, and beet puree in medium bowl until well blended.
Add almond meal and chocolate chips and mix well.
Scoop ~3 tablespoon balls of dough onto foil-lined baking sheet. Should make about 8 cookies 2-inches in diameter.
Bake for 17-20 minutes or until cookies are slightly browned near edges.
Let cool and enjoy within 1-2 days.
[1] Confident consumers and broader buying lead to record Valentine's Day spending plans
https://nrf.com/media-center/press-releases/confident-consumers-and-broader-buying-lead-record-valentines-day