Recipe: Roasted Garlic and Broccoli Hummus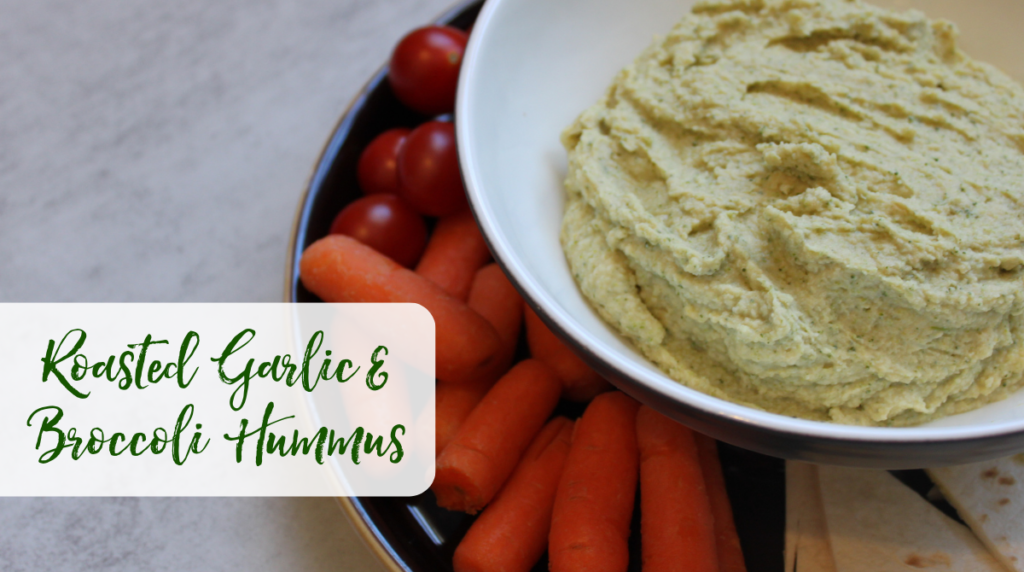 Did you know that hummus is recorded as first being eaten in Egypt around the 13th century? While it's considered an "ancient" food, its popularity in America has grown over the past 20 years. The traditional version contains a good amount of iron, folate, and magnesium, thanks to chickpeas and tahini. In this recipe, we'll enhance the nutrient profile with garlic and broccoli, adding to the potassium and immune-boosting benefits of this tasty dish!
 
Roasted Garlic and Broccoli Hummus
Serves 8+
Ingredients:
4 whole cloves of garlic
2 Tbsp + 1 tsp olive oil
1 C broccoli florets, steamed
1 15.5-oz can chickpeas, drained and rinsed
2 Tbsp tahini
3 Tbsp lemon juice (about the juice of 1 medium lemon)
1/2 tsp salt (or more to taste)
Directions:
Preheat oven to 400°F
Place the 4 cloves of garlic in the middle of the aluminum foil. Drizzle with one tsp of olive oil. Wrap the foil tightly around the garlic and place it on a baking sheet. When the oven is heated, add the baking sheet with the garlic to the oven. Bake for 20 minutes.
Remove the garlic from the oven and allow it to cool for about 10 minutes.
In a large food processor or blender, add the roasted garlic, the other 2 Tbsp olive oil, steamed broccoli, chickpeas, tahini,  lemon juice, and salt. Puree the mixture for 1 minute.
Scrape down the sides of the bowl and puree again for one more minute or until the hummus is fairly smooth and mostly lump free.
Scoop into a bowl and enjoy!
TIP: Stash extra hummus in an air-tight container in the fridge for up to four days!
Swaps:
For the broccoli: feel free to omit or add 1 cup roasted red peppers
For the tahini: almond butter, sun butter, or other seed/nut butter