Recipe: Refreshing Ribboned Cucumber Salad with Tzatziki & Chicken
Cucumber is a refreshing veggie that easily plays the supporting role when jazzing up your salads. Try letting this succulent green star as the main role with cucumber ribbons!
Kitchen gadgets are fun appliances to have handy to make your vegetables more enjoyable. Spiralizers may have a "ribboning" attachment. Because they are all the rage, these gadgets are affordable and easy to find in most stores. Alas, if you are unable to find or purchase a spiralizer that ribbons a hand-held vegetable peeler, or two chopsticks (see directions below) can also do the trick!
Test out cucumber ribbons with this simple recipe that ties in Mediterranean flavors. A springtime dish that will be sure to impress family, friends, and guests – and give cucumber all the love and attention it deserves!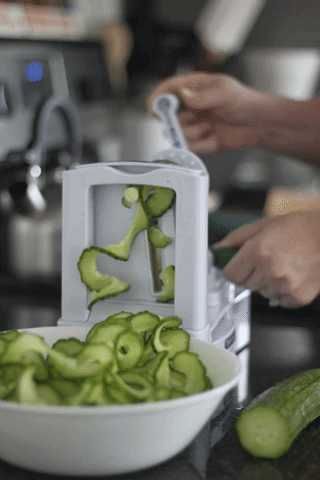 Refreshing Ribboned Cucumber Salad with Tzatziki & Chicken
Serves: 3
Ingredients:
1 Tbsp olive oil
~1 lb chicken breasts, thawed
Salt and pepper, to taste

2 English cucumbers

1 C Greek Yogurt 

1 Tbsp garlic, crushed/finely minced 

2 Tbsp dill plus more for garnish

1/2 lemon, juiced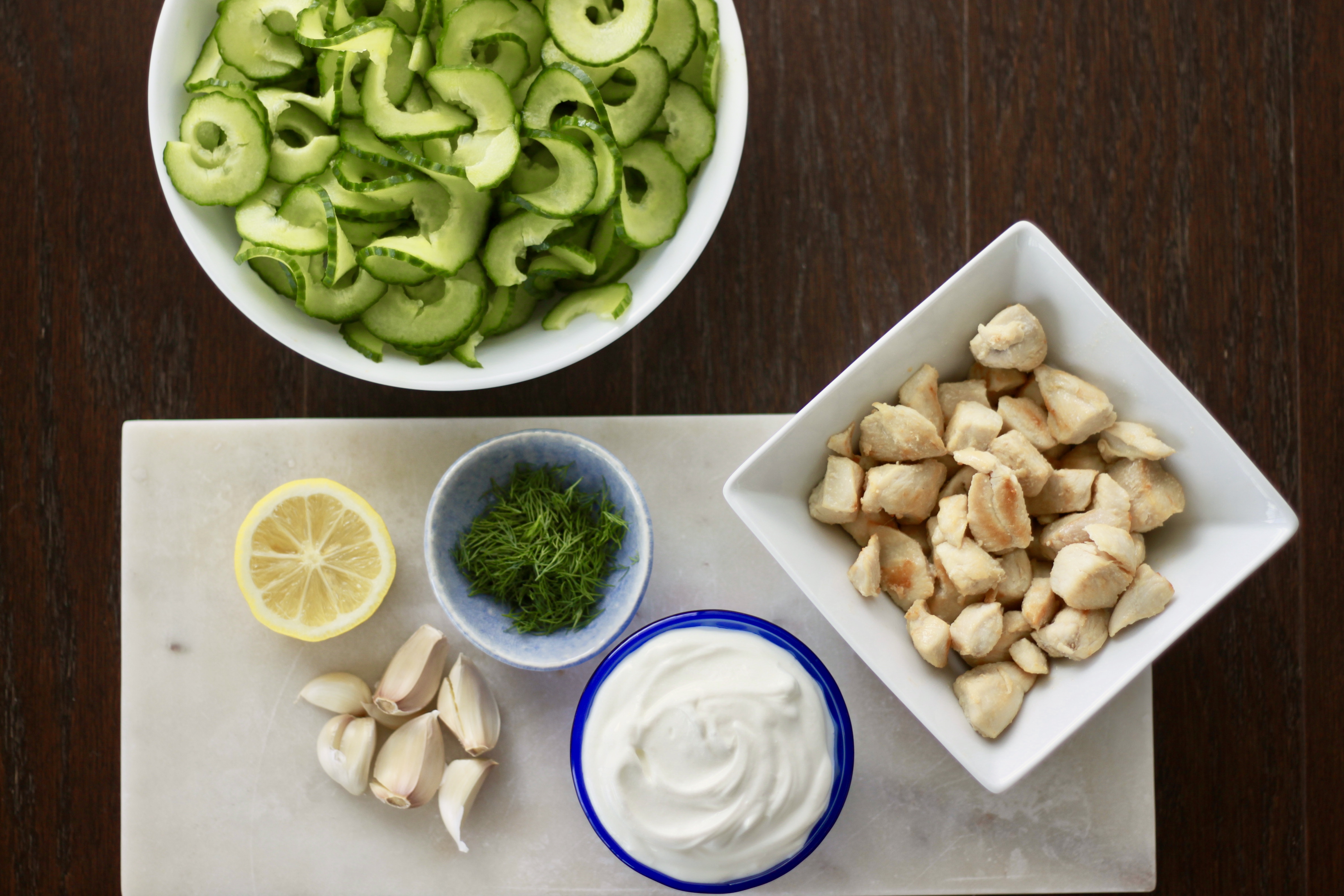 Directions:
Cut chicken breasts into similarly-sized cubes.
Heat olive oil in large saute pan on stovetop over medium heat. Add salt and pepper, to taste. Cook 3-4 minutes or until internal temperature reaches 165ºF. Remove from heat. Place chicken in bowl to cool. Set aside.
Slice ends off of cucumbers and use spiralizer to cut into ribbons. If no spiralizer available, place cucumber on countertop. Use two chopsticks, placing one chopstick along either long side of cucumber. Use large knife to slice at 45-degree angle down to chopsticks along entire length of cucumber. Once one side is cut, flip cucumber to other side and repeat process. Voila! Spirals! Set aside.
In small bowl, mix together Greek yogurt, garlic, dill, and lemon juice. Add cucumber. Toss to coat evenly.
Top salad with cubed chicken. Add more salt and pepper, to taste. Serve room temperature or chilled with some more fresh dill as optional garnish.
TIP: If you are looking for a quicker option, consider going with a pre-made or frozen chicken. Examples include chopped and cooled rotisserie chicken breast or Tru Grill Diced Grilled Chicken Breast.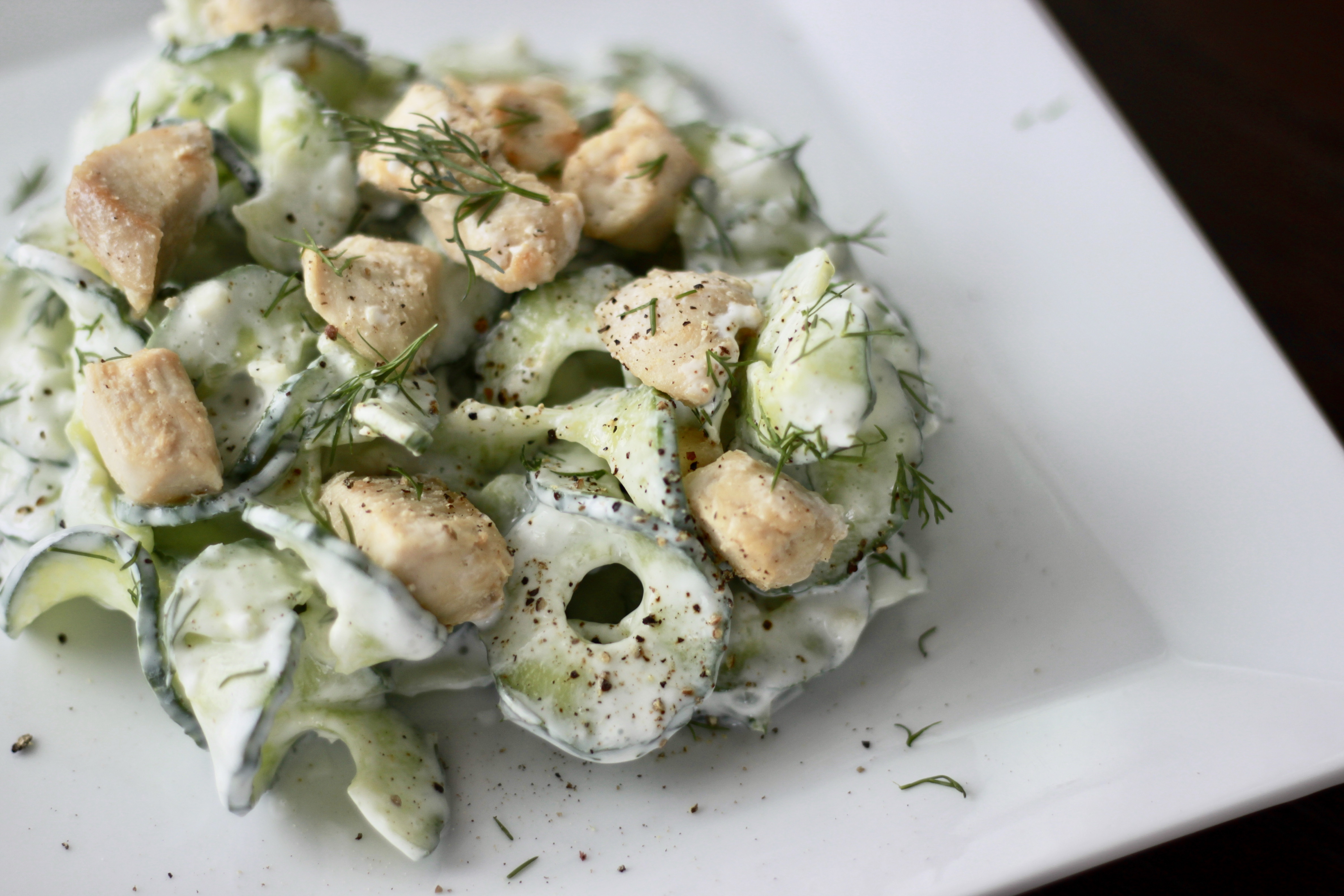 Special thanks to Juliana Martin MS, DTR, Dietetic Intern at Meredith College.