Recipe: "Pumpkin Day" Microwavable Pumpkin Mug Cake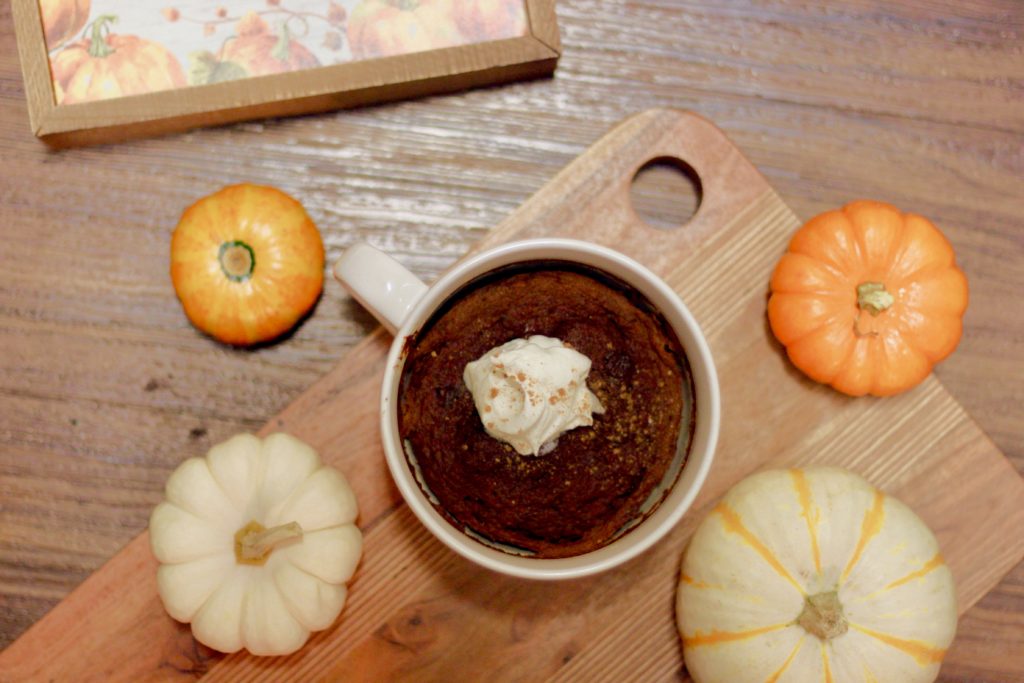 The bright orange color of pumpkin doesn't only match Halloween decor & that mason jar filled to the brim with candy corn; that gorgeous festive pigment also means that pumpkin is loaded with beta-carotene (or Vitamin A!). Did you know that just ONE cup of pumpkin puree contains 763% of the amount of Vitamin A you need per day?!
Just like having the coolest Halloween costume at the party… Vitamin A is super important. Proper amounts of this fat soluble vitamin are vital for skin, tissue, and muscle health. Not to mention that beta-carotene acts as an antioxidant in our bodies as well, which means it helps repair and fight cellular damage.
For a delish and fluffy pumpkin-based dessert, try our easy microwavable pumpkin mug cake below. This easy dessert contains 100% of Vitamin A you need daily. 
"Pumpkin Day" Microwavable Pumpkin Mug Cake
Ingredients
1/4 C pumpkin flour (We used Glean's Pumpkin Goodness – Flour and Powder)

other flour alternatives: almond or coconut flour

1 egg
1 Tbsp coconut oil, melted
2 Tbsp pumpkin puree
1 Tbsp honey, warmed
1 tsp pumpkin spice
1/2 tsp maca powder
1/4 tsp baking soda
Optional: Handful of chocolate chips
Directions
Mix all ingredients together in your favorite microwavable mug
Microwave for 2 minutes
Allow to cool
Optional: Top with your favorite whipped topping!
Happy Eating!
What is Pumpkin Day?
OK, so it's not National Pumpkin Day… that's on October 26th. It's a pretend holiday that our nutrition coordinator and Registered Dietitian, Kyrstin Draney RD, LDN, came up with. She holds off on eating anything pumpkin, pumpkin spiced, or fall flavored until October 1st, believing that August and September are too early to start indulging on all the holiday flavors.
From Kyrstin, her kitties, and the rest of Summerfield Custom Wellness – we are so excited to get the holidays started.
Happy Pumpkin Day!