Recipe: Oat Risotto with Cherry Tomatoes and Basil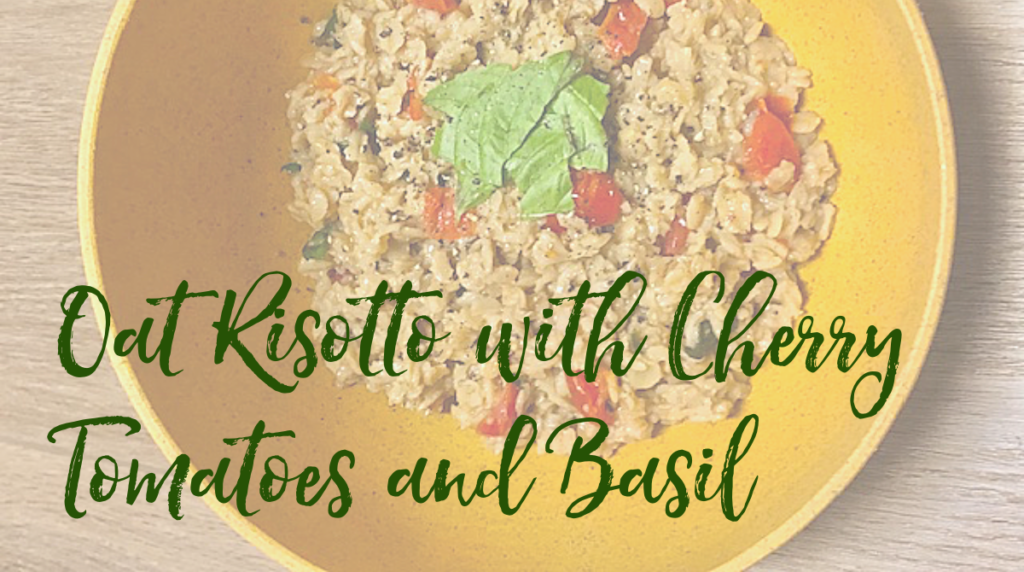 Oats have the reputation of being a breakfast food typically served with sweet toppings. We're here to break the mold with a savory oat dish that is perfect for any meal. This faux risotto has all the creaminess of the classic version with none of the fuss. To truly bring these oats to life, we've added the tang of tomatoes and aromatic notes of fresh basil. Essentially, we turned comfort food on it's side – fast, fresh, and even heart-healthy.
Speaking of heart-healthy, have you ever heard the "why" behind the benefit of oats for cholesterol reduction? The soluble fiber actually binds to fatty acids that would otherwise build up in the body and bloodstream. It then ushers them out of the body through our digestive tract. These important fibers also serve as fuel for the beneficial bacteria in our intestines which are linked to our response to, and absorption of, certain foods and nutrients. In a way, we are feeding these bacteria so they can work for us!
If you're looking to upgrade your health, consider focusing on foods and nutrients that nourish these beneficial bacteria, starting with fiber. Eating a variety of whole grains, fruits, and vegetables (think plant foods!) is a great place to start. As our Summerfield motto goes, aim to eat the rainbow with a variety of colors to ensure a variety of nutrients and delicious flavors to enjoy.
Oat Risotto with Cherry Tomatoes and Basil
Serves 6-8
Ingredients
4 C low-sodium chicken broth
2 C rolled oats
1/4 C olive oil
2 garlic cloves, thinly sliced (or 1-2 tsp minced garlic from a jar)
16 cherry tomatoes, quartered
8-10 fresh basil leaves, torn (plus more for garnish, optional)
Sea salt and black pepper, to taste
1/4 C grated parmesan cheese (optional)
2 Tbsp chopped kalamata olives (optional)
Directions
In medium saucepan on stove over medium-high heat, boil chicken broth. Add oats, 1/4 C at a time, allowing for them to soften slightly and incorporate while stirring gently. Once all oats are added to saucepan, return broth to boil and simmer 8-10 minutes or until liquid is mostly absorbed. Pour oats into glass bowl and set aside, allowing mixture to thicken.
Heat olive oil in skillet over low-medium heat. Add garlic and sauté until golden brown (careful – it cooks quickly).
Add cherry tomatoes. Sauté 1-2 minutes, then add basil. Cook 30 seconds.
Add thickened oatmeal to saucepan, folding gently to combine with sautéed garlic, tomatoes, and basil. Season with salt, pepper, and preferred optional ingredients.  Stir to combine and serve warm.
TIP: Try pairing this dish with grilled chicken and mixed vegetables, sauteed shrimp and bell peppers, or roasted cod fillets and broccoli. This whole grain dish also works great alongside poached eggs or an omelet at breakfast or brunch! For another rich, faux risotto using steel-cut oats, try: https://www.foodnetwork.com/recipes/geoffrey-zakarian/savory-oatmeal-risotto-3195241.
Recipe modified from: https://www.oneingredientchef.com/savory-oats-risotto/