Recipe: Fajita Fish Tacos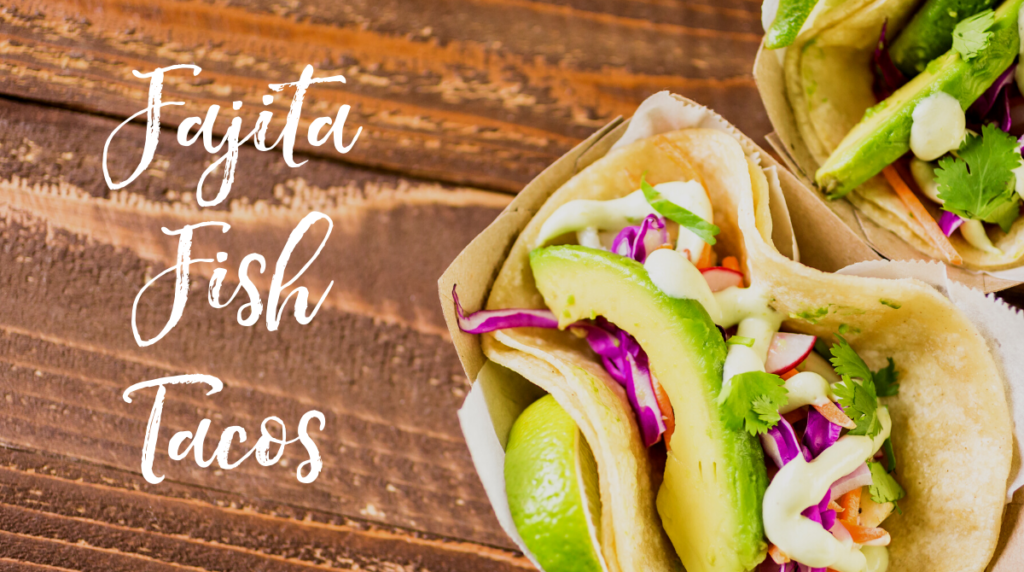 Get creative with ease this summer by making your own fajita-style fish tacos. This recipe is simple, yet provides lots of flavor and color from a mix of spices and fresh veggies like bell peppers, tomatoes, and cabbage! Pan-frying fish adds flavor and is a great alternative to deep frying without creating a mess in the kitchen.
White, flaky fish is a lean source of protein, cooks quickly and easily, and takes on a variety of flavors and spices. Three ounces of fish or most other seafood provides 24 grams of protein.
In addition to providing protein, these fajita fish tacos make Plate Method easy by providing carbs and fiber from the tortillas and lots of color from the bright veggies used as toppings.
Recipe Modified From: https://www.delish.com/cooking/recipe-ideas/recipes/a53296/easy-fish-taco-recipe/
Fajita Fish Tacos
Serves 4
Ingredients
1 Tbsp lime juice (approximately 1 lime)
4 pieces of 4-oz. frozen flounder, thawed
1 medium yellow onion, thinly sliced
1 orange bell pepper, thinly sliced
8 corn tortillas (approximately 6-in. diameter)
Staple Items
2 Tbsp olive oil, separated
1 tsp paprika
2 tsp chili powder
½ tsp cumin
½ tsp cayenne
Toppings (optional)
1 large tomato, sliced
1 avocado, diced
2 C shredded cabbage (approximately ½ a head of cabbage)
¼ C tartar sauce
cilantro, roughly chopped
Directions
In a small bowl, whisk together 1 Tbsp olive oil with lime juice, paprika, chili powder, cumin, and cayenne. Add fish, toss until evenly coated. Set aside to marinate for 5-10 minutes while chopping other ingredients.
In a large skillet on medium heat, add the other 1 Tbsp olive oil, onion, and pepper. Sauté until softened (approximately 5-6 minutes). Remove onions and peppers from to a bowl and set aside.
In the same skillet, add fish and cook for 3-5 minutes on each side until fish is cooked through in the middle (internal temperature of 145° F or pulls apart easily with fork).
Heat the tortillas in a skillet over medium heat or microwave for 20 seconds until warmed.
Assemble tacos: Add fish, onions, and peppers over tortilla then add toppings. We love tomato, avocado, cabbage, a drizzle of tartar sauce, and a sprinkling of cilantro.
Swaps
For the flounder: chicken, chickpeas, tofu, or any flaky white fish such as cod, tilapia, or mahi mahi
For the orange bell pepper: green, red, or yellow bell pepper
For the corn tortillas: flour tortillas, lettuce wrap
For the cabbage: lettuce mix, spinach
For the spice mix: pre-made fish taco spice mix, fajita seasoning
For the tartar sauce: sour cream, salsa