Recipe: Chocolate Oat Bars, aka Breakfast Brownies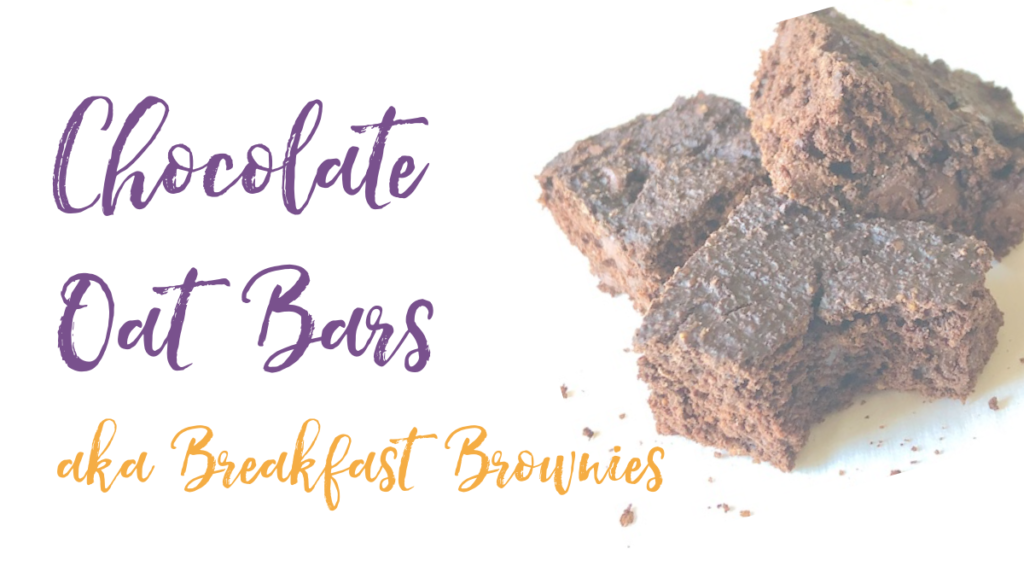 In the spirit of enjoying what we eat, why not combine nourishing ingredients with ones that feel like dessert by adding a little chocolate to breakfast?  We've done exactly that by making oatmeal breakfast bars that are nourishing enough to have alongside your standard protein and vegetable pairing. Of course, if something sweet to start the day isn't your preference, they are also fabulous as a midday treat or after dinner delight, whatever your style.
Believe it or not, this recipe packs a punch in terms of heart-healthy ingredients. Many of us are familiar with oats and their benefits for lowering cholesterol (thanks, soluble fiber!) but did you know apples are also a source of soluble fiber along with polyphenols, a plant compound linked to other diseases risk reduction? If you want to reap health benefits from the chocolate aspect, upgrade your cocoa to cacao powder. Cacao is made from unroasted beans and cold pressing. Less heat exposure means more antioxidant nutrients are maintained. One example is flavonoids, a plant compound that protects the heart by promoting blood flow and reducing cellular damage. If you enjoy a little crunch in your munch, add a scoop of walnuts or pecans for another dose of heart-healthy goodness, courtesy of their poly- and monounsaturated fats.
Chocolate Oat Bars, aka Breakfast Brownies
Serves 12-16
Ingredients
1 Tbsp coconut oil
1 Tbsp milled flax seed
3 Tbsp water
1 C unsweetened applesauce
1 1/4 C oat flour (or gluten-free flour blend)
2/3 C unsweetened cocoa powder or cacao powder
1/3 C pure maple syrup or honey
1 tsp vanilla extract
1/2 tsp baking soda
2/3 C chocolate chips
1/2 C chopped walnuts or pecans, optional
Directions
Preheat oven to 375˚F. Grease 8″ baking dish with coconut oil.
In medium bowl, combine milled flax seed and water, stirring gently. Allow to rest 3 minutes, then mix in applesauce. Add remaining ingredients and stir well to combine.
Pour mixture into prepared baking dish. Bake 16-18 minutes. Remove to cool. Bars will be set but may seem slightly underbaked due to high moisture content. This "barely baked" texture is just right for these bars!
Recipe modified from: "Barely Baked Brownies" from Eat with Intention Cookbook by Cassandra Bodzak