Recipe: Buttery Lemon Shrimp Zoodles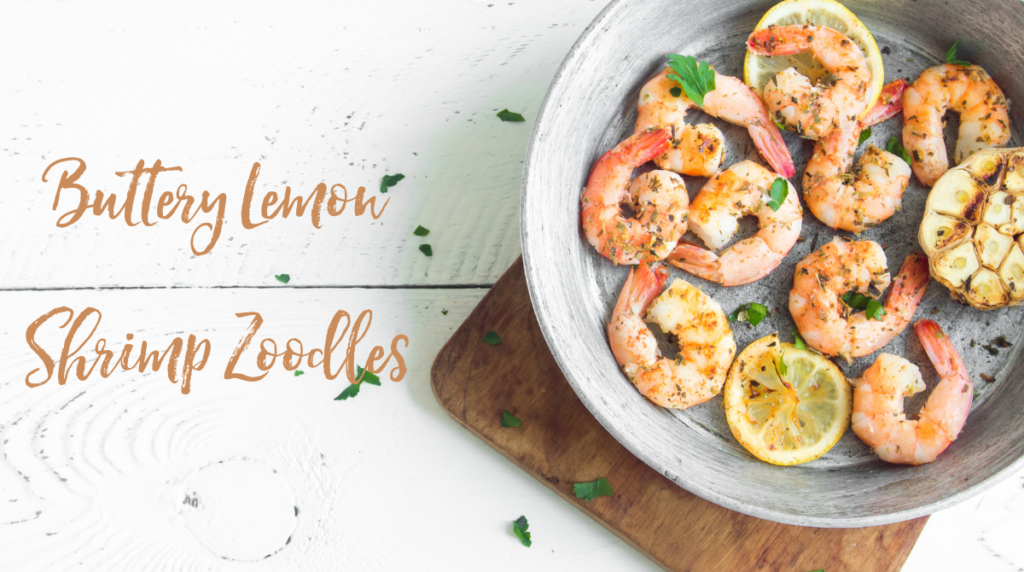 It's fun to say, but more fun to eat – ZOODLES! Try swapping out your standard spaghetti noodles for this non-starchy spiralized zucchini option.
Find zucchini noodles pre-made in most produce sections, or consider getting a spiralizer yourself to make zucchini noodles at home. Pair with shredded carrots, which cook similarly and give additional color and flavor.
Buttery Lemon Shrimp Zoodles
Serves 3
Ingredients:
3 Tbsp butter
3 Tbsp minced garlic (fresh or from a jar)
3 Tbsp Trader Joe's 21 Seasoning Salute
1 pound raw shrimp, peeled and deveined
1 lemon, halved
3 C shredded carrots
3 C "zoodles" (spiralized zucchini noodles)
Parmesan, Romano & Asiago Cheese Blend (Optional)
Salt and Pepper, to taste
Directions:
In large pot on stove over medium heat, melt butter. Add garlic. Cook, stirring constantly, about 1 minute.
Add shrimp and seasoning of choice to pot. Stir to mix. Cook 3 minutes on each side, or until shrimp are opaque and pink.
Juice half of lemon over top of shrimp. Stir. Cook 1 minute.
Transfer shrimp to bowl and set aside. Leave liquid in pot. Add Zoodles and carrots to pot. Cook 8 minutes.
Add shrimp to pot with Zoodles. Juice remaining lemon on top and add salt and pepper, to taste. Stir. Cook 3 minutes.
Remove from heat. Divide into serving bowls. Top portions with sprinkle of optional cheese blend. Serve warm.
Swaps:
For the butter: ghee or avocado oil
For the fresh garlic: 1 Tbsp garlic powder
For the lemon: lime
For the Parmesan, Romano & Asiago Cheese Blend: grated parmesan or shredded mozzarella