Recipe: 3 Ingredient Happy Belly Parfait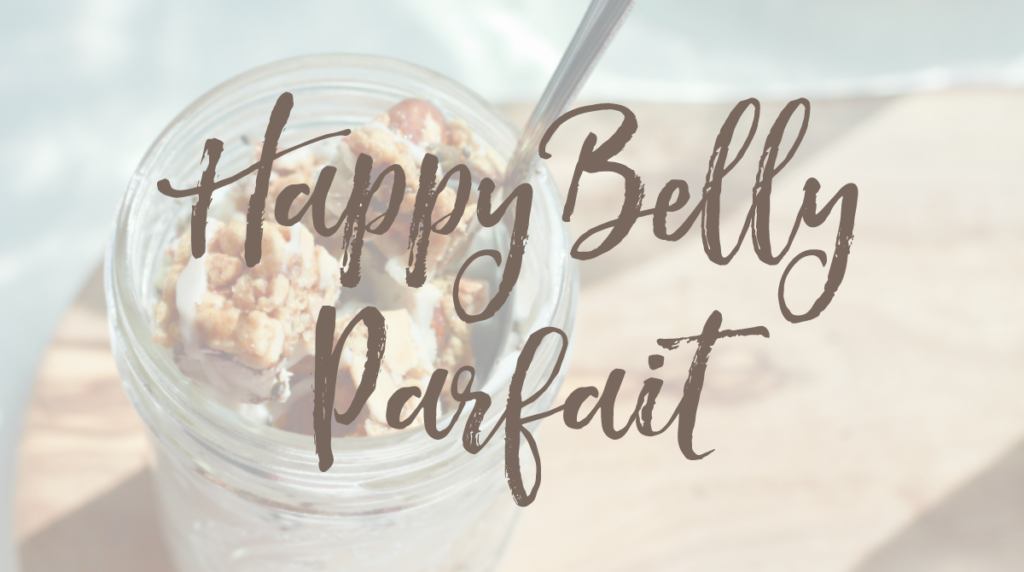 Gut health is all the rage in health trends. Dietitians care so much about your gut because it's where digestion and nutrient absorption happens. This health "trend" will probably stick around for some time, though, since research indicates that our gut health can affect so many other aspects of our overall wellbeing. This includes weight management, mental health, and disease progression.
Our gut, or gastrointestinal tract, is home to trillions of microbes. The balance of microbes, or our gut "microbiome", is what affects our systemic health. Just like any ecosystem of living creatures, there are good and bad guys that can make their environment happy and healthy, or quite sad and not ideal.
What makes your gut healthy? Intuitively, the more good microbes you've got – the better! If you have an imbalance, where there may be more bad guys than good guys – chances are you've experienced some pain, bloating, gas or other uncomfortable GI issues. This would be a great time to link up with a dietitian to figure out what foods you're eating that could be contributing to unpleasant symptoms. (For more information on how Summerfield can help, click here!).
Keep in mind, though, that you can still have an imbalance of gut microbes even if you're not bellyaching after each meal. You may be dealing with a microbial gut imbalance and seeing other symptoms: fatigue, immunity, and wonky mood. Therefore, it's never a bad idea to fortify your gut with beneficial microbes to keep you healthy and happy!
See below for a simple recipe that you can use for a snack or a dessert that uses familiar ingredients to create a parfait your gut will love, and the reasons why!
3 Ingredient Happy Belly Parfait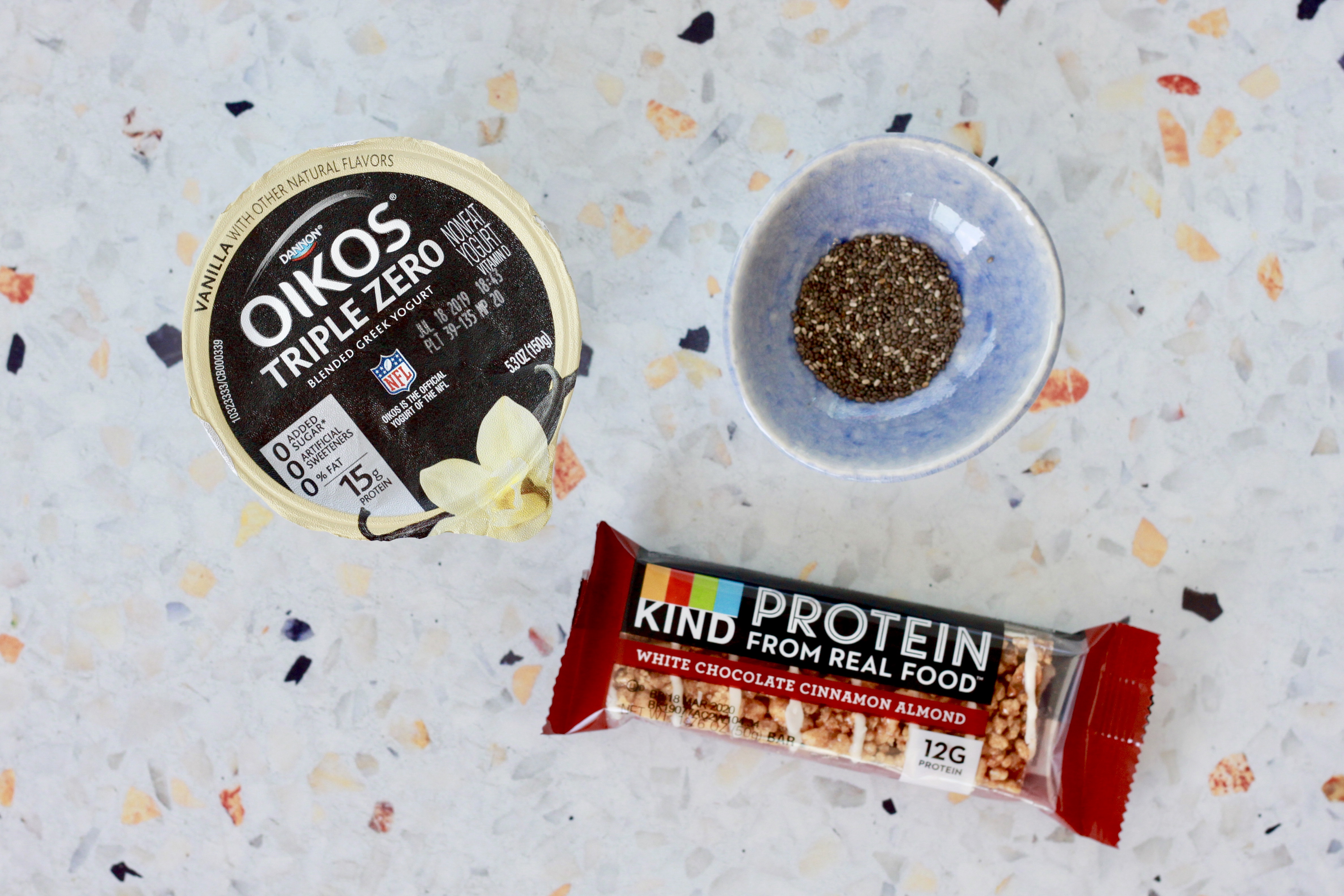 Diversity is key to keeping your gut balanced, with the good guys winning the good fight for your health! We can ensure a diverse gut microbiome is present by eating the Plate Method, which emphasizes eating a half a plate of non-starchy, fiber-rich, colorful vegetables. This is because our good gut microbes love fiber and polyphenols from natural and highly pigmented foods. These components that microbes feed off of are commonly known as prebiotics.
Another way to keep your gut fortified with good gut microbes is by actually eating them! These are known as probiotics, and are listed on food products as live active cultures. Probiotics are also offered in pill form, but we recommend you eat your way to good gut health, first, through mindful food choices.
The most common food sources of probiotics include yogurt, kimchi, kombucha, and unpasteurized sauerkraut.
Research is still being done to give us insight about which good microbes we want more of in our gut. It is believed that when specific strains are dominant, it can be linked to specific health outcomes. For example, Akkermansia muciniphila is a microbe of specific interest. Individuals who have more of this good guy prevalent in their intestinal tract have less risk of obesity, diabetes, cardiometabolic diseases and low-grade inflammation [1].
Unfortunately, Akkermansia muciniphila is not available in a probiotic supplement or as an active culture enriched in any foods, but we know that this beneficial bug loves certain prebiotics! Feeding this good guy is sure to make him thrive in your gut! Polyphenol-rich foods and inulin have been shown in studies to be beneficial to Akkermansia muciniphila and the overall gut microbiome [2][3][4].
Inulin, or chicory root, is an ingredient in both Oikos Triple Zero yogurt and KIND bars (not to mention, the live active cultures from the yogurt!). Give your gut some fortifying ingredients with this Parfait recipe*! It packs an astounding 11g of fiber per serving.
Ingredients:
Serves 1
1 container of Oikos Triple Zero Yogurt (featured: Vanilla)
1 KIND Bar (featured: White Chocolate Cinnamon Almond)
1/4 tsp pinch of chia seeds
Other [polyphenol rich!] topping ideas:

Handful of blueberries
Dusting of cocoa powder
Dark chocolate containing KIND bar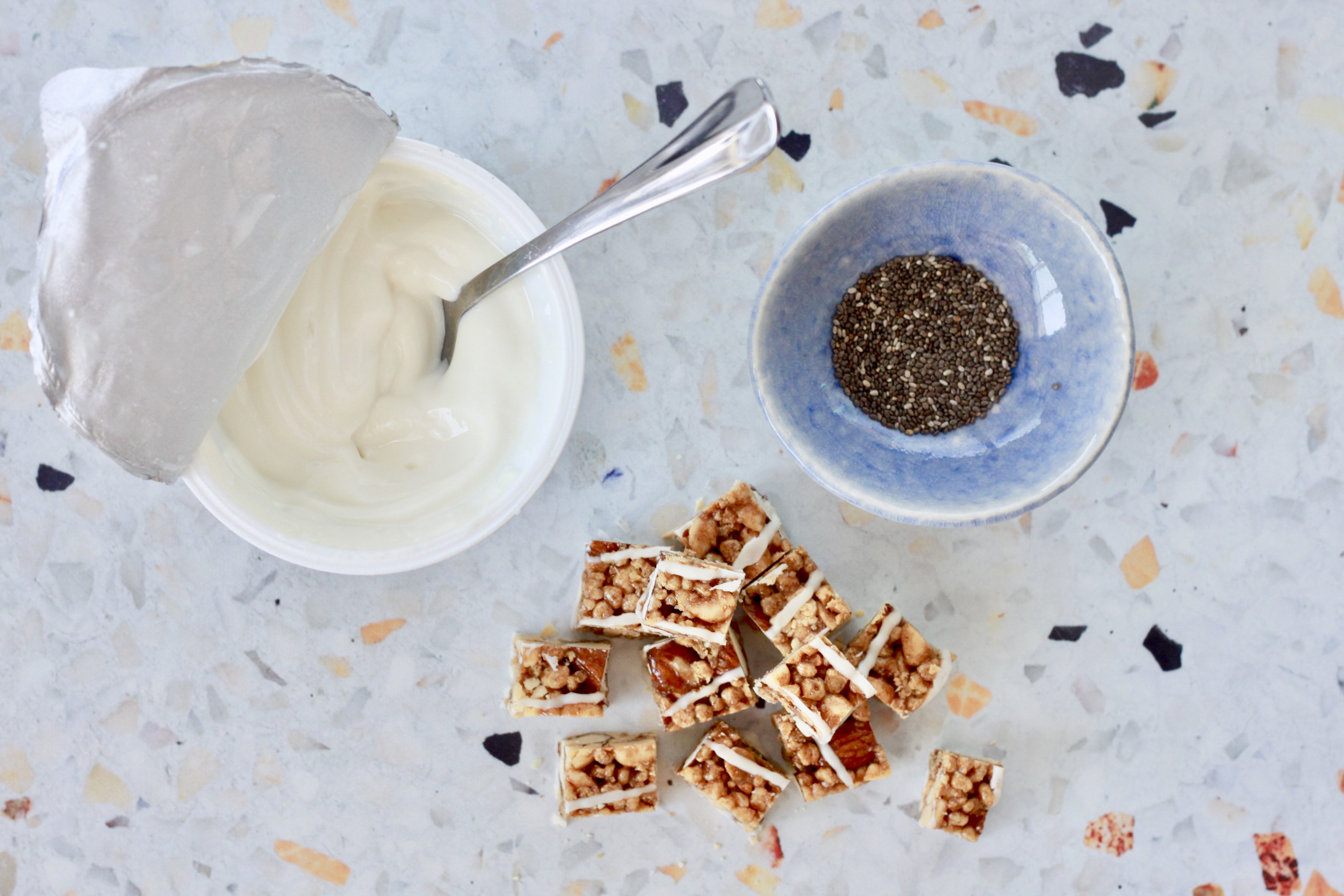 Directions:
Chop KIND bar into bite-sized cubes
In mason jar, layer chilled yogurt, KIND Bar bites, and half of chia seeds.
Repeat layer.
Chill for 5 minutes to set ingredients or enjoy immediately.
Pat your belly and thank your gut microbiome for keeping you healthy!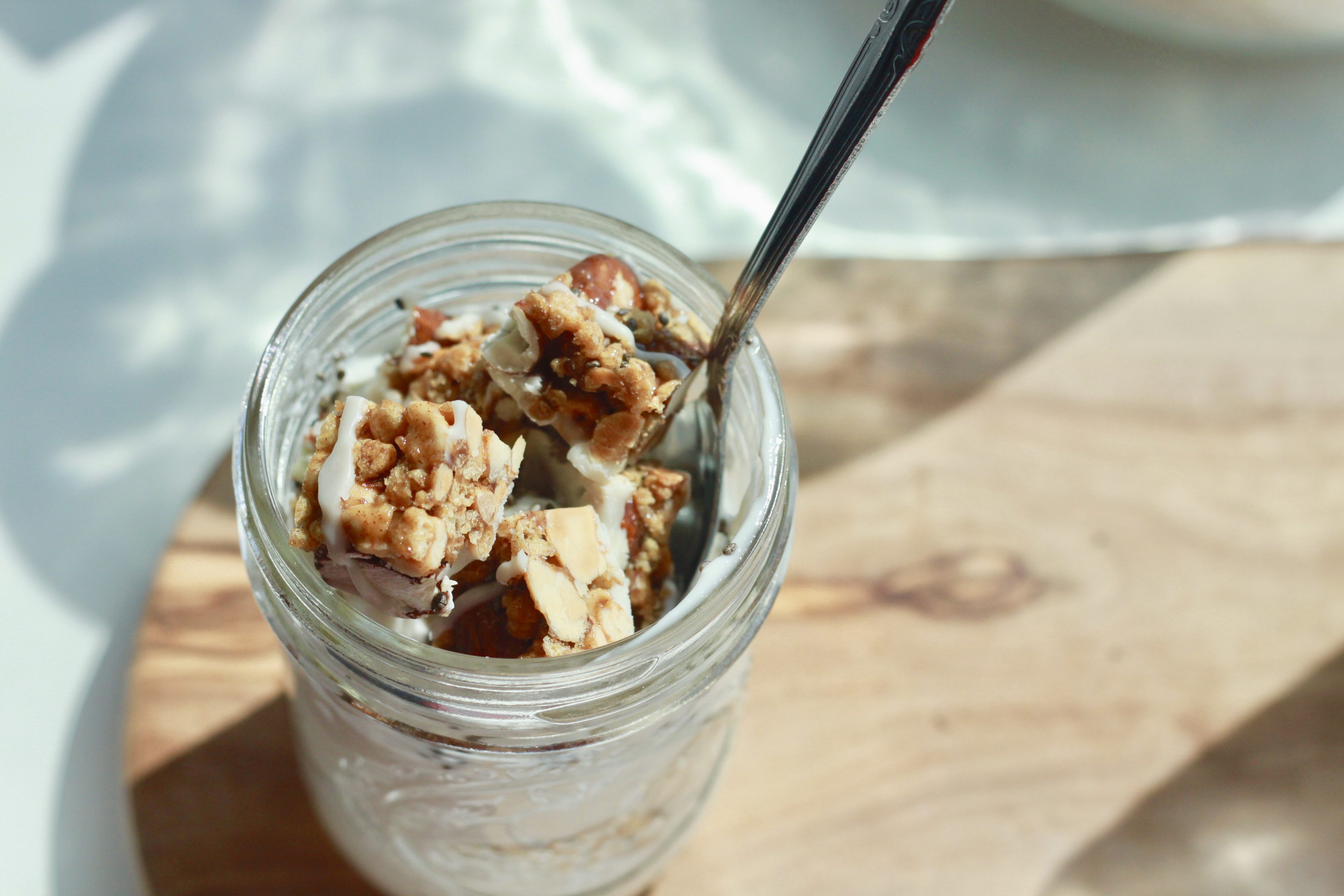 * When would these ingredients not be appropriate for my gut health? 
This recipe is a high fiber, high residue, high FODMAP, lactose and casein containing recipe. Since all of our gut microbiomes are different, remember that your gut may respond differently.
If you are following a low FODMAP diet, note that these are foods you want to avoid until you've reestablished tolerance or reintroduced higher FODMAP ingredients, specifically the ones listed. If you have diverticulitis, it is best to avoid high fiber and high residue ingredients, like the ones listed in this recipe. If you have lactose intolerance, seek out a dairy-free yogurt alternative. The same may be true if you are avoiding dairy due to an autoimmune disorder.
Remember: talk to your dietitian if you have any concern about what is best for your gut health! A Summerfield RD will always customize their recommendations based on what is best for you and your health.
References:
Cani, Patrice D., and Willem M. de Vos. Next-Generation Beneficial Microbes: The Case of Akkermansia Muciniphila. PubMed, Integr Med (Encinitas), 31 Aug. 2017, www.frontiersin.org/articles/10.3389/fmicb.2017.01765/full.
Roberfroid, Marcel B. Inulin-Type Fructans: Functional Food Ingredients. Oxford Academic, The Journal of Nutrition, 1 Nov. 2007, https://academic.oup.com/jn/article/137/11/2493S/4664495.
Bland, Jeffrey. Intestinal Microbiome, Akkermansia muciniphila, and Medical Nutrition Therapy. Integr Med (Encinitas), IMJC, Oct. 2016, https://www.ncbi.nlm.nih.gov/pmc/articles/PMC5145007/.
Dao MC, Everard A, Aron-Wisnewsky J, et al Akkermansia muciniphila and improved metabolic health during a dietary intervention in obesity: relationship with gut microbiome richness and ecology Gut 2016;65:426-436, https://gut.bmj.com/content/65/3/426.