Recipe: Rainbow Pasta Bowl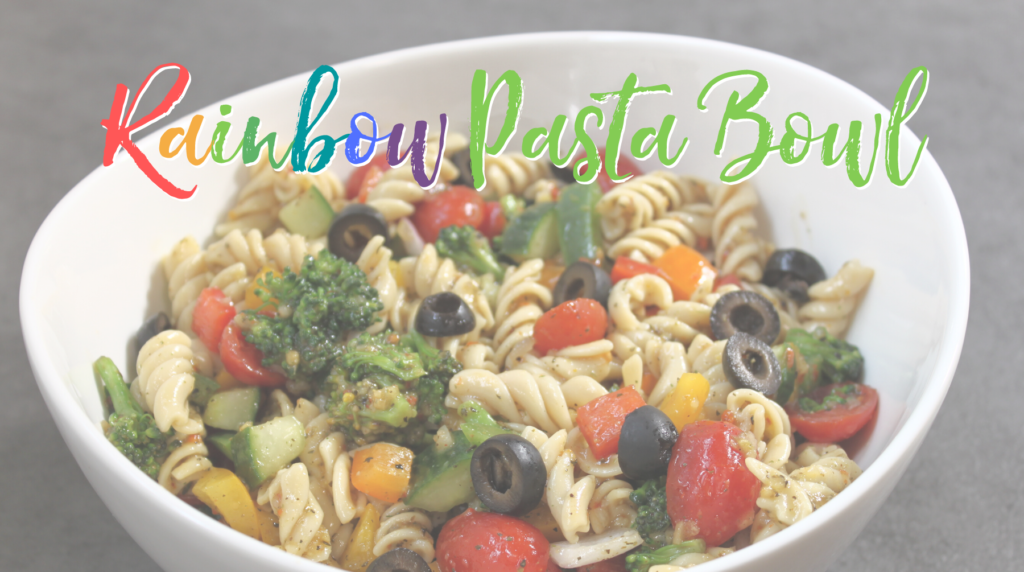 Did you know each color of produce offers a blend of phytonutrients unique to that hue along with other various vitamins and minerals? Red produce provides lycopene, orange and yellow are rich in carotenoids, and green produce provides lutein. With an emphasis on a rainbow variety of veggies in this dish, we can guarantee the nutrient profile is antioxidant-rich. This is a recipe that, without a doubt, is doing your body good!
To make this dish suitable for a variety of dietary preferences, we've swapped in a grain-free, protein-rich pasta alternative. Our take on this potluck staple really elevates the bowl from side dish to shining star.
Rainbow Pasta Bowl
Serves 8-10
Ingredients
3 bell peppers, diced (choose different colors)
1 pint grape tomatoes
1/2 English cucumber
1/2 medium red onion
2 C broccoli florets
1 box chickpea rotini pasta
2 Tbsp olive oil
1 small can black olives
2 C of Italian dressing
1/4 C McCormick's Salt-Free Vegetable Seasoning
1/4 C Colby Jack cheese, crumbled (Optional)
Directions
Dice peppers. Halve tomatoes. Dice cucumber. Small-chop onion and broccoli. Set aside.
Prepare pasta as directed on box. Drain and rinse with cold water.
Place pasta in large bowl. Add olive oil and stir to lightly coat noodles.
Add vegetables, olives, and Italian dressing. Stir to combine.
Add vegetable seasoning. Stir to combine. Refrigerate 30 minutes before serving.
TIP: In this recipe, broccoli can be enjoyed raw or softened depending on personal preference. To soften, place the florets in a bowl with 1 Tbsp of water. Microwave on high for 60-90 seconds. Place in the refrigerator to cool before combining with other ingredients.
Swaps
For the veggies: swap or omit any veggie
For the pasta: wheat, lentil, or gluten-free pasta
For the Vegetable Seasoning: McCormick's Salt-Free Salad Supreme Season
For the Colby Jack cheese: parmesan cheese or goat cheese