Recipe: Radicchio Quinoa Salad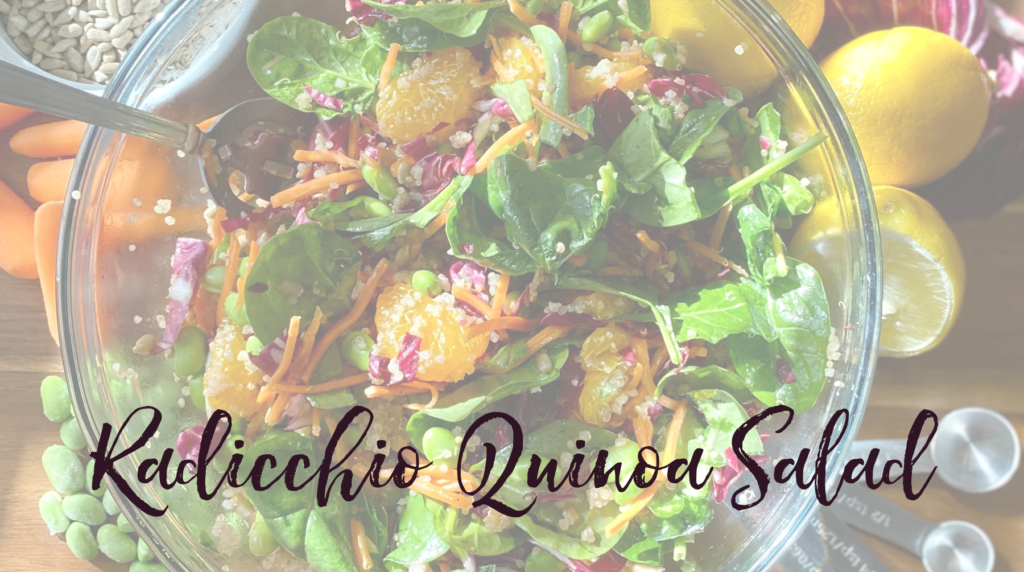 If you are looking for more ways to incorporate plant-based meals without sacrificing satisfaction and satiety, look no further than this vegan Radicchio Quinoa Salad. Not only does this salad require minimal preparation effort, but it also can be made in advance to eat throughout the week.
A whole grain with origins traceable 5,000 years back to the Incas of South America, is one of this recipe's featured ingredients. Often served warm in place of rice or other complex carbohydrates, quinoa is just as flavorful when used in cold salads. The edamame in this salad, unlike many other plant-based proteins, is a complete protein that contains all the essential amino acids your body needs to thrive. These ingredients also contribute roughly 8 g of dietary fiber in this dish which promotes blood sugar stabilization, bowel regularity, and heart health by working to lower cholesterol.
This recipe also features radicchio, sometimes referred to as "Italian chicory," a non-starchy vegetable known for its bright maroon hue and crunchy texture. Radicchio may not be in-stock at your neighborhood grocery store but can often be found at international markets.
Unable to locate this colorful veggie? No fear – simply substitute the radicchio for shredded purple cabbage. Looking for even more veggies? Double the existing ingredients or consider adding 1 C, each, of diced cucumbers, sliced red onion, and halved cherry tomatoes!
Radicchio Quinoa Salad
Serves 8-10
Ingredients:
1 1/2 C quinoa
2 Tbsp red wine vinegar
2 1/2 Tbsp extra-virgin olive oil
1 Tbsp lemon juice, plus more to taste
2 Tbsp honey
1/3 tsp salt, plus more to taste
1/2 tsp black pepper, plus more to taste
1/3 C unsalted sunflower seeds, shelled
2 C frozen edamame, steamed and shelled
1 C carrots, peeled and shredded or finely chopped
1/2 C canned Mandarin oranges (in juice), drained
1 C radicchio, shredded
3 C spinach, washed and dried
Directions:
Cook quinoa per package instructions. Usually: on stove over high heat bring 1 1/2 C dry quinoa and 3 C water to boil in medium saucepan with lid, uncovered. Reduce heat to low and cover pot. Simmer 10-15 minutes or until water evaporates.
Meanwhile, in small bowl whisk together red wine vinegar, extra-virgin olive oil, lemon juice, honey, salt, and pepper until combined. Whisk in more lemon juice, salt, pepper, or additional dried herbs, to taste. Set dressing aside.
Spread cooked quinoa evenly in large, shallow bowl. Set aside on stone countertop or in fridge, uncovered, to quickly cool to room temperature.
Prepare sunflower seeds, edamame, carrots, radicchio, and spinach. Add to large bowl and toss to combine.
Add dressing and room-temperature quinoa. Toss to coat evenly.
Serve immediately for great crunch or refrigerate in airtight container 3-4 days for easy meal-prep.
TIP: Want to store this for later use but worried about soggy spinach? Follow the recipe as written, but store your dressing separately and omit the spinach. Store in an airtight container for 3-4 days. Dress and serve on a bed of spinach when you are ready to eat!
Swaps:
For the dry quinoa: pre-cooked quinoa
For the honey: agave, maple syrup, or juice from the canned Mandarin oranges
For the radicchio: purple cabbage
For the sunflower seeds: slivered almonds or pumpkin seeds
For the red wine vinegar: apple cider vinegar, rice wine vinegar, or lemon juice
For the edamame: canned chickpeas (drained and rinsed) or shredded rotisserie chicken
For the Mandarin oranges: dried apricots (diced), dried cranberries, or cored and cubed apple (Granny Smith would add a nice, tangy flavor!)
Recipe modified from: EatingWell.com