Recipe: Pan Seared Pork with Rhubarb Fig Chutney & Roasted Root Vegetables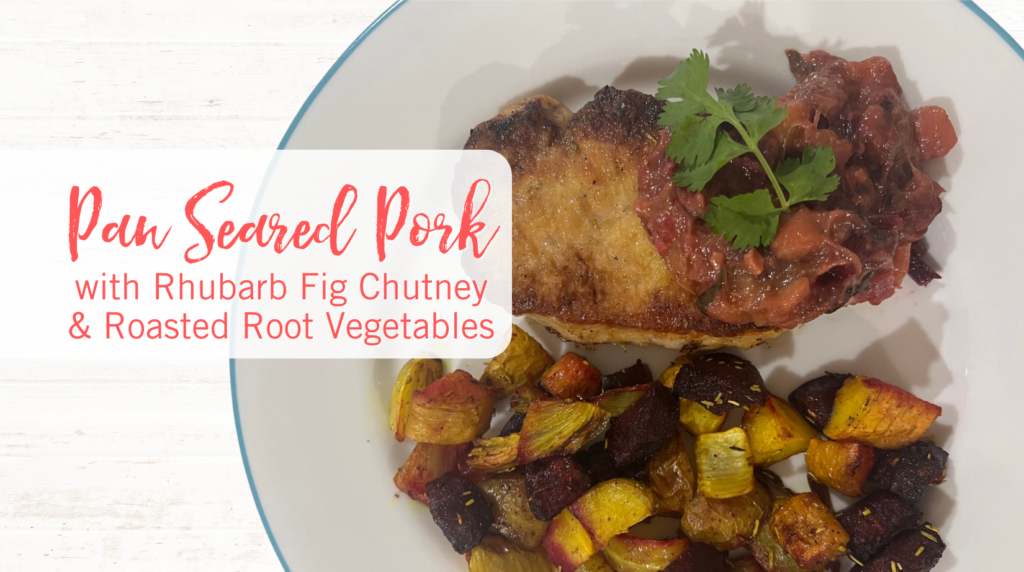 Here is a special dinner that is sure to make your heart leap for joy! This recipe is loaded with fiber, beta-carotene, anthocyanins, polyunsaturated fats, vitamin C, and leafy greens that are known to support cardiovascular health!
Deep purple and red compounds found in beets, rhubarb, fig, cranberries, and red onion help to lower inflammation and promote good circulation throughout the body. Not only will your heart love it, but your taste buds will too! This chutney is flavor-packed with goodness and can be frozen to enjoy later on other meats, a charcuterie board, bruschetta, or even a burger!
Once the veggies and fruits are prepped, this recipe is deceivingly simple to prepare. Take your time, enjoy the process, and know that this colorful dish is going to be a show-stopper. Caution: successful completion of this recipe may leave you feeling like Gordon Ramsay in the kitchen!
Pan Seared Pork with Rhubarb Fig Chutney & Roasted Root Vegetables
Serves 4
Ingredients:
3 beets with greens attached
2-3 large carrots
1 fennel bulb
6-8 mini potatoes
1 large honey crisp apple
1/4 C dried cranberries
3 stalks rhubarb
1/2 red onion
5 fresh figs
2 large garlic cloves (or 3-4 tsp jarred minced garlic)
1 lb boneless pork chops
4 Tbsp plus 1 tsp avocado oil
1 1/2 Tbsp dried rosemary
1/4 tsp turmeric
1 tsp garlic powder
1 3/4 tsp salt
1 1/2 tsp pepper
1/4 C apple cider vinegar
2 Tbsp fig preserves
1 tsp ground cloves
1 tsp ceylon cinnamon
1/2 tsp nutmeg
1/2 tsp ground ginger
1/4 C spiced rum or orange liqueur (Optional)
1/4 C gluten-free flour
1/2 tsp ground mustard
Directions:
Preheat oven to 425°F. Line baking tray with parchment paper. Rinse and finely-chop beet greens. Thoroughly rinse and chop beet bulbs, carrots, fennel bulb, and potatoes into one-inch pieces. Core and chop apple into 1/2-inch pieces. Chop rhubarb stalks and red onion into 1/2-inch pieces. Finely chop dried cranberries. Chop figs into 1/2-inch pieces. Finely mince garlic. Trim and discard fat from pork. Set all ingredients aside.
Place beets, carrots, fennel, and potatoes on lined baking tray. Add 2 Tbsp avocado oil. Toss to coat. Add rosemary, turmeric, garlic powder, 1 tsp salt, and 1 tsp pepper. Toss to evenly coat. Roast 20 minutes.
Heat 1/2 tsp avocado oil in medium sauce pan on stove over medium-low heat. Add rhubarb, beet greens, apple, onion, figs, garlic, and cranberries. Sauté 4-5 minutes or until slightly softened.
Add vinegar, fig preserves, cloves, cinnamon, nutmeg, ginger, and 1/4 tsp salt to sauce pan. Reduce heat to low. Simmer 20 minutes or until ingredients well broken down.
Remove root veggies from oven, toss, and spread into even layer. Roast 20-30 minutes.
If using optional orange liqueur in chutney, add to sauce pan after 20 minutes. Simmer 5 minutes to cook alcohol out.
In shallow bowl, mix flour with 1/2 tsp salt, 1/2 tsp pepper, and ground mustard. Lightly coat pork chops in flour mixture on all sides. Set aside.
Warm large skillet on stove over medium-high heat, 1-2 minutes. Add 2 Tbsp avocado oil. Add pork chops. Sear 3-5 minutes on each side or until internal temperature 145°F.
Divide pork chops onto serving plates. Top with chutney. Serve with roasted veggies on the side.
TIP: For pork chops thicker than 1 inch, sear each side for 3-5 minutes on an oven-safe skillet, then place in the oven with root vegetables to finish cooking, about 5 minutes.
Swaps:
For the carrots: parsnips
For the fennel: celery
For the honey crisp apple: granny smith apple
For the fresh figs: dried figs
For the avocado oil: coconut oil or olive oil
For the fig preserves: orange or apricot preserves
For the apple cider vinegar: balsamic or white vinegar
For the cinnamon, nutmeg, and ginger: pumpkin pie spice
For the gluten-free flour: flour of choice
Recipe modified from: Empty Nestopia, The Briny Lemon, and The Kitchn