Recipe: Veggie Pizza Stir-Fry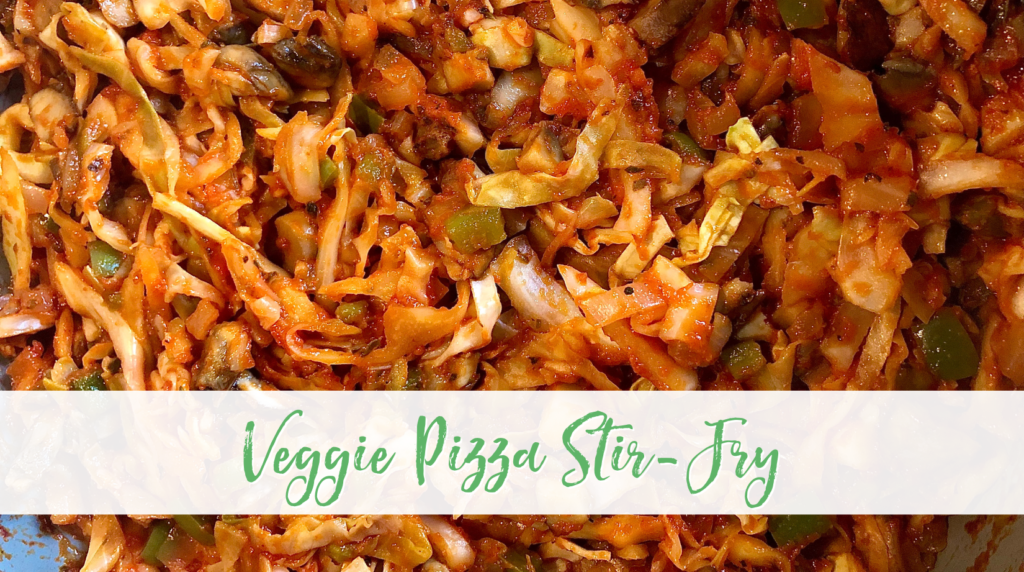 What if you could enjoy pizza flavors in a versatile veggie-loaded side dish? This one-pot recipe turns the traditional concept on its side (See what we did there?) focusing on nutrient-rich vegetables as the centerpiece.
An all-star ingredient that may surprise you is tomato paste! Cooked tomato products are actually higher in lycopene, an antioxidant linked to numerous health benefits including a reduced risk for certain types of cancer. This bold tomato product essential to Italian cuisine just got a gold star!
Consider pairing this dish with a protein of your choosing such as chicken sausages, ground Italian sausage, baked chicken, cooked lentils, or chickpeas.
Veggie Pizza Stir-Fry
Serves 4
Ingredients:
1 tsp avocado oil
1/2 medium onion
1 green bell pepper
8 oz mushrooms
16 oz cabbage (roughly 10-12 C)
7 oz jar tomato paste
3/4 tsp salt
1/2 tsp garlic powder
2 tsp dried oregano
1/4 C water
2 oz crumbled feta (Optional)
1/4 C pitted olives (Optional)
1/3 C fresh basil leaves (Optional)
Directions:
Chop onion, bell pepper, and mushrooms into bite-size pieces. Thinly slice (shred) cabbage. Chop optional pitted olives. Thinly slice optional basil leaves. Set ingredients aside.
Heat oil in large pot on stove over medium heat. Add onion, pepper, and mushrooms. Sauté until tender, about 8 minutes.
Add tomato paste, salt, garlic powder, oregano, and water to veggies. Stir to combine. Immediately add cabbage. Stir to combine. Sauté until cabbage is tender-crisp, about 8 minutes.
Stir, ensuring liquid has evaporated. Adjust any seasonings to taste and serve warm, with sprinkling of feta, chopped olives, and shredded basil, if desired.
TIP: If very tender vegetables are preferred cover the pot after step #3 to let the veggies cook through, about 5 minutes. Remove the lid before moving to step #4.
Swaps:
For the avocado oil: butter
For the green pepper: red, yellow, or orange pepper
For the cabbage: broccoli slaw
Recipe modified from: Detoxinista.com