Recipe: Pineapple Stir Fry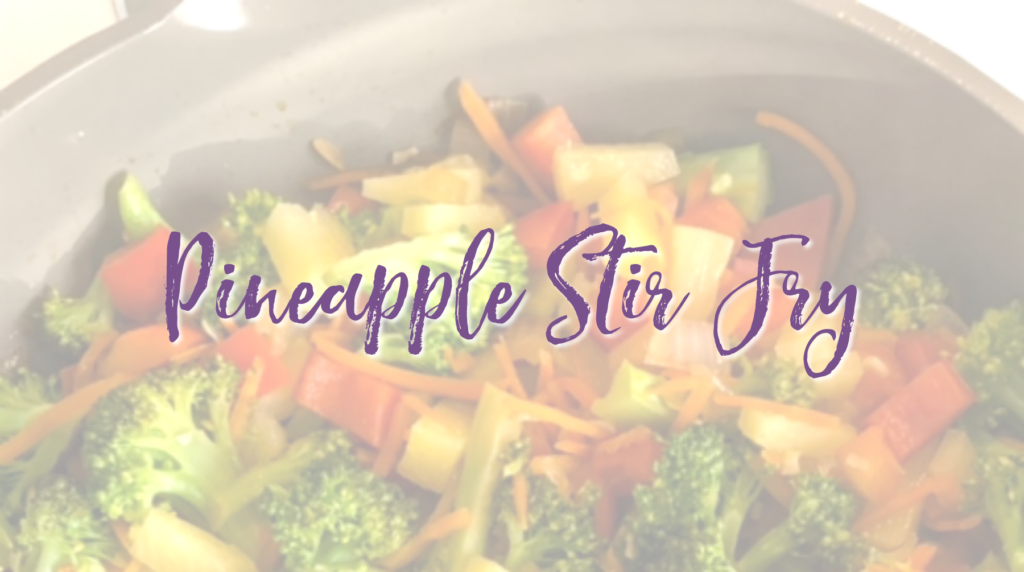 Incorporating a fresh and flavorful vegetable side dish with meals can sometimes seem intimidating.  There are the prep steps like chopping, considerations for certain veggies needing more time to cook to achieve the right texture, and then, of course, perfecting the taste.
Enter this quick and easy pineapple stir fry. It's a fabulous vegetable side dish with bold flavors and bright colors to round out a plate method meal. Ready in under 20 minutes (chopping included), this recipe guarantees you will have a variety of veggies on your plate that truly taste as good as they look!
This recipe is a long-time favorite of our Reset & Rebalance participants.  Completing reset week? Prep a batch of this pineapple stir fry (or double it!) as an easy reheat meal that is both flavor- and veggie-packed.
Pineapple Stir Fry
Serves 2-3
Ingredients:
1 C fresh or canned pineapple, cubed (retain juice)
1 medium onion, chopped
2 garlic cloves, minced (or 3-4 tsp minced garlic from a jar)
1 C shredded carrots
2 bell peppers (you pick the color!), cut into strips
1/4 C water
3 Tbsp low-sodium soy sauce
2 C raw broccoli
Directions:
In deep, nonstick cooking pan on stove over medium-high heat, add pineapple juice (about 1/2 C), onion, and garlic.
Add carrots, peppers, water, and low-sodium soy sauce. Cook until softened, 3-5 minutes.
Add broccoli and pineapple chunks. Cook until broccoli is bright green and crisp-tender, 3-5 minutes. Serve over steamed broccoli slaw or cauliflower rice for Reset Week meal.
TIP: To make this meal plate method, pair your choice of protein (chicken, shrimp, pork, or tofu) and serve with rice or your preferred starch. For the pineapple, we like to core our own and use some of the fresh juice.
Swaps:
For the soy sauce: tamari or coconut aminos