Recipe: Nutty Greek Yogurt Dip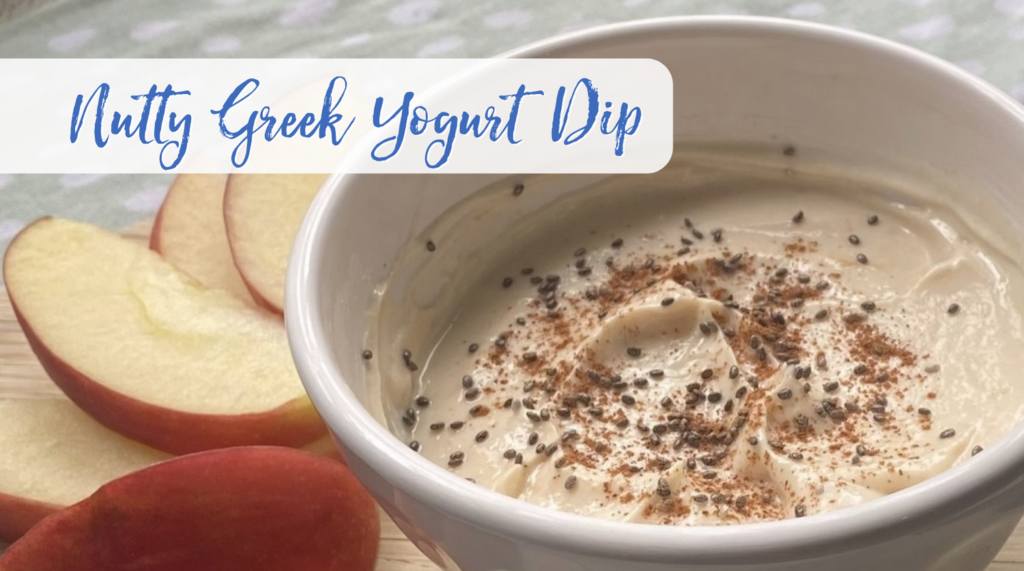 Snacks don't have to be complicated to be balanced and delicious, but they can be upgraded with a thoughtful pairing of protein, fiber, and fat – three key nutrients that help our bodies stay full and satisfied. This Greek yogurt dip with apple slices has all three components, making it a great snack for adults and kids alike! It comes together in less than five minutes or can be prepared in advance for an easy lunchbox addition.
Nutty Greek Yogurt Dip
Serves 1
Ingredients:
1 apple
1/3 C vanilla Greek yogurt
1 Tbsp nut butter
1/4 tsp cinnamon
1 Tbsp hemp hearts
Directions:
Slice apple.
Combine yogurt, nut butter, cinnamon, and hemp hearts in small dish. Stir into smooth consistency.
Serve cooled.
TIP: Look for Greek yogurt with little to no added sugar. Many flavored Greek yogurts will contain added sugar, but plain varieties are a low-sugar and versatile option. You can always add a splash of vanilla extract or a drop of honey for a touch of sweetness, but we think this recipe is delicious as-is!
Swaps:
For the apple: sliced banana or 1 C strawberries
For the vanilla Greek yogurt: plain Greek yogurt
For the nut butter: sunflower butter
For the hemp hearts: chia seeds