Recipe: Mushroom Jicama Stuffing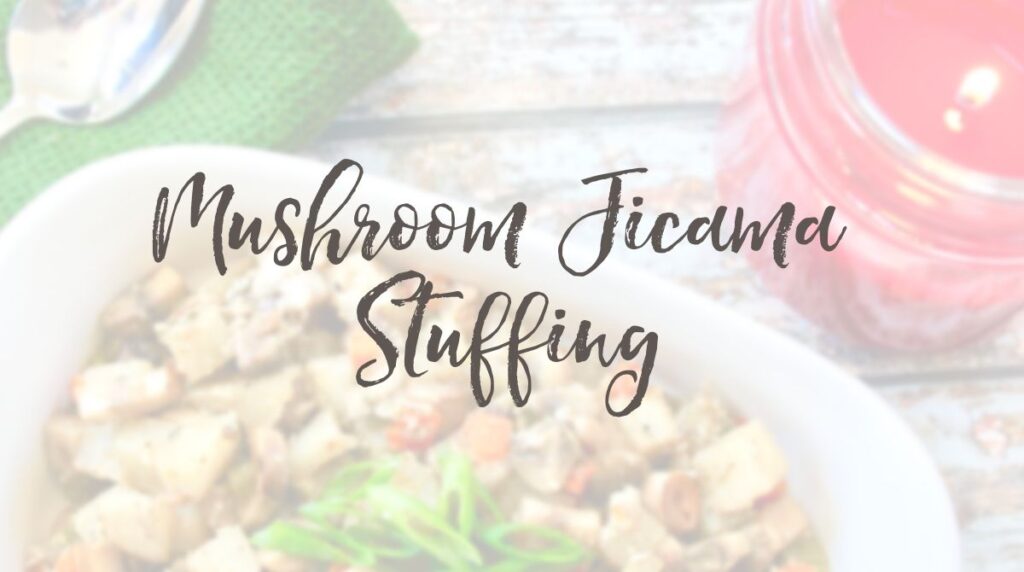 This stuffing ingredient lineup challenges all past notions of what a stuffing recipe must be. But actually, it aligns more closely with the original stuffing recipes from long ago. A chef's cookbook from sometime between the 2nd century BC and 1st century AD details a dish prepared with vegetables, herbs, nuts, and organ meats. We put a modern spin on it by opting to focus mostly on veggies and leave behind a few other ingredients. What's left? A rich, flavorful, veggie-rich specialty that makes plate method eating even more delicious this holiday season.
Mushroom Jicama Stuffing
Serves 6-8
Ingredients
1 large jicama, peeled and diced
2 large carrots, peeled and diced
1/2 small yellow onion, diced
2 celery stalks, diced
1 1/2 lb mushrooms, chopped
5 C water
1 stick unsalted butter
5 Tbsp unsalted chicken broth
1 large egg
1 1/2 tsp poultry seasoning
1 1/2 tsp salt (or to taste)
Pinch of black pepper
2 slices bread, cubed (regular or gluten-free)
Directions
Preheat oven to 350°F. Peel and dice jicama and carrots. Dice onion and celery. Rinse and roughly chop mushrooms.
Bring water to boil in large saucepan on stove over high heat. Add jicama. Reduce heat to low. Simmer 15 minutes.
Meanwhile, melt butter in large, oven-safe pan on stove over medium heat.
Add onions, carrots, and celery to butter. Cook until softened, 7-8 minutes.
Add mushrooms and cook until soft, 3-4 minutes.
Drain jicama well. Add to pan with vegetables. Cook 5 minutes.
In small bowl, whisk together broth, egg, seasoning, salt, and pepper.
Add bread cubes to pan with vegetables. Pour broth mixture over pan ingredients and stir. Place on middle rack in oven. Bake 45 minutes.
TIP: Hate chopping? Replace the jicama with a 9.5 oz carton of jicama sticks (cut into cubes). Replace the carrots, onion, and celery with a 14.5 oz container of mirepoix from the refrigerated section of Trader Joe's! If you do not have an oven-safe pan, transfer ingredients to a greased 9×13 pan before baking.