Recipe: Sheet Pan Moroccan Chicken and Butternut Squash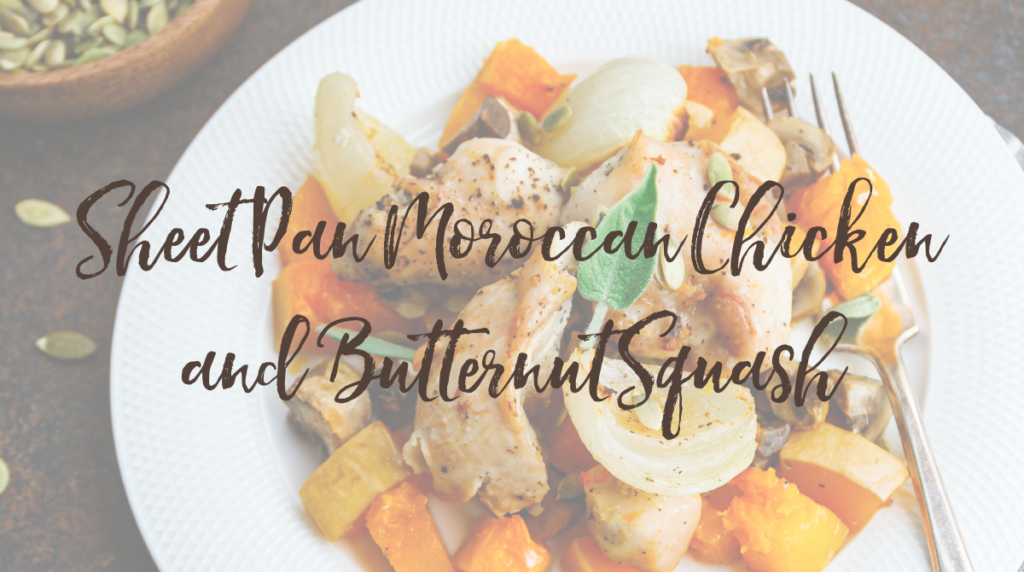 Eating nutritious food doesn't have to be dull. Exploring other cuisines can be a great way to stave off food boredom. This recipe is a spin on Moroccan cuisine which is best known for its focus on animal protein combined with dried fruit, spices, and olive oil.
Olive oil has grown in popularity over the years and for a good reason. This type of oil is rich in anti-inflammatory antioxidants such as vitamin E. It's also rich in vitamin K, a nutrient vital for blood clotting and bone health. If you've ever wondered why olive oil is stored in dark green/tinted bottles, it's to protect the antioxidants from damaging light. There are multiple types of olive oil, but extra virgin olive oil (EVOO) comes only from pressed olives whereas other versions have undergone varying amounts of processing. This is why EVOO is typically more expensive and the recommended, higher-quality choice of olive oil.
Sheet Pan Moroccan Chicken and Butternut Squash
Serves 6
Ingredients:
1 1/2 C mixed dried fruit (such as dates, apricots, figs, and/or cherries)
1 medium butternut squash
2 large onions
1/4 tsp turmeric
2 Tbsp dried parsley
1/2 tsp cumin
1/2 tsp cinnamon
1/2 tsp paprika
1/2 tsp cayenne pepper
1/4 tsp ground ginger
2 tsp salt
1 Tbsp lemon juice (approximately 1/2 lemon)
4 tsp minced garlic from jar (or 8 garlic cloves, minced), separated
4 Tbsp olive oil, separated
6 chicken leg quarters (drumstick and thigh)
Fresh mint leaves (Optional)
Pomegranate seeds (Optional)
Pumpkin seeds (Optional)
Directions:
Preheat oven to 400˚F. Place dried fruit in bowl. Add enough hot water to cover fruit. Soak 10 minutes to rehydrate.
Peel butternut squash, halve lengthwise, and remove seeds. Cut into 2-inch cubes. Peel and quarter onions (1/2 inch wedges).
In small bowl, combine turmeric, parsley, cumin, cinnamon, paprika, cayenne, ginger, and salt.
In large bowl, combine lemon juice, 2 tsp minced garlic, 2 Tbsp olive oil, and 3 Tbsp of spice mixture.
Add chicken. Toss, rubbing chicken to coat well. Arrange chicken pieces, skin side up, on one half of large, rimmed baking sheet.
In same large bowl, combine remaining garlic, olive oil, and spices.
Add butternut squash and onion. Toss until evenly coated. Arrange vegetables in single layer, on empty half of baking sheet, beside chicken. Roast 20 minutes.
Drain water from bowl of fruit.
Remove baking sheet from oven and sprinkle rehydrated fruit atop chicken and veggies. Return to oven. Roast 25 minutes or until thermometer inserted into thickest part of chicken leg registers 165˚F and butternut squash is tender.
Place vegetables and fruit on serving plates and top each with piece of chicken and optional garnish to serve.
Swaps:
For the chicken leg quarters: chicken breasts or thighs (cooking time may vary)
For the butternut squash: acorn squash, delicata squash, sweet potatoes, or white potatoes
For the mint: fresh basil or parsley, chopped
For the pomegranate seeds: red grapes, quartered
Recipe modified from: Eat What You Love: Everyday Comfort Food You Crave