Recipe: Mediterranean Zucchini & Mushrooms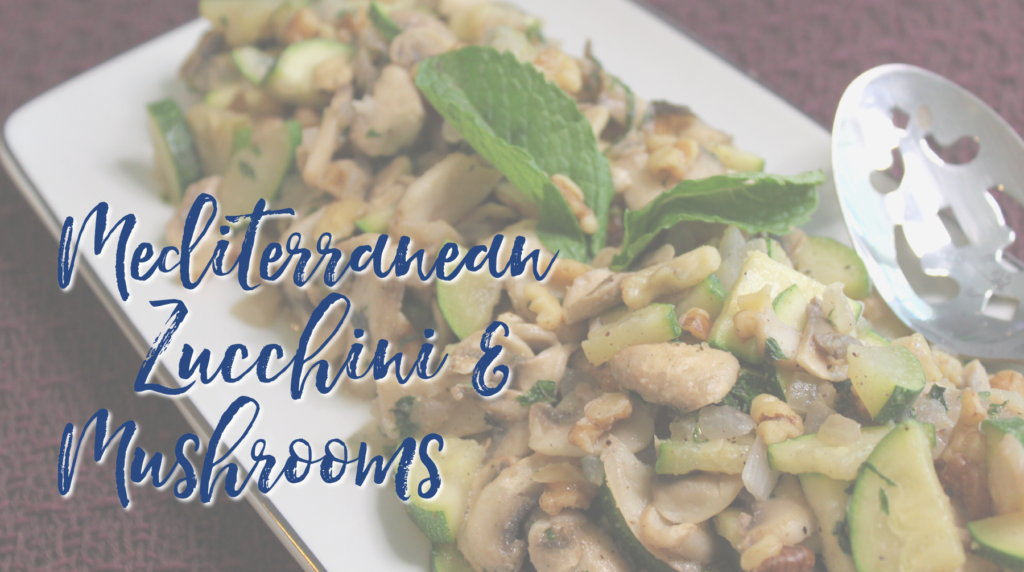 What do you think of when you hear the word "Mediterranean"? Related to food, you may think of the Mediterranean Diet and perhaps healthy oils, nuts, herbs, fish, and lots of fruits and veggies.
This side dish recipe incorporates many elements of the traditional Mediterranean Diet with a focus on zucchini and portobello mushrooms. Zucchini, in peak season June through late August, is a great source of vitamin A. This vitamin is vital for maintaining healthy vision, bones, cells, and immune systems.
Both zucchini and portobello mushrooms contain potassium and magnesium which support bone and muscle health. These minerals can also help regulate blood pressure which is one of the reasons the Mediterranean Diet is considered helpful for cardiovascular health!
Mediterranean Zucchini & Mushrooms
Serves 4-6
Ingredients:
2 large zucchini (about 2 1/4 C, sliced)
1 Tbsp olive oil
1/2 small onion, finely diced
8 oz package sliced baby portobello mushrooms
1/4 tsp salt
1/8 tsp black pepper
3 Tbsp finely chopped walnuts
2 tsp finely chopped mint leaves
Directions:
Cut ends off zucchini. Halve zucchini lengthwise. Cut each half lengthwise again to make 4 long spears. Slice spears across into 1/4-inch pieces.
In large skillet on stove over medium heat, add oil. Once oil warms, add onion. Cook 1 minute, stirring occasionally.
Add zucchini, mushrooms, salt, and pepper. Cook 3 minutes, stirring occasionally.
Add walnuts and mint, cook 1 minute.
Remove skillet from heat and serve.
TIP: For even more flavor, add 1 tsp of onion and/or garlic powder!
Swaps:
For the veggies: yellow squash or white button mushrooms
For the nuts: pecans, cashews, almonds, or whole pine nuts
Recipe modified from: The Complete Idiot's Guide to the Mediterranean Diet