Recipe: Latin-Inspired Chicken and Rice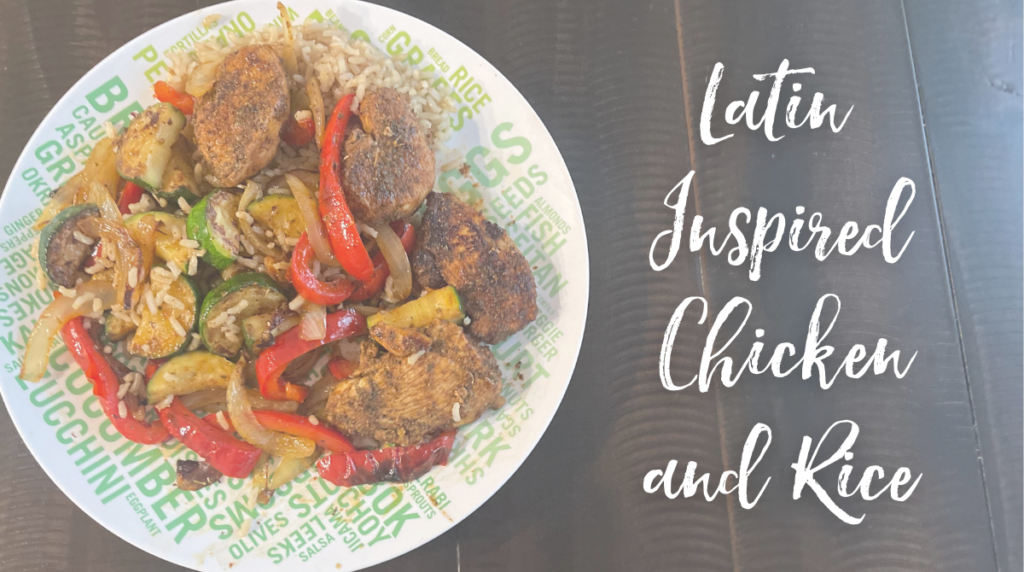 All the best of flavorful fajitas, but let's put it in a bowl!  Something about this boldly spiced chicken, vibrant veggies and classic rice layered together feels like next-level comfort food.
While the rice is cooking, the chicken and veggies come together on the stovetop in record time.  It's a plate method meal that is easy enough to double up and make extra for weekday lunches or busy week nights.  Feel free to swap your favorite protein, veggies or grain-free substitutions to customize this meal to your needs.  Follow the recipe framework while switching up the other ingredients (if you choose!) to make this dish a versatile go-to in your recipe repertoire.
Latin-Inspired Chicken and Rice
Serves 3-4
Ingredients
1 C dry rice
2 C water
1 lb boneless, skinless chicken breast, cut into 1/2-in strips
1 lime, juiced (approximately 1 Tbsp)
½ Tbsp chili powder
½ Tbsp oregano
1 tsp paprika
1 tsp garlic powder
½ tsp cumin
½ tsp each of salt and pepper
½ Tbsp olive oil
1 medium red bell pepper, sliced into 1/4-in strips
1 medium yellow onion, sliced into 1/4-in strips
1 medium zucchini, sliced in half and then chopped in half moons
Toppings (Optional)
Avocado, diced
Cilantro
Salsa
Shredded cheese
Directions
Add 1 C of dry rice and 2 C of water to a small sauce pan with a lid. Cover the pot with the lid and place it on the stove top over high heat. Bring water and rice to a boil, then turn the heat to low and simmer for 15-20 minutes, or until all the water is absorbed and the rice is tender. Avoid stirring until the rice is done! (Option to use rice cooker.)
In a medium bowl, add chicken strips and lime juice. In a separate, small bowl, mix together chili powder, oregano, paprika, garlic powder, cumin, salt, and pepper. Once spices are combined, add them to the chicken and lime. Mix ingredients together to evenly coat all sides of the chicken. Set aside.
Heat a large skillet on the stove over medium heat. Add olive oil, bell pepper, and onion. Stir often and cook veggies for 3 minutes. Add zucchini and continue to cook until all veggies begin to soften, about 5 more minutes. Transfer veggies to a separate bowl.
In the same skillet, cook chicken until it is no longer pink inside and reaches 165 F, about 5-8 minutes, depending on the size of the strips. Then toss the chicken and veggies together in the skillet and remove it from heat.
To serve, divide rice, chicken, and veggie mixture between 4 plates or bowls. Top with your favorite garnishes and serve.
Swaps
For the rice: quinoa, cauliflower rice, or tortillas
For the veggies: frozen mixed peppers and onion
For the chicken: black beans, tofu, ground turkey, or beef