How To Have a PMS-Free Period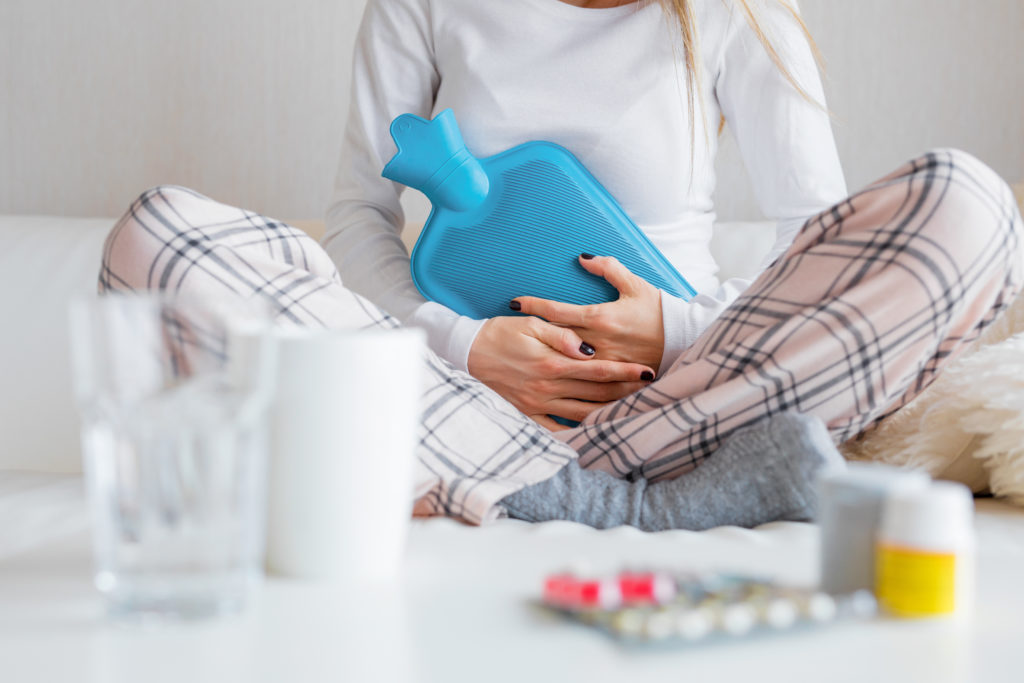 Written by Megan McNamara MPH, RD, LDN
I know what you're thinking: "I don't need advice on a symptom-free period. I already have all the Midol, heating pads, and peanut butter M & M's within an arm's reach." Cramps, bloating, fatigue, irritability, cravings, mood swings, depression, you name it…most of us experience premenstrual syndrome (PMS) – over 90% to be exact.  But why do we feel the need to "grin and bear it" for one whole week every single month?
Don't get me wrong, as hormone expression changes during ovulation and menstruation, it's natural to feel some mild shifts. Nevertheless, if you find yourself with recurrent headaches, heavy periods, cramps, fatigue, or acne flare ups, consider searching for the root cause of these issues to kick your symptoms to the curb once and for all. Medications and hormonal birth control might temporarily relieve symptoms, but they are rarely a long-term fix.
Here are the life lessons and hormone balancing hacks I learned on my mission to stop spending half my paycheck on ineffective acne creams and tingling peppermint lotion for cramps and back pain.
Your body is trying to communicate with you – listen to it! Your menstrual cycle is the best indicator of your underlying hormonal health. Your signs and symptoms could be related to nutritional deficiencies, a stressful environment, poor gut health, or medical conditions. If you feel something is off, you are probably right, so be the CEO of your personal health and seek the care you deserve.
Finding hormonal balance takes a multifactor approach. I would love to tell you that you can take one supplement and all your trials and tribulations will disappear in 7 days. If you find that "magic pill," let me know. Most people find success after a few months of trial and error of many different lifestyle changes relating to sleep, exercise, nutrition, and stress management.
Keep in mind, the signals you receive are individualized and are going to be different from your sister, your cubicle mate, or your best friend's boyfriend's cousin. There is NOT a one size fits all approach.
Balanced meals never go out of style. In order to have a pain free period, we need to have healthy levels of estrogen, progesterone, and testosterone. The first step in optimizing these hormones is consuming a well-rounded plate of carbohydrates, proteins and fats to promote blood sugar regulation. Blood sugars that are chronically elevated can lead to insulin resistance, which then leads to excessive testosterone production. Fiber-rich foods should be a routine part of our balanced plate, as they help to regulate blood sugars by slowing down how quickly our body converts carbohydrates into sugar. Fiber is also our friend when it comes to reducing menstrual cycle bloating.
Not sure if you are consuming a well-balanced diet filled with all the nutrients necessary for hormonal health? Reach out to a Registered Dietitian who can help you decide!
Using food to address key nutrient deficiencies is our first line of offense. There are many essential nutrients found in foods that can help ease period symptoms. Our biggest players include B vitamins, magnesium, omega-3 fatty acids, and iron.
Leafy green vegetables may be our biggest nutrition powerhouse for hormones due to their abundance of B vitamins. What is so cool about B vitamins? For one, they support our liver by moving excess estrogen out of our body, which can eliminate the culprit of many PMS symptoms. And two, they support adrenal health and cortisol production which helps regulate stress.
Prostaglandins are hormone-like substances that cause the muscles in the uterus to contract. When elevated, prostaglandins cause the intense cramps you might experience. Consuming foods rich in magnesium and omega-3 fatty acids can help reduce prostaglandin levels to an optimal level. In addition to reducing the need to pull the heating pad out of the closet, magnesium can support sleep, stress management, and mood.
Foods rich in iron and B-vitamins (there they are again!) might be your long lost friend if you find your energy is in the tank during your period. Our blood contains iron, so when we lose blood, we lose iron, which is essential for oxygen transport. Dark leafy greens and meat products might do the trick in building healthier red blood cells and increasing energy.
Attempting to fix imbalances with food is always the best first approach, but sometimes supplementation may be necessary. If you feel like your PMS symptoms are less than desirable, a Registered Dietitian can help you determine the appropriate diet and lifestyle changes to implement in order to balance your hormones and relieve those unwanted symptoms.
By the way, you can still have those peanut butter M & M's—but now you get to have them because YOU decided to have them rather than feeling like your HORMONES decided for you.
About the author:
Megan McNamara, MPH is a Registered Dietitian with Summerfield Custom Wellness.  She specializes in women's health, weight management, and chronic disease management.
Interested in meeting with Megan?  Reach out to her at MM@summerfieldcw.com.
References:
Winer, S. A., Rapkin, A. J. Premenstrual disorders: prevalence, etiology and impact. Journal of Reproductive Medicine. 2006; 51(4 Suppl):339-347.
ACOG Committee Opinion No. 651: Menstruation in girls and adolescents: Using the menstrual cycle as a vital sign. Obstet Gynecol. 2015 Dec;126(6):e143-6. PubMed PMID:26595586
Briden L. Period Repair Manual. 2nd ed. Middletown, DE; 2018.