Recipe: Hearty Winter Bowl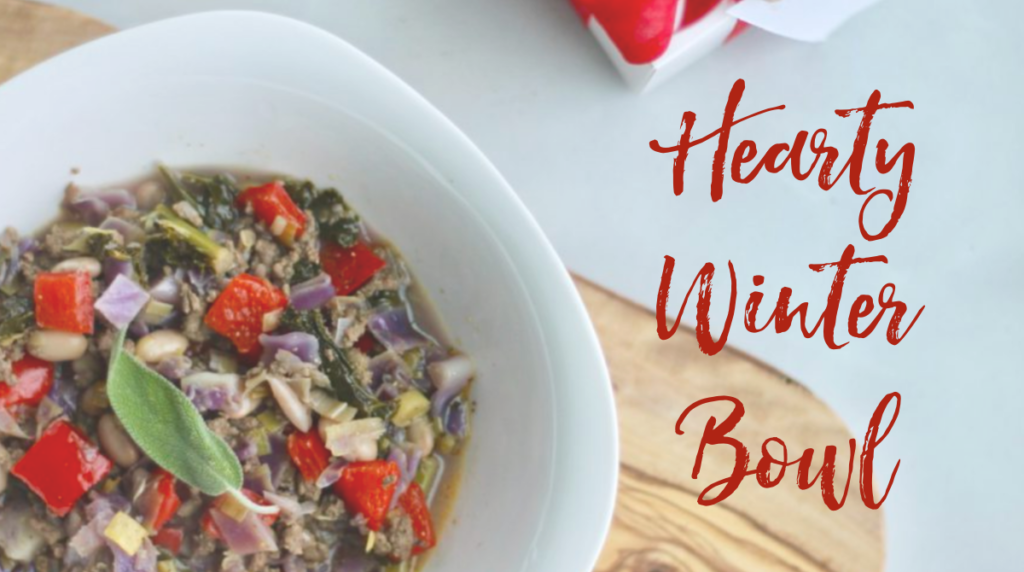 Behold – a simple, satisfying, stove-top meal that is nourishing, colorful, and oh-so-flavorful. We've incorporated a few important pillars into this meal, the first being a rainbow of colorful veggies. Green, red, purple, and white (yes, even white!) veggies each offer unique nutrients that are beneficial to various organs and systems throughout our body.  Not only is the variety of colors lovely, but the colors also offer differing benefits throughout our bodies. Isn't nature cool?
Another pillar of this recipe is that it is a plate method meal. Plenty of veggies to make up half your plate (or bowl), lean beef as a source of protein, and white beans as a high-fiber starch. This meal in a bowl is also fabulous when reheated as lunchtime leftovers.
Hearty Winter Bowl
Serves 5-6
Ingredients:
1/4 C fresh sage

2 C leeks (about 2 stalks)

1 small head purple cabbage (about 3 1/2-4 C chopped)

3 red bell peppers (2 1/2 C chopped)

1 lb ground beef

2 Tbsp olive oil

1/2 C heavy cream

3 C kale

15 oz great white northern beans

2 C low-sodium vegetable broth

Salt, to taste

Pepper, to taste

1 Tbsp cheese of choice, shredded (Optional)
Directions:
Chop sage. Thinly slice and wash leeks. Chop purple cabbage. Chop red peppers. Set ingredients aside.

On stovetop in large pan over medium heat add ground beef and sage.

B

rown, 15-20 minutes. 

In large pot on stovetop over high heat add olive oil and leeks. Cook 5-7 minutes. Leeks may begin to caramelize.

Add ground beef and sage to leeks. Lower to medium heat. Cook 5 minutes, stirring occasionally.

Stir in cabbage and heavy cream. Cook 2-3 minutes. 

Add kale, bell peppers, beans, and 2 C stock. Mix well. 

Cover pot. Cook 30-40 minutes on low heat, stirring every 5-10 minutes.

Serve in bowl, adding salt, pepper, and shredded cheese, to taste.
Tip: Adding salt at the end of the recipe, instead of while you are cooking, can help control sodium intake.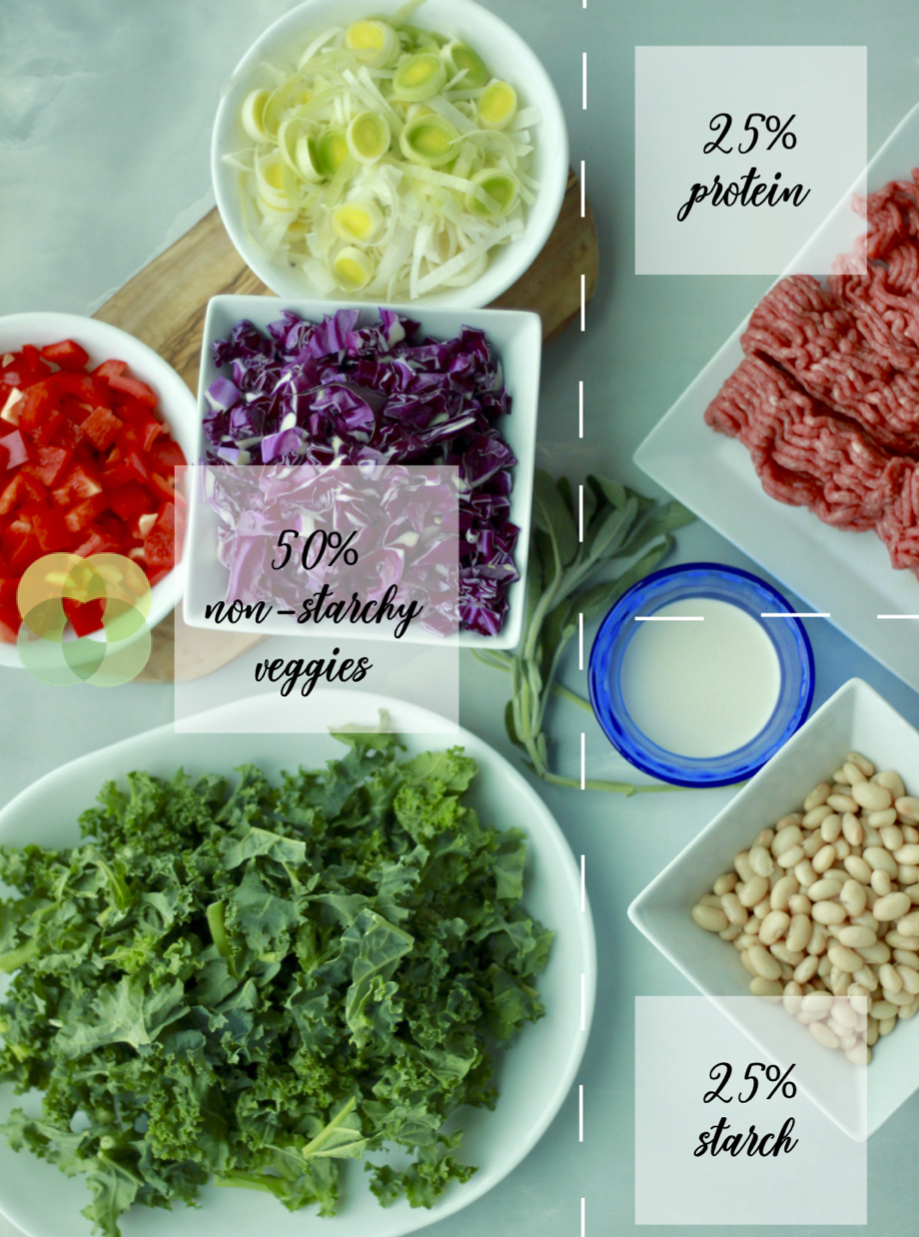 When planning your plate, aim to make it 50% non-starchy vegetables, 25% starch (starchy vegetables or grains), and 25% protein. This may be easiest to do when you have individual components to fill up each section and may seem harder to follow if you're making a soup, stew, chili, or casserole. Don't let the lack of a separated portion hold you back!
The photo to the left shows all the delicious ingredients of this recipe, which assure balance although the ingredients are mixed and layered in the final product.
Eating balanced can be easy; try not to over-complicate things. When cooking, be sure your ingredients reflect these same percentages.