Recipe: Grilled Eggplant Caprese Toasts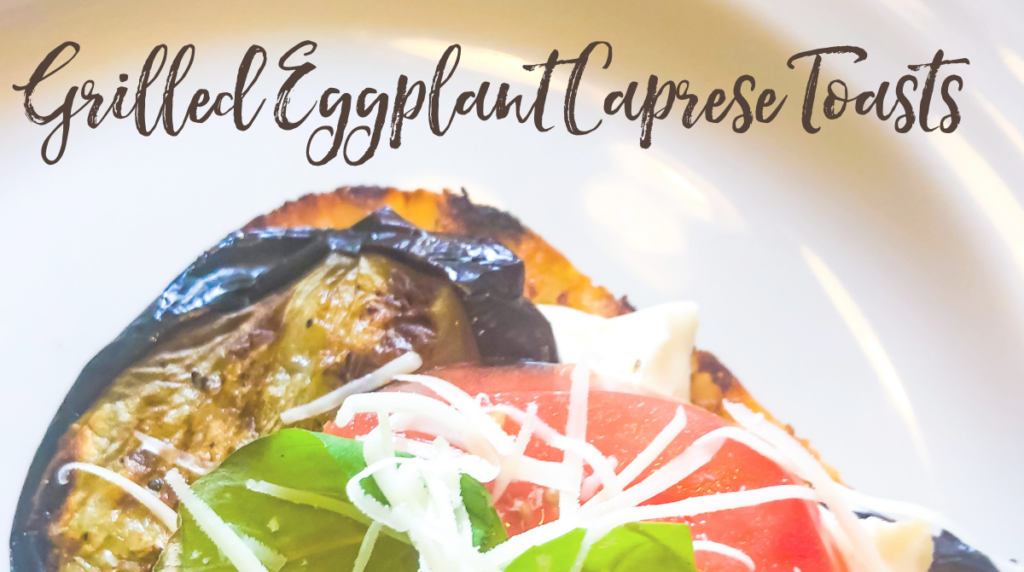 These Grilled Eggplant Caprese Toasts can be served as a tasty and nutritious appetizer or Plate Method lunch!
The word caprese (kuh-prei-zei) refers to a traditional Italian salad containing fresh mozzarella, tomatoes, and basil meant to represent the colors of the Italian flag. This recipe adds eggplant from the purple veggie category many Americans are lacking! Eggplants are a good source of fiber and contain a potent antioxidant called anthocyanins.  The tomatoes also contribute their own antioxidant, lycopene, which may reduce the risk of certain cancers, especially prostate cancer.
Between the eggplant and tomatoes, this recipe is loaded with antioxidants and offers a tasty opportunity to get creative while eating a rainbow of veggies!
Grilled Eggplant Caprese Toasts
Serves 2-4
Ingredients
1 Italian baguette (approximately 1 lb)
1 medium eggplant
8 oz ball of fresh mozzarella
2 medium Roma tomatoes
¼ C shredded parmesan cheese
¼ C fresh basil, chopped
Unique Spices
1 Tbsp garam masala
2 tsp yellow curry powder
½ tsp turmeric
Staple Ingredients
¼ C olive oil, plus some for serving
Salt and pepper to taste
1 garlic clove, halved
Directions
Warm your grill to medium heat. (See below for oven option.)
Ingredient prep: Wash eggplant and cut into 3/4 inch slices, or whatever thickness needed for 12 slices total. Slice mozzarella into 1/2 inch slices, or whatever thickness is needed for 8 slices total. Wash tomatoes and cut into 1/2 inch slices, or whatever thickness is needed for 4 slices per tomato, 8 slices total.
For four servings, cut baguette lengthwise, then cut in half crosswise. Brush cut sides of bread and both sides of eggplant slices with olive oil. Sprinkle eggplant with salt and black pepper.
Place eggplant slices directly onto the grill. Cover the grill and allow to cook 3 to 4 minutes. Flip each eggplant piece over and cook other side with grill covered, for another 3 to 4 minutes, or until browned and tender. Add bread to grill rack, cut side down, to cook the last 1 to 2 minutes.
Remove bread and eggplant from grill. Hold garlic clove half between two fingers, rub over the toasted sides of bread, and discard any remaining portion. Layer eggplant, mozzarella, and tomatoes on toasted sides of bread sideways, overlapping each piece slightly. There should be 3 slices of eggplant, 2 slices of mozzarella, and 2 slices of tomatoes per piece of quartered baguette. Return to grill, face-up. Grill, uncovered, 1 to 2 minutes or until cheese softens.
Remove from grill and place on serving plates. Top with parmesan and basil. Drizzle with additional olive oil and sprinkle with pepper.
Oven option: Turn on oven broiler to low. Prepare bread and other ingredients as outlined above. Once the oven is hot, add eggplant to baking sheet and broil eggplant for 3 minutes on each side. Add bread to baking sheet, toasting in oven 1-2 minutes. *Keep close eye on bread, it browns quickly.*
Assemble the toast as outlined above, returning to broiler for another minute or until cheese softens. Prepare and serve as instructed above.
Swaps
For the Italian baguette: four slices of whole grain bread or gluten-free bread (or ditch bread completely by cooking on aluminum foil or a baking sheet)
For the eggplant: sliced zucchini or portobello mushrooms
For the fresh mozzarella: haloumi cheese, burrata cheese, shredded mozzarella cheese, or sliced sandwich cheese
For the Roma tomatoes: avocado or roasted red pepper
Recipe modified from: https://www.bhg.com/recipe/grilled-eggplant-tartines/