Recipe: Grain-Free Chicken Tenders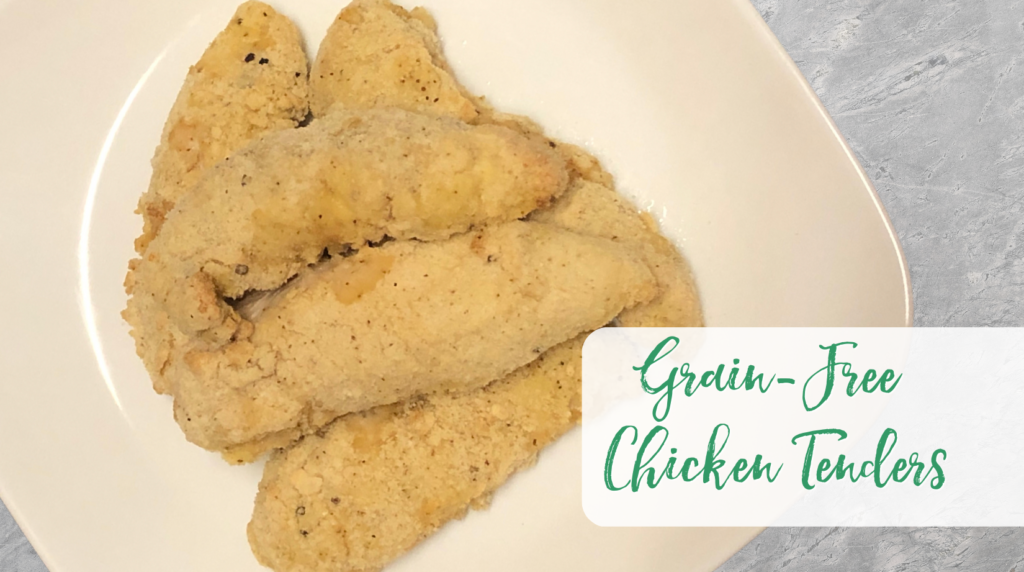 Is it just us, or does homemade finger food somehow make both cooking and eating more enjoyable? These grain-free chicken tenders are fabulous paired with your favorite dipping sauce or would be great sliced on top of a salad, used in a wrap, or eaten in whatever creative ways you can think of.
The almond and coconut flours do a nice job coating the chicken but won't achieve a crunchy exterior due to the higher moisture content of the flours and the cooking method of baking compared to traditional frying. Despite that, we think this healthier homemade swap is worth the upgrade. And if you're still seeking some crunch, consider placing these tenders under the broiler for a minute or two before serving or pairing them with crisp veggies as part of your plate method meal!
Grain-Free Chicken Tenders
Serves 3-4
Ingredients:
1 lb uncooked chicken tenders, thawed
1 egg
1/2 C almond flour
3 Tbsp coconut flour
1 tsp sea salt
1/4 tsp chili powder
1/2 tsp garlic powder
1/4 tsp cracked black pepper
1 Tbsp desired dipping sauce
Directions:
Preheat oven to 375°F. Line baking sheet with parchment paper.
Crack egg into shallow bowl. Whisk to incorporate yolk and white.
In second shallow bowl add all dry ingredients. Sift together thoroughly with fork.
Arrange dishes on counter – chicken, egg, flour mixture, and baking sheet.
Wet one hand with water. Dip chicken tender into whisked egg, then into breading mixture, ensuring surface coats completely. Lay on prepared baking sheet.
Repeat step 5 with remaining chicken.
Bake in preheated oven, 10 minutes.
Remove chicken. Flip each tender. Bake 10 minutes or until internal temperature reads 165°F.
Serve hot with favorite dipping sauce.
TIP: Consider placing a wire cooling rack atop a baking sheet instead of using parchment paper. It will allow for air circulation, avoiding the need to flip halfway through baking! If using this method, leave your tenders in the oven for the full 20 minutes, skipping step 8. To make this dish as chicken nuggets, simply cut your tenders into similar-sized nuggets and reduce your baking time, ensuring they are cooked to an internal temperature of 165°F.
Recipe modified from: Finished with Salt