Recipe: Summer Tomato Gazpacho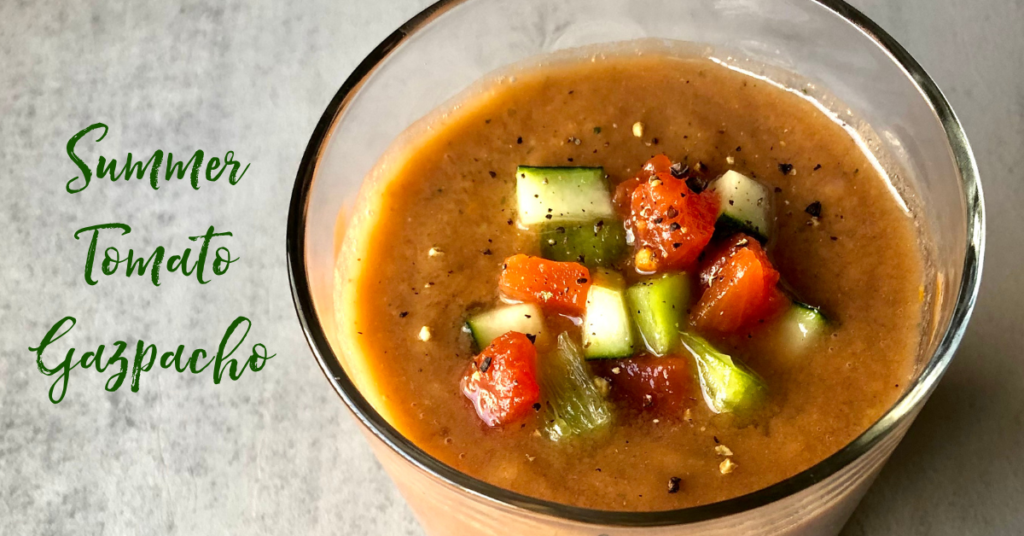 One of the best ways to enjoy produce is when it's in season and at the peak of ripeness.  When it comes to dining in the summertime, tomatoes top that list.  Gazpacho is a dish that embodies a celebration of peak summer vegetables, with tomatoes as the star.  Garden bounty, beware!
Originating in Spain, gazpacho is a chilled, tomato-based soup, though it does have other variations (including with fruits).  As with many cultural foods, variations between regions are one of the unique things when considering local cuisine.  In fact, while in America, it's typically viewed as a soup, in Spain, it's available at coffee shops, bars, supermarkets, and restaurants – and even sometimes served in a glass.
We've made a few adjustments from the authentic preparation to make this dish one that almost anyone can enjoy.  While this recipe is still a delightful nod to its Spanish roots, we omitted the slice of bread typically used to thicken it and offered swaps for more common kitchen staples and/or individual preferences.
Gazpacho is a super easy and effective way to get a delicious dose of veggies in any time of day!
Summer Tomato Gazpacho
Serves 4-6
Ingredients
2 lb ripe tomatoes, halved and cored
1 small (1/2 lb) cucumber, peeled and seeded
1 medium green bell pepper, cored and seeded
1/2 small red onion, peeled, and rough chopped
2 small garlic cloves, peeled
3 Tbsp olive oil
2 Tbsp sherry or rice wine vinegar*
1 tsp sea salt
1/2 tsp freshly-cracked black pepper
1/2 tsp ground cumin
Optional garnishes: chopped fresh herbs, a drizzle of olive oil, or any leftover chopped gazpacho ingredients (tomato, pepper, cucumber)
Directions
Combine all ingredients together in a blender food processor.  Puree for 1 minute or until the soup is smooth in consistency.
Taste and season with extra salt, pepper and/or cumin if needed.
Refrigerate in a sealed container for 3 to 4 hours or until completely chilled.
Serve chilled in a glass or bowl, topped with your desired garnishes.  Enjoy as a light appetizer or refreshing side dish.
Recipe Notes:
Roma tomatoes are traditional but any ripe, juicy, fresh tomato will work well here.
Not a fan of green pepper?  Any color of bell pepper will do.
Want to make it totally traditional?  Add a slice of bread (crust removed) after initial blending.  Let soak in the vegetable mixture for a few minutes before blending again.
Looking to sweeten it up?  Add fresh watermelon or cantaloupe cubes.
Kick up the flavor with fresh herbs of your choosing – basil or thyme work well.
*Sherry vinegar is the authentic choice for this recipe, so use if you have it.
Recipe adapted from: Gimme Some Oven