Recipe: Eat the Rainbow Fruit Salad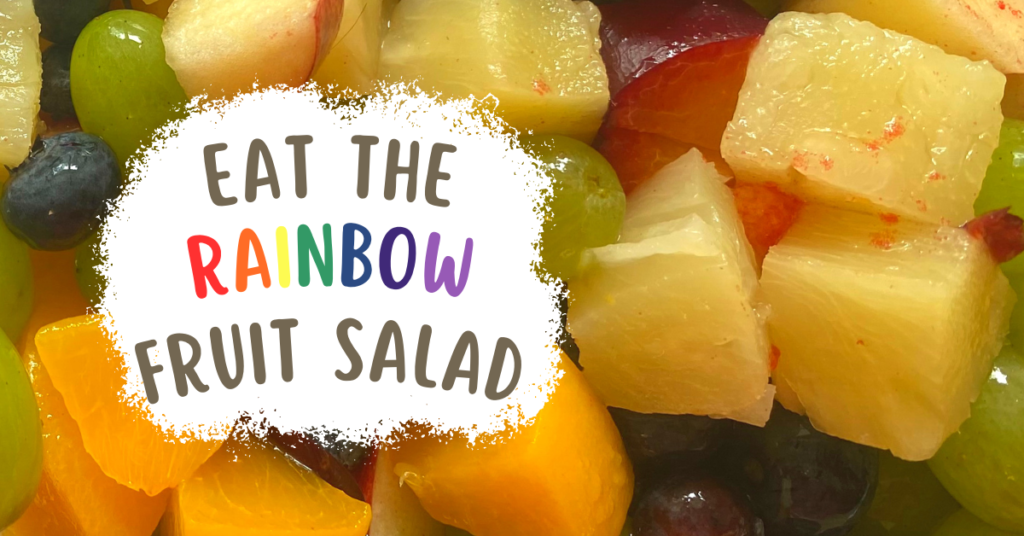 This vibrant and refreshing dish is a celebration of nature's vivid hues and a perfect way to have fresh fruits ready to go for the week, making fruit an easy addition to meals or snacks. This recipe is also bound to please many palates and can be a great option for your next gathering!  Packed with a colorful array of red apples, orange-juicy peaches, succulent yellow pineapples, crisp green grapes, plump blueberries, and sweet purple plums, this fruit salad is as appealing to the taste buds as it is to the eyes!
Did you know that each color of the rainbow represents a distinct nutrient profile?
Red produce is rich in lycopene, a powerful antioxidant tied to a reduced risk of prostate cancer, heart disease, and pulmonary diseases. Additionally, red fruits and veggies are rich in anthocyanins, which help protect brain and heart health. Some examples of red produce include peppers, radishes, apples, and tomatoes.
Orange fruits and veggies are rich in beta carotene, a phytochemical that the body uses to create vitamin A. Vitamin A is used within the body to support the immune system, vision, cell growth, bone health, and reproduction. Some examples of orange produce include squashes, persimmons, carrots, sweet potatoes, and apricots.
Yellow foods are rich in lutein and zeaxanthin, compounds that protect the body against cancer and inflammation as well as support heart, brain, eye, and skin health. Some yellow foods include lemons, starfruit, wax beans, yellow carrots, bananas, pineapple, and golden beets.
Green fruits contain chlorophyll and magnesium to support blood sugar, energy production, and muscular health. Leafy greens, kiwis, grapes, peas, and broccoli are all wonderful green examples!
Blue and purple foods are known to be anti-inflammatory and anti-cancer thanks to their compounds resveratrol and pterostilbene. These compounds may support healthy lipid levels and blood sugar.
Eat the Rainbow Fruit Salad
Serves 6-8
Ingredients:
Red: 1 medium red apple, washed and diced
Orange: 1 can peaches, drained and diced
Yellow: 1 can diced pineapple (reserve 1/2 of juice from the can and set aside)
Green: 2 C green grapes, washed
Blue: 1 pint blueberries, washed
Purple: 2 purple plums, washed and diced
Juice from 1 lime
Directions:
1. Add all fruit to a large bowl.
2. Whisk together lime juice and reserved pineapple juice. Pour over fruit and stir. Serve chilled or store in the refrigerator in an airtight container and consume within 2-3 days.
Swaps:
For the red apples: strawberries, raspberries, red plums, cherries, or watermelon
For the orange peaches: apricots, nectarines, papaya, cantaloupe, oranges, or tangerines
For the yellow pineapple: yellow apples, bananas Asian pears, golden kiwi, or starfruit
For the green grapes: green apples, honeydew melon, or kiwi
For the blueberries: blackberries
For the plums: purple grapes
Recipe modified from: https://www.cookingclassy.com/honey-lime-rainbow-fruit-salad/