Recipe: Feta Caprese Shrimp Pasta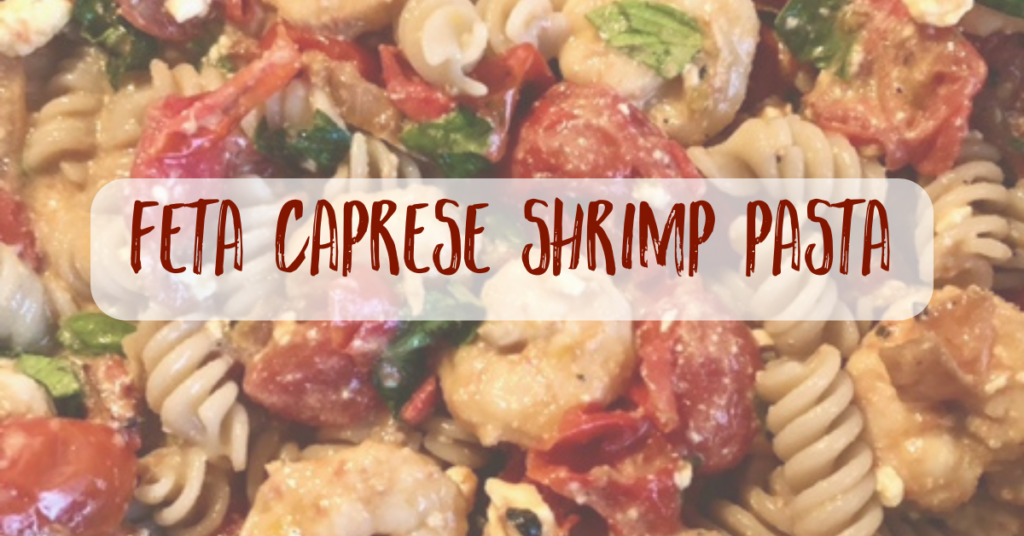 Fresh tomatoes and basil are a match made in culinary heaven.  Add pasta and a bold cheese, and you've got the makings of a pretty fantastic meal!
This dish was inspired by a popular "baked feta pasta" recipe that circulated the internet during 2020, but with some modifications, we have made it stove-top friendly. While the original recipe lacks a protein to balance blood sugars and promote satiety, we have added shrimp as a quick option.
Not a seafood fan or have a shellfish allergy? Check out our swaps below for a few alternative suggestions. Pair this recipe with your favorite simple side salad, roasted veggies, or steamtable frozen veggies for a full plate-method meal, and make sure to close your eyes as you take that first bite – the layers of flavor will have you thinking you are dining along the coast of Italy!
Feta Caprese Shrimp Pasta
Serves 4
Ingredients
8 oz dry pasta of choice (grain or gluten free, if desired)
2 Tbsp olive oil, divided
1 lb raw medium shrimp, peeled and deveined
2 pints cherry tomatoes
2 cloves garlic, crushed
8 oz block feta cheese, crumbled
Fresh basil, chopped
Salt and pepper, to taste
Directions:
In a large pot, boil water and prepare pasta according to package directions.
In a large skillet, heat 1 tablespoon olive oil over medium heat.  Add shrimp and cook 2-3 minutes, flip and cook another 2 minutes until opaque and cooked through.
Add remaining olive oil, tomatoes and crushed garlic to the skillet. Sauté, allowing tomatoes to release their natural juices and steam the garlic.  If needed, add a small amount of water to prevent sticking/browning.
Drain and rinse cooked pasta. Add pasta to skillet. Add feta and stir continuously. Melt cheese and remove from heat.
Divide pasta between plates/bowls. Garnish as desired with freshly chopped basil.
Swaps:
For the tomatoes: broccoli florets, zucchini, bell peppers, or mushrooms
For the shrimp: diced chicken breast or sliced sausage links
For the pasta: zucchini noodles, chickpea noodles, brown rice and quinoa noodles
Recipe modified from: https://iamafoodblog.com/tiktok-baked-feta-pasta/