Recipe: Breakfast Prep Egg Muffins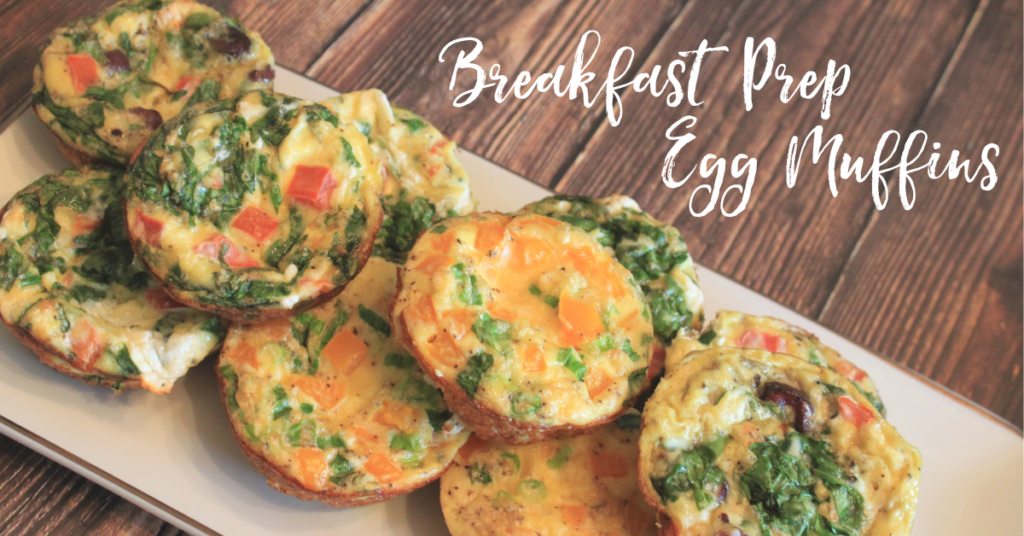 As the end of summer approaches, many of us feel the need to establish more structure to our weeks and may even be preparing to get into the school year routine with our families.  This often means busy schedules, early mornings, and the rush to get out the door by a certain time.  For fast-paced mornings, having a versatile breakfast recipe prepped and ready to reheat and eat is a huge time saver.
These Breakfast Prep Egg Muffins start as a blank canvas, a super simple base recipe that can be adapted to fit almost every palate!  They can be made large or bite-sized (aka little kid-friendly!) or even turned into a quick and easy breakfast sandwich.  Have a big family with more mouths to feed?  This recipe is easily doubled.   By making a big batch at the start of the week, the whole family can have a few days worth of breakfasts for up to three days!   A little prep goes a long way toward ensuring the entire family gets the essential nutrition needed to take on the day.
Breakfast Prep Egg Muffins
Serves: 6-8
Ingredients: Base Recipe- Full sized muffins
12 large eggs
1/3 C milk (optional, for fluffier muffins)
Salt and pepper to taste
Ingredients: Italian-style Egg Muffins
To the base recipe, add:
1/3 C diced tomato (about 1/2 of a large tomato)
1.5 C baby spinach, chopped
2 T fresh chopped basil, or 1 T dried basil
1/2 C shredded mozzarella cheese
Ingredients: Western-style Egg Muffins
To the base recipe, add:
2/3 C bell pepper, finely diced (about 3/4 of a medium pepper)
2 green onions, finely sliced
6 pieces Canadian bacon, chopped
1/2 C shredded cheddar cheese
Ingredients: Mediterranean-style Egg Muffins
To the base recipe, add:
1/3 C chopped tomato (about 1/2 of a large tomato)
1 C baby spinach, chopped
1/3 C sliced kalamata or black olives
1/4 C crumbled feta cheese
Directions:
Preheat oven to 375°F
Grease a 12-count muffin tin with cooking spray or oil of choice.
Crack all eggs into a large mixing bowl.
Add the milk, salt, and pepper.
Whisk this with the eggs until fully combined.
Add in all other ingredients (see ideas above for add-ins to the base recipe).
Using a soup ladle, ladle one scoopful of egg mixture into each of the muffin tin wells. The mixture should be fairly close to the top of the well.
Carefully insert the muffin tin into the preheated oven. Bake for 18-25 minutes. At around 10 minutes, rotate the tray 180° for even cooking.
Muffins are done when they no longer look wet on top, and a knife can be inserted and removed cleanly.
Allow muffins to cool in the tin for 2-3 minutes. Do not cool them completely in the pan, or they will stick.
After 2-3 minutes, carefully use a butter knife to gently pull the sides of the muffin away from the wells. Take the egg muffins out of the muffin tin and put on a plate or cooling rack to cool until ready to eat or be packed in an air-tight container and refrigerated.
TIPS:
With the Mediterranean-style Egg Muffins, added salt may not be necessary due to sodium content of the feta and olives.
When baking, a cookie sheet under the muffin tray can help catch any overflow that may occur as the eggs puff up.
Egg Muffins can also be made as "bites," in which case only 8 eggs are required, with a splash of milk. Use a mini muffin tray, follow the same directions, but try cooking for only 10-12 minutes.
Try getting creative with the recipe! Other add-ins could be: kale, onion, mushrooms, jalapeño, asparagus, broccoli, turkey or bacon crumbles, and different types of cheese….just to name a few!
A single Egg Muffin can be added to an English muffin with toppings of choice (suggestions: avocado, spinach, or cheese) for an easy breakfast sandwich.