Recipe: Deconstructed Sushi Bowl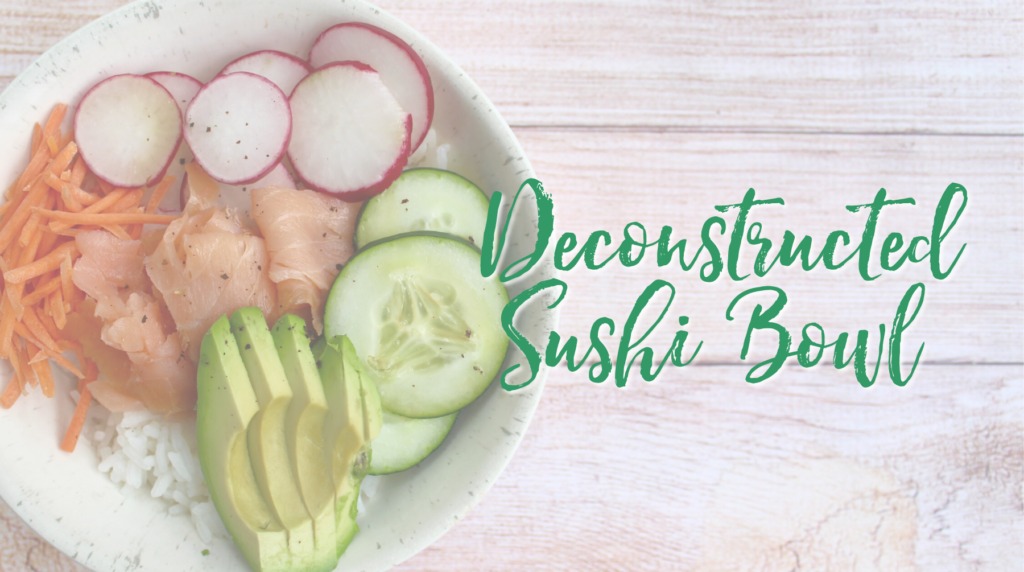 We crafted a fun way to enjoy the sushi flavors you love without rolling out the sushi mat and taking extra time assembling rolls. The Deconstructed Sushi Bowl allows you to add more vegetables, building a sushi experience that is plate method aligned. Use the swap suggestions below customize this recipe to your unique preferences by picking 1 protein, 1 carb, and 2-3 vegetable options for a well-balanced bowl.
Our favorite thing about lunch bowls is that the customization options are limitless!  Check out our Mix n' Match Meal Planning Handout for more Asian-inspired bowl creations!
Deconstructed Sushi Bowl
Serves 1
Ingredients:
1 C white rice, cooked
1/3 C cucumbers, sliced
1/3 C radishes, sliced
1/3 C carrots, shredded
2 oz smoked salmon
1/2 medium-sized avocado, sliced
1 Tbsp coconut aminos
1 tsp sesame seeds (Optional)
1 Tbsp seaweed, dried (Optional)
Directions:
Prepare rice following directions on packaging. Typically, in medium pot on stovetop over high heat bring 2 C water and 1 C rice to boil. Cover and reduce heat to low. Simmer until water evaporates, 10-15 minutes.
Layer ingredients to preference. We recommend: white rice, cucumbers, radishes, shredded carrots, smoked salmon, sliced avocado, and drizzle coconut aminos over top.
TIP: If prepping for lunches for the work week, multiply the ingredients by five. Store separately and assemble when ready to eat.
Swaps:
For the smoked salmon: sushi-grade ahi tuna, shrimp, tofu, or edamame
For the white rice: sushi rice or brown rice
For the veggies: snow peas, bok choy, or bell peppers
For the coconut aminos: low sodium soy sauce or gluten-free Tamari