Recipe: Deconstructed Shepherd's Pie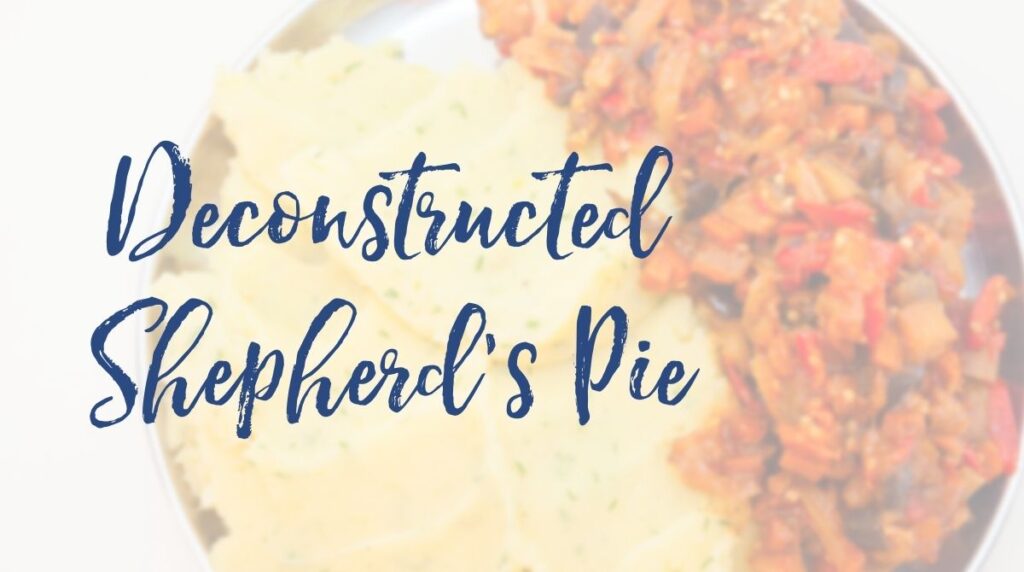 This stovetop spin on a classic dish actually means dinner may be done faster than the standard oven variation. We've deconstructed the elements to multitask our way to a meal that saves time without skimping on flavor. You'll find all the traditional ingredients plus a few ideas to bump up the veggie nutrition, such as adding frozen cauliflower. Consider our swaps to truly make this dish your own. It can even be prepared entirely vegetarian, omitting the beef and adding tempeh or lentils instead. This dish is as versatile as it is delicious.
Deconstructed Shepherd's Pie
Serves 4-6
Ingredients
 2 medium russet potatoes, cubed
Cold water, enough to cover potatoes
1 Tbsp olive oil
1 lb lean ground beef
14.5 oz can diced tomatoes
1 tsp garlic powder
1 tsp onion powder
1 tsp sage, rosemary, and/or thyme
10 oz bag frozen riced cauliflower
10 oz bag frozen mixed veggies of your choice (ex: carrots, corn, green beans, and peas)
1 Tbsp butter (or more, to taste)
Salt and pepper, to taste
Shredded cheese, to taste (Optional)
Parsley, to taste (Optional)
Directions
Place cubed potatoes in 2-quart sauce pan on stove over high heat. Cover with cold water and add dash of salt. Cover pan and bring to boil. Turn down heat to medium-low and simmer, uncovered, 10-15 minutes, until potatoes can be easily pierced with fork. Using colander, drain potatoes and set aside.
While potatoes are cooking, heat oil in large sauté pan on stove over medium-high heat. Add beef and crumble with spoon. Cook until beef is mostly-browned, 5-6 minutes. Add tomatoes, garlic powder, onion powder, and herbs of choice. Cook 2-3 minutes, stirring occasionally.
Add frozen, riced cauliflower, and veggies to beef mixture. Stir and cook 5 more minutes, or until veggies are warmed through. Add salt and pepper, to taste.
Place cooked potatoes in separate bowl with 1 Tbsp butter. Use potato masher, pastry blender, or hand mixer to mash potatoes until creamy consistency is reached.
Divide potatoes amongst serving plates and top with beef and vegetable mixture. Add optional toppings and enjoy!
Swaps
For the potatoes: sweet potatoes, mashed cauliflower, or butternut squash
For the protein: ground turkey, ground chicken, tempeh, or cooked lentils
For the veggies: frozen peas and carrots, canned green beans and canned mushrooms, or leafy greens (such as spinach or kale)
For the diced tomatoes: 2 Tbsp tomato paste with ¼ C water, 1/2 C tomato sauce, or 1/2 C pasta sauce
For the rosemary, thyme, and sage: 3 tsp Italian seasoning blend