Recipe: Crispy Chickpea Caesar Salad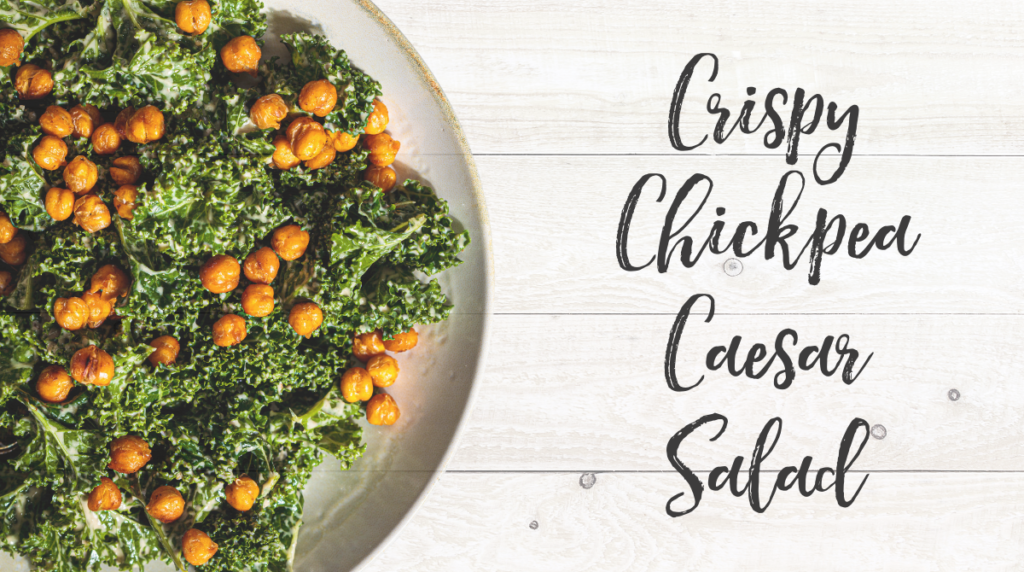 When you hear Caesar salad you may think of romaine lettuce topped with a few croutons and parmesan cheese. While romaine is a good source of vitamin A and C, switching to kale adds large amounts of vitamin K and extra antioxidants thanks to its deep green color.
Upgrading from croutons to crispy chickpeas gives this dish another nutrient boost! Chickpeas (also known as garbanzo beans) fit in the starchy category, but, unlike croutons, they contain lots of fiber and protein.
Lastly, the Greek yogurt dressing adds protein and probiotics (good bacteria) to boost satiety and support healthy digestion. This meal can be served as a side or topped with chicken or salmon to make a complete Plate Method meal!
Crispy Chickpea Caesar Salad
Serves 4-6
Ingredients
For the Crispy Parmesan Roasted Chickpeas

15 oz can chickpeas (aka "garbanzo" beans)
1 Tbsp olive oil
½ tsp garlic powder
½ tsp grated lemon zest
Salt and pepper to taste
1 Tbsp grated parmesan cheese
For the Caesar Dressing
1 Tbsp olive oil
3/4 C plain Greek yogurt
3 Tbsp grated parmesan cheese
2 Tbsp fresh lemon Juice
1 Tbsp Dijon mustard
1 tsp Worcestershire sauce
¼ tsp garlic powder
Salt and pepper to taste
For the Salad
8 C fresh kale, washed, stems removed, and chopped
1 Tbsp olive oil
1 Tbsp lemon Juice
1 pinch of salt
¼ C grated parmesan cheese
Directions
Preheat oven to 375°F. Line a large baking sheet with parchment paper. Set aside.
Drain and rinse chickpeas. Pat/rub chickpeas with paper towels to dry and remove the loose skins (the drier the chickpeas are before cooking the crispier they will be after cooking).
In a large bowl, toss chickpeas with olive oil, garlic powder, lemon zest, salt, and pepper.
Arrange chickpeas in a single layer on baking sheet and bake until crisp and lightly browned (approximately 45-50 minutes) tossing halfway through cooking. Remove chickpeas from oven and sprinkle with parmesan cheese.
While chickpeas are roasting, prepare dressing by combining all dressing ingredients in a medium bowl and mixing well. You may need to add a small amount of water to thin dressing to desired consistency. Refrigerate dressing until ready to serve.
Place kale, olive oil, lemon juice, and a pinch of salt into a large mixing bowl and "massage" the kale (squeezing it with your hands!) for approximately 3-5 minutes. This process helps to tenderize the kale when eating it raw, making it softer and sweeter. Set kale aside.
When ready to serve salad, combine kale and desired amount of dressing. Toss to coat. Top with grated parmesan cheese and crispy parmesan chickpeas divided between servings.
Swaps
For the chickpeas: croutons or cooked chicken breast
For the kale: romaine lettuce (skip the massaging step!)
For the Greek yogurt: mayonnaise or vegan mayo
Recipe Modified From: Simple Healthy Kitchen