Recipe: Creamy Tomato Basil Chicken Skillet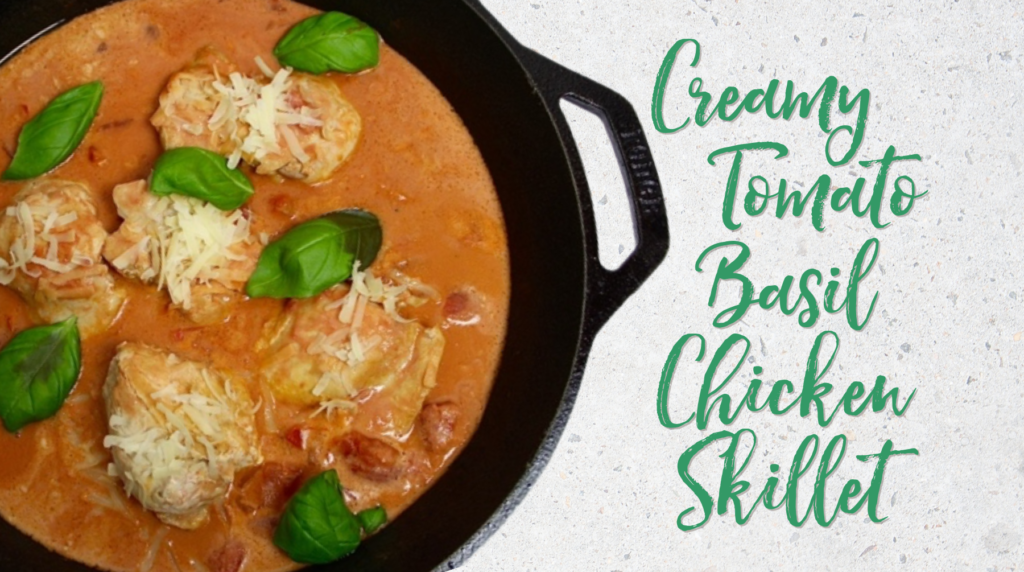 Here is a delicious way to level up the protein on your plate! This recipe takes a protein staple and amps up the flavor by incorporating Italian seasoning and the bright acidity of tomatoes. Adding tomatoes to this one-pan dish provides vitamin c and lycopene which work to fight off free radicals in the body. This process prevents cell damage while boosting your immune system.
Pair this dish with rice or your choice of starch and add just about any non-starchy vegetable for the perfect, plate method meal!
Creamy Tomato Basil Chicken Skillet
Serves 2-3
Ingredients:
1 Tbsp avocado oil
5 chicken thighs or 2 large breasts, cut into even portions
1/2 tsp Italian seasoning
14.5 oz diced tomatoes
13.5 oz coconut milk
1/2 C parmesan cheese, grated
3-4 pieces fresh basil, for garnish
Instructions:
Heat avocado oil in frying pan on stovetop over medium heat .
Season chicken with Italian seasoning. Add to pan. Cook about 5 minutes on each side.
Reduce heat to low. Add diced tomatoes to pan. Simmer 2 minutes.
Stir in coconut milk and parmesan cheese. Cover with lid. Simmer 5 minutes or until chicken reaches internal temperature of 165°F.
Remove from heat. Serve hot, topped with fresh basil and additional parmesan cheese if desired.
TIP: This dish pairs well over rice with a side of asparagus for a balanced, plate method meal.