Recipe: Coconut Chocolate Custard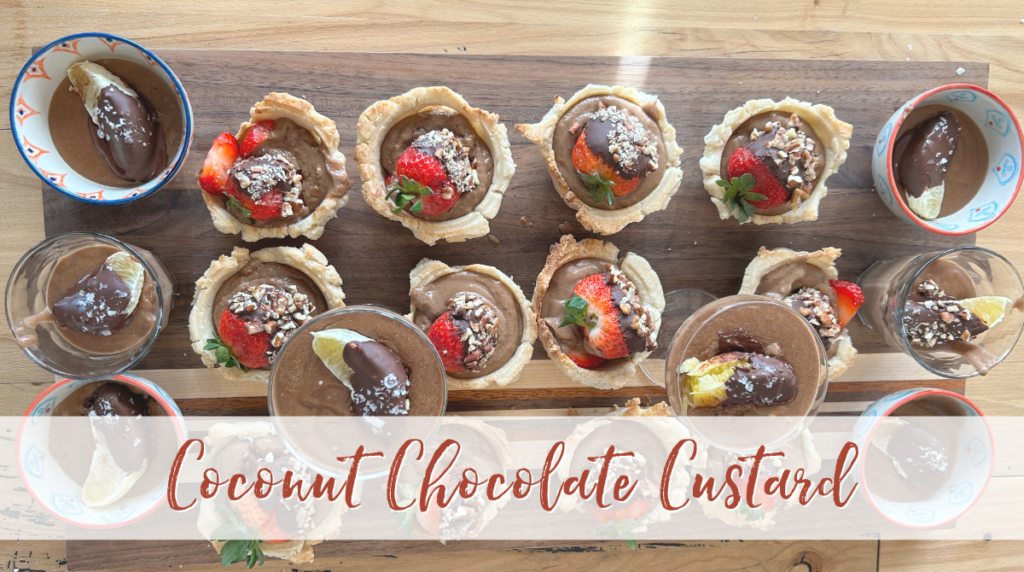 Our coconut chocolate custard is a rich and creamy sweet treat that pairs well with fresh fruit.  This tasty dessert is gluten-free, with a dairy-free swap available, and it comes together in a short amount of time.  Enjoy it in cups, tartlets, or even as a decadent dip!
Coconut Chocolate Custard (gluten-free)
Serves: 4
Ingredients:
4 whole eggs yolks
4 tsp gluten-free flour
1/4 C sugar, to taste
2 C coconut milk
1/2 C chocolate chips, divided
Fresh fruit (berries, mandarin wedges) crushed nuts, and sea salt, for garnish
Directions:
 In a medium bowl, whisk egg yolks, gluten-free flour and sugar together until smooth.
 Add the coconut milk to a sauce pan over medium heat.
 Mix in the egg yolk mixture and stir until smooth.
 Continue whisking on the stovetop until the mixture begins to thicken a bit into a creamier consistency.
 Once mixture has thickened a little, add 1/4 C of the chocolate chips and continue to stir until the chocolate chips have melted and mixed well to form a chocolatey custard.
 Remove the saucepan from heat and portion into custard dishes.
 Put custard dishes in the refrigerator, allow to sit 15-30 minutes or until mixture has thickened to a pudding-like consistency.
 While custard is thickening in the fridge, add 1/4 cup of chocolate chips to a microwave safe bowl. Microwave on high in 30 second increments. Stir at every 30 second interval and keep heating until chocolate is melted and smooth.
 Dip fruit pieces in the chocolate and garnish with chopped nuts, or sea salt, if desired.
 When the custard cups are ready, top with the chocolate-covered fruits and enjoy!
Swaps:
For the coconut milk: 2% or whole milk (other non-dairy alternatives aren't ideal due to the lower fat content/thinner texture)
For the sugar: honey, maple syrup, coconut sugar
For the chocolate chips: dairy-free/vegan chocolate chips
Recipe adapted from: