Recipe: Dark Chocolate Pomegranate Pistachio Clusters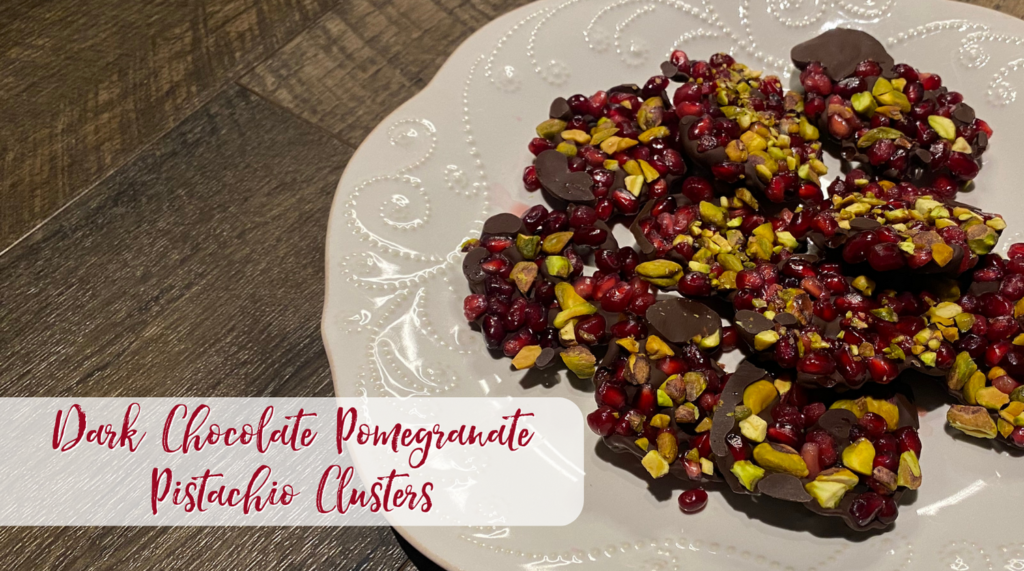 One of the many ways we show love is through gift-giving and acts of service. In fact, these are two of the five love languages along with physical touch, quality time, and words of affirmation.1 What better way to combine gifting and service than making your loved ones a delicious, festive treat?
Valentine's Day usually comes with one particular flavor profile in mind – chocolate! These Dark Chocolate Pomegranate and Pistachio Clusters come together in just 10 minutes of active cooking time without the need to whip out the mixer or fire up the oven.
Pomegranates are a rich source of antioxidants such as flavonoids and anthocyanins, both of which help fight cellular damage and may support the body with anti-cancer properties.2 Additionally, research suggests that the powerful pomegranate can promote heart health as they are antihypertensive, thus supporting healthy blood pressure levels.2 Pistachios pack a punch of heart-healthy fats that can help support LDL cholesterol levels.3 These little green nuts also contain protein and fiber which, along with fat, help make this dessert a satisfying little sweet bite!3
Dark Chocolate Pomegranate Pistachio Clusters
Serves 4-6
Ingredients:
1/3 C shelled pistachios
1 tsp coconut oil
1 1/2 C dark chocolate chips
1 4 oz container pomegranate arils
Dash of flaky salt (Optional)
Directions:
Line baking sheet with parchment paper. Roughly chop pistachios. Set aside.
Create double boiler on stove top, following directions linked here.
Add coconut oil to melting pot/bowl over medium to low heat. Melt completely.
Gently fold chocolate chips into melted oil. Reduce to simmer, stirring occasionally until completely melted.
Create 12 even piles of pomegranate and pistachio pieces on baking sheet, about 1-2 inches in diameter. Do not tightly pack.
Chocolate must get between fruit and nuts to bind each cluster.
Using spoon, drizzle melted chocolate onto each cluster. Top with pinch of flaky salt, if desired.
Cool in freezer 45-60 minutes. Refrigerate in air-tight container until ready to serve.
TIP: Frozen pomegranate arils can be a cost-effective swap in this recipe!
Swaps:
For the coconut oil: butter
For the pistachios: sunflower seeds, chopped walnuts, or chopped pecans
For the pomegranates: chopped cherries
Recipe modified from: DebraKlein.com
Sources:
https://www.ncbi.nlm.nih.gov/pmc/articles/PMC4007340/#:~:text=Pomegranate%20is%20a%20potent%20antioxidant,%2C%20and%20anti%2Dinflammatory%20properties