Recipe: Chicken Tikka Masala & Roasted Carrots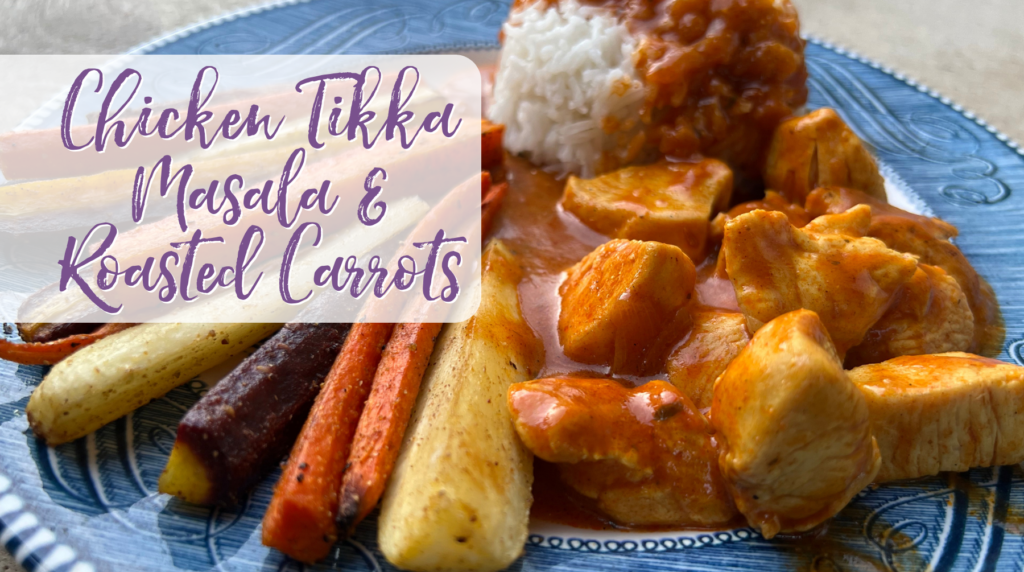 This deliciously flavorful and fragrant dish tastes elaborate – but don't let it fool you! Using semi-homemade strategies like a sauce or spice kit allow for the creation of restaurant-quality meals at home, for a lower cost. They can also eliminate the challenge of locating harder-to-find spices, which give recipes like this favored Indian dish their authentic taste.
A surprising historical theory about Tikka Masala is that it's believed to have been created in Great Britain! Bangladeshi migrant chefs may have created the dish as a nod to the flavors from their homeland. It's also thought that Tikka Masala may derive from murgh makhani, more popularly known as Butter Chicken, another delectable curry dish.1 Whatever its true history, we can say that Tikka Masala is often a crowd favorite!
If you're interested in making your Tikka Masala from scratch – try this recipe! Check out your local international market for specialty spices or signature ingredients.
Chicken Tikka Masala & Roasted Carrots
Serves 2-3
Ingredients:
1.5 lbs. boneless, skinless chicken breasts
5 large carrots
2 Tbsp avocado oil, divided
2 Tbsp Garam Masala (we use the Frontier Co-Op brand)
1 tsp salt plus more, to taste
1 Simple Steps Indian Tikka Masala Medium Curry Sauce Kit (we use the Patak's brand)
Directions:
Pre-heat oven to 400°F. Line baking sheet with aluminum foil.
Cube chicken breasts to 1-inch, similar-shaped sizes. Place in medium bowl. Set aside.
Remove and discard carrot ends and peels. Halve carrots cross-wise. Quarter each half length-wise. Place in medium bowl with 1 Tbsp avocado oil. Toss to coat. Add Garam Masala spice and 1 tsp salt. Toss to coat.
Spread carrots across baking sheet in single layer. Roast 15 minutes.
Meanwhile, follow directions on curry sauce kit:

In large sauté pan on stove over medium heat, add remaining oil.
Add dry spice packet and sauté until fragrant, stirring constantly, 1 minute.
Add small sauce packet. Stir to combine, heating 1 minute.
Add chicken. Sauté 3 minutes or until outside of chicken starting to brown, stirring occasionally.
Add large sauce packet and water. Stir to combine, heating 1 minute.
Cover and reduce heat to low. Simmer 10 minutes or until internal temperature of chicken reaches 165°F.

Remove carrots from oven. Toss with spatula. Return to oven, 5 minutes, or until fork-tender.
Remove carrots from oven. Remove chicken from heat. Serve hot.
TIP: Serve chicken and carrots over basmati rice or boiled potatoes for a complete plate method meal!
Swaps:
For the chicken: canned chickpeas, drained and rinsed (add these in step #5)
For the avocado oil: coconut oil, almond oil, or olive oil
For the curry sauce kit: a jar of pre-made Tikka Masala sauce
Sources:
Thaker, Aruna; Barton, Arlene (2012). Multicultural Handbook of Food, Nutrition and Dietetics. John Wiley & Sons. p. 74.