Recipe: Chicken Pot Pie Soup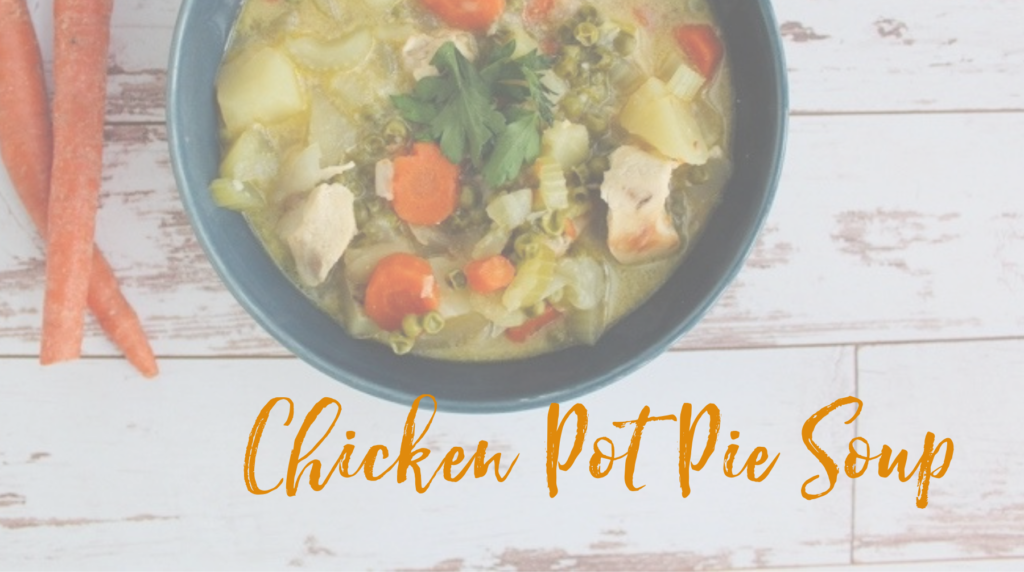 The perfect (simpler) spin on the beloved classic, this soup combines the hearty components and staple veggies of a chicken pot pie with a creamy,dairy-free (!) stock and simple seasonings.  It's versatile in that you can prepare it quickly with an instant pot or let the flavors blend for hours in a slow cooker. In the absence of a crust, feel free to serve this dish over a flaky biscuit for the nostalgic, pot pie experience. We promise it's entirely delicious either way.
Chicken Pot Pie Soup
Serves 6
Ingredients:
2 Tbsp coconut oil, divided
2 large, boneless skinless chicken breasts, cut into bite-sized chunks
1 lb golden potatoes, diced into bite-sized chunks
1 C frozen peas
4 large carrots, diced
1 medium onion, diced
4 celery stalks, diced
6 cloves garlic, minced (or 8-10 tsp minced garlic from a jar)
1 C low-sodium chicken broth
1 C full-fat canned coconut milk
1 1/2 tsp salt
1 tsp black pepper
Fresh parsley leaves, for garnish
Directions:
For Pressure Cooker or Instant Pot:
Add 1 Tbsp coconut oil to instant pot on "sauté" setting.
Add chicken and sauté until browned. If needed, add splash of chicken broth to prevent chicken sticking  to bottom of instant pot and burning.
Add potatoes, peas, carrots, onion, celery, and garlic to pot and top with remaining chicken broth.
Stir in coconut milk, salt, pepper, and any additional seasonings as desired.
Put lid on instant pot and press "soup" button. Set timer for 15 minutes.
Carefully release pressure and allow  steam to escape.  Serve topped with fresh parsley.
For slow cooker:
Add bite-sized chicken and broth to crockpot. Cover and cook on high 2-3 hours.
Once chicken is tender, add all remaining ingredients except coconut milk. Cover and cook on high additional 2-3 hours.
Stir in coconut milk and serve garnished with fresh parsley.
Swaps:
For the chicken: leftover shredded chicken or pulled rotisserie chicken
For the coconut oil: ghee or avocado oil
For the coconut milk: 1/2 C heavy cream
Recipe modified from: 40 Aprons